Pittsburgh Steelers 2012 Regular Season Schedule Unveiled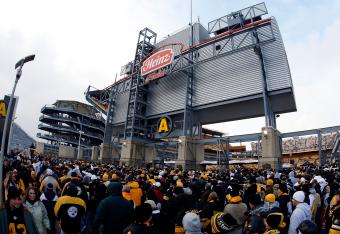 Gregory Shamus/Getty Images
Every late April, Pittsburgh Steelers fans, like followers of every NFL franchise, anxiously anticipate the unveiling of the new schedule.
Some eagerly wait to find out which games they're able to attend, others want to know the opponent scheduled for the day friends party at "their house." We all desire a glimpse of what will hopefully become a championship journey.
The Steelers' list of opponents has been known ever since the conclusion of Week 17 last season. Despite knowing the opposition and setting in advance, the timing and circumstances surrounding the contests creates another layer of intrigue that makes the announcement exciting.
For example, are rumors true that the Steelers opening game will occur in Denver, a rematch against the Broncos featuring newly appointed quarterback Peyton Manning?
When will the Steelers get their first shot at revenge against the Ravens, who swept the season series in 2011? Additionally, will the series continue its annual trend with at least one prime time showdown?
And, could Pittsburgh get lucky enough to host the warm weather San Diego Chargers in December? Fans do not have to wait any longer for the answers to these questions.
The NFL has unveiled its 2012 regular season schedule, and the Pittsburgh Steelers do indeed open against the Denver Broncos at Sports Authority Field at Mile High.
Hope is anew across all 32 NFL franchises, and the Black and Yellow hope the upcoming campaign finishes with a superb bookend to a great opener in Colorado, namely a dance with Mr. Lombardi.
Without further ado, here are the dates and times when Terrible Towels will twirl in 2012:
Week 1 - September 9th (8:30p), @ Denver Broncos


Week 2 - September 16th (4:15p), vs. New York Jets

Week 3 - September 23rd (4:15p), @ Oakland Raiders

Week 4 - Bye

Week 5 - October 7th (1:00p), vs. Philadelphia Eagles

Week 6 - October 11th (8:20p), @ Tennessee Titans

Week 7 - October 21st (8:20p), @ Cincinnati Bengals

Week 8 - October 28th (1:00p), vs. Washington Redskins

Week 9 - November 4th (4:15p), @ New York Giants

Week 10 - November 12th (8:30p), vs. Kansas City Chiefs

Week 11 - November 18th (8:20p), vs. Baltimore Ravens

Week 12 - November 25th (1:00p), @ Cleveland Browns

Week 13 - December 2nd (4:15p), @ Baltimore Ravens

Week 14 - December 9th (1:00p), vs. San Diego Chargers

Week 15 - December 16th (4:15p), @ Dallas Cowboys

Week 16 - December 23rd (1:00p), vs. Cincinnati Bengals

Week 17 - December 30th (1:00p) vs. Cleveland Browns
Please keep in mind that game times can change due to flex scheduling.
One of the first quirks about the 2012 schedule that jumps out is the imbalance of home and away games. The early months of the season will see Pittsburgh battle-tested away from Heinz Field. The payoff will be November and December, when the Steelers will have the opportunity to build playoff momentum with five of their final eight (and 6 of 10) games taking place in the Steel City.
Another oddity is how the schedule seems to allow an early season exorcism, if the Steelers take advantage with wins. After their chance at revenge in Denver, the 'Burgh hosts the 'Bow when Tim Tebow and the Jets come to Pittsburgh during Week 2.

Continuing the optimism is that not only do the Steelers get to host the Chargers in the cold and the Ravens at Heinz during prime time, they finish their schedule with back-to-back home contests against their Ohio rivals, the Bengals and Browns.
Hopefully, by that time, the Black and Yellow have put themselves in ideal position to make those games count toward a division championship.
Stunningly, none of the NFC East opponents, unless flex scheduling is utilized, are scheduled for prime time, something I would have nearly guaranteed to happen prior to the schedule release.
Pittsburgh's prime time schedule includes five contests. On Sunday Night Football, the Steelers travel to Denver during Kickoff Weekend and host the Ravens at Heinz Field. Between those two contests, a contest at Paul Brown Stadium against Andy Dalton and the Bengals should go a long way toward determining placement in the AFC North.
The Steelers' prime time games are capped off by a Monday night showdown with Todd Haley's former squad, the Chiefs. And, on NFL Network, the Steelers travel to the Music City for a Thursday night clash with the Titans.
Lastly, the most important part of the schedule comes during three weeks during late November into early December. Twice in a span of fourteen days, the Steelers and Ravens clash, with a "Browns sandwich" game smashed in between the high stakes affairs. If anyone wants to predict an early trap game, look no closer than smack in between contests against Baltimore.
This article is
What is the duplicate article?
Why is this article offensive?
Where is this article plagiarized from?
Why is this article poorly edited?

Pittsburgh Steelers: Like this team?