Fantasy Football Draft 2012: 5 Wide Receivers Who Will Erupt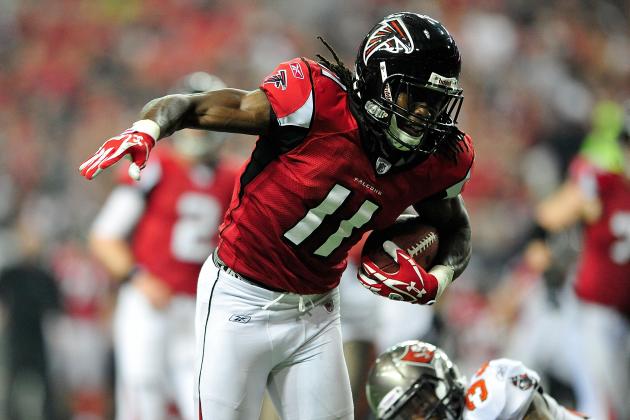 Grant Halverson/Getty Images

Every football season, everyone wonders who is going to breakout and become that fantasy stud.
Finding that gem player can take your fantasy team to the top and give you bragging rights over the rest of your league.
These five wide receivers will break out in 2012 and make your fantasy football team one of the best in your league.
Begin Slideshow

»
Doug Pensinger/Getty Images

Demaryius Thomas has all the tools to become a dominant receiver in the NFL.
Standing at 6'3" and running around a 4.4 40-yard dash, Thomas has never had an efficient quarterback to get him the ball. This past season he had Tim Tebow throwing to him, which is a nightmare for fantasy owners. Thomas was still able to show flashes of his dominance including his 204 receiving yards performance in the playoffs against the Pittsburgh Steelers.
This year, Thomas is going to break out because he finally has a quarterback who can get him the ball. The Denver Broncos went out and got Peyton Manning, arguably the best quarterback in the NFL if he comes back healthy. Manning has always made his wide receivers great for fantasy football.
The Broncos have very few receiving options for Manning. Thomas is the only one that has big playmaking ability. Manning is going to look to Thomas often because he is his only legit vertical threat.
Fantasy owners need to look to draft Thomas as their No.2 wide receiver. I know it might be a risk considering he has only had a couple of good games, but assuming Manning stays healthy, he is going to make Thomas into a beast.
Prediction: 70 receptions, 1,200 receiving yards, eight touchdowns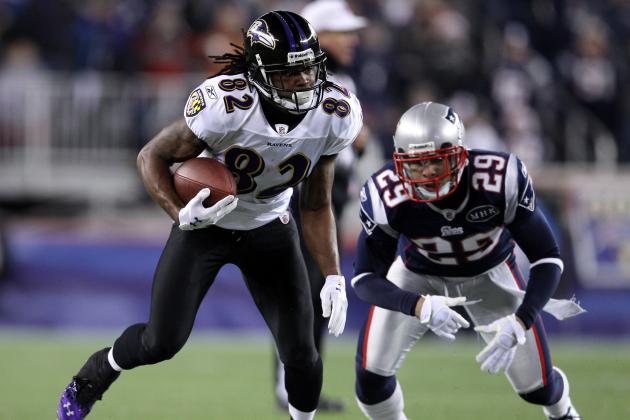 Elsa/Getty Images

Going into last year's season, many people around the league Torrey Smith was going to be a bust. He had a horrible preseason and could not catch a pass.
Smith changed all of that, though. His first three receptions in the NFL all went for touchdowns. Everyone immediately went to their waiver wires and quickly added Smith.
As the season went on, it appeared that Smith had beaten out Anquan Boldin and became Joe Flacco's No. 1 receiving target. Flacco looked to Smith often because he was the Baltimore Ravens only vertical threat and has deadly speed to burn opposing teams' secondaries. By the end of the year, Smith had an impressive rookie season with 841 receiving yards and seven touchdowns.
Going into the 2012 season, Smith is going to be higher on fantasy owners' draft boards. Smith now has a year under his belt and will be much more comfortable in the Ravens offense. I expect him to have improved his hands and his route running so that he can be more than just a vertical threat.
Most people will probably draft Smith as their No. 3 wide receiver option because he does not play in an explosive offense and the Ravens have other receiving options. However, Smith could potentially become a solid No. 2 option if he has improved on some of his weaknesses as a rookie.
Prediction: 65 receptions, 1,150 receiving yards, seven touchdowns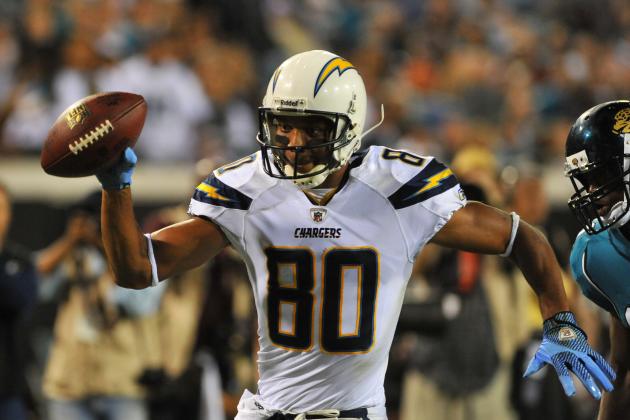 Al Messerschmidt/Getty Images

With Vincent Jackson not in San Diego anymore, Malcom Floyd is now Philip Rivers' No.1 wide receiver.
Being Rivers' No. 1 wide receiver automatically raises Floyd's draft stock because Rivers throws the ball often.
The past couple seasons, Floyd has shown flashes of becoming a solid fantasy wide receiver. This year is his chance to put a full season together, and he will deliver.
Floyd had a solid season last year and finished it on a high note. In his last three games, Floyd recorded 18 receptions, 318 receiving yards and three touchdowns.
At 6'5" Floyd is not only going to be a huge red zone target, but Rivers is going to use him the same way that Jackson was used. When the Chargers need to go deep, Floyd is going to have to be that receiver. I know the Chargers just signed Robert Meachem, but Rivers has been throwing to Floyd and Antonio Gates for years.
Floyd has always been a great playmaking option for the Chargers, averaging nearly 20 yards a catch last year. Being the new No. 1 wide receiver, expect Floyd to be making more big plays and one of the better No. 2 fantasy wide receivers in 2012.
Prediction: 70 receptions, 1,100 yards, 10 touchdowns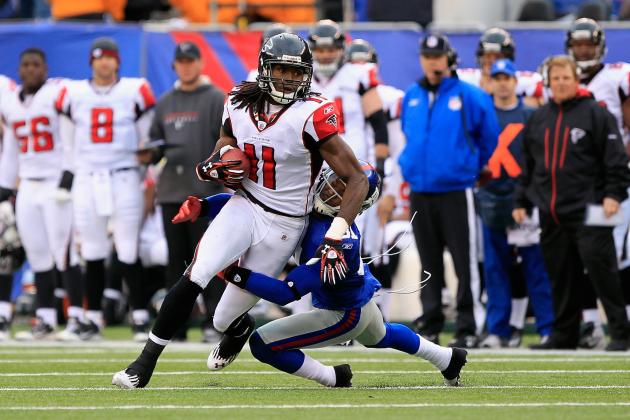 Chris Trotman/Getty Images

2012 is going to be the official coming out party for Julio Jones.
Jones last year showed everyone why he was a top-10 draft pick in the 2011 NFL draft. There were times in his rookie year where he looked like an absolute beast.
In his final four regular season games, Jones had 20 receptions, 393 receiving yards and six touchdowns.
Going into 2012, the Atlanta Falcons will have two of the best wide receivers in the NFL and arguably the best starting wide receiver duo. I know some people may be worried to take Jones early in their fantasy drafts because of Roddy White's presence.
As a rookie, though, Jones had nearly 1,000 receiving yards and eight touchdowns.
Going into his second season, he is going to be much more comfortable in the Falcons offense and will have better chemistry with Matt Ryan.
Jones is going to be one the top No. 2 fantasy receivers and there is a good chance he develops into a No. 1 fantasy receiver.
Prediction: 80 receptions, 1,250 receiving yards, nine touchdowns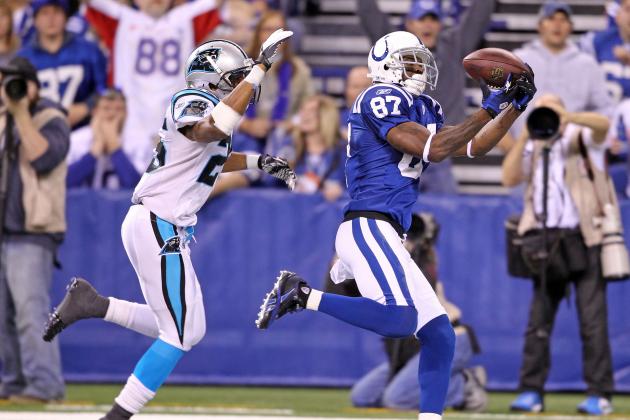 Andy Lyons/Getty Images

Last season was the revival of Carolina Panthers wide receiver Steve Smith. In 2012, Reggie Wayne is going to come back with a strong performance.
Before 2011, Wayne had seven consecutive 1,000-yard seasons. He was one of the top wide receivers in the league when he had Peyton Manning throwing to him.
This past year, Wayne went missing when he did not have Manning. He was catching passes from scrubs including Kerry Collins, Curtis Painter and Dan Orlovsky.
Those quarterbacks are so horrible that the Colts might have been better off playing without a quarterback last year. Luckily, those three managed to be horrible enough to win them the Andrew Luck Sweepstakes.
Luck is going to be in a very familiar situation as Cam Newton was with the Panthers. Luck has no one else to throw to besides Wayne, just like Newton only had Smith. Dallas Clark was released and Pierre Garcon went to the Redskins.
Expect Wayne to bail Luck out of a ton trouble and to put up huge fantasy numbers. Luck is going to have his rookie struggles, but he is going to be targeting Wayne almost every time he drops back.
For years, Wayne was a No. 1 wide receiver in fantasy. 2012 will be the year where he gets back to that status.
Prediction: 90 receptions, 1,350 receiving yards, eight touchdowns