Osi Umenyiora Is the New York Giants' No. 1 Need This Offseason
April 17, 2012

Jamie Squire/Getty Images
I have nothing but the utmost respect for Jerry Reese. I screamed praise at him as his parade float began its slow crawl down the Canyon of Heroes. But it's time for him to blink, end the standoff and pay Osi Umenyiora what he deserves.
Reese proved his mettle last year by letting Steve Smith, Kevin Boss and Barry Cofield walk, while signing a random lineman named David Baas and some punter named Steve Weatherford. 
In the meantime, the "Dream Team" in Philadelphia was stockpiling marquee names and media attention. 
But come February, confetti was raining down upon the New York Giants who were Super Bowl champions again.
Reese showed his GM skills in his first year with the Giants, drafting a key contributor to the 2007 Super Bowl championship with all seven picks.
Aaron Ross (Round 1) started at corner in the playoffs and made 42 tackles during the season.
Steve Smith (Round 2) made the key play on the Giants' final touchdown drive that will always be forgotten. Two plays after Tyree's ridiculous catch on the helmet, Smith grabbed a 3rd-and-11 pass short of the first down, gathered himself along the sideline and charged toward the first-down marker for a 12-yard gain. Next play: Plaxico Burress' game-winning touchdown grab.
Jay Alford (Round 3) sacked Tom Brady on the New England Patriots' final drive, leaving them with 3rd-and-20 at their own 16-yard line and 19 seconds left.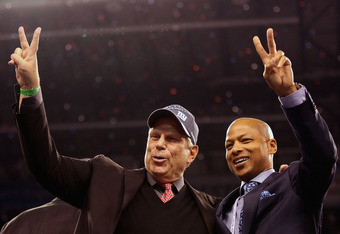 Ezra Shaw/Getty Images
Zak DeOssie (Round 4) is still with the Giants and is a reliable long snapper and special teamer.
Kevin Boss (Round 5) not only made everyone in New York forget Jeremy Shockey even existed, but he opened the fourth quarter of that Super Bowl with a 45-yard catch and run that sparked the Giants' first touchdown drive.
Tackle Adam Koets (Round 6) and safety Michael Johnson (Round 7) were valuable, if forgettable, rookie contributors in 2007.
And of course, there's the Giants' current starting running back, Ahmad Bradshaw, taken with the 250th pick (a compensatory pick in the seventh round) out of Marshall. Among his many rookie highlights was the 88-yard touchdown scamper against Buffalo that catapulted the Giants into the playoffs.
So, that being said, I respectfully defer to Reese's draft expertise. Please draft the best player available on the board. It's safe to say Giants fans are doing backflips that Reese selected Jason Pierre-Paul in 2010.
Each addition that Reese makes to the team seems to make a meaningful contribution.
But the most important choice the Giants can make this offseason could occur before the draft begins. And that is signing Umenyiora to a long-term contract.
Umenyiora is currently heading into the final season of a deal he signed in 2005, and is scheduled to make just under $4 million this year. Tom Coughlin wants him back, and every Giants fan should too. But Umenyiora wants to secure a long-term deal for a market rate, and claims he was promised this by Reese.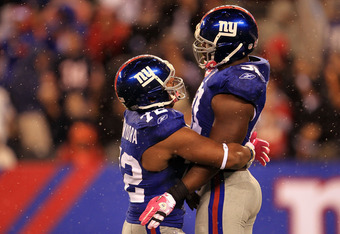 Chris McGrath/Getty Images
Umenyiora went so far as to include his grievance as part of the antitrust lawsuit filed by the players union last summer (hey, remember the lockout?).
Umenyiora claimed that he and Reese agreed in 2008 that if he was still playing at a high level in 2010, he would have his contract renegotiated to be in line with the top-five highest paid defensive ends, or be traded to a team that would pay him at that level (similar to the franchise-tag pay grade).
When Umenyiora pressed Reese on this issue, Reese told him he was an honest, churchgoing man, and wouldn't lie. I believe Reese. But I also believe Umenyiora. So unless Reese stopped going to church, he should hold up his end of the bargain.
Umenyiora obviously played at a high level in 2010, since he set a single season record with 10 forced fumbles. He was also a force down the stretch last year, including in the divisional round of the playoffs, providing a strip-sack on Aaron Rodgers who was about to hit a wide-open Greg Jennings for a TD.
The fearsome Giants D-line is a championship blueprint, and the parts function as a unit. Justin Tuck and JPP can only be as effective as they are when used as part of a rotation.
Umenyiora has recently stated he doesn't "like being a backup," but would you want a player who did want to be a backup? Umenyiora is desperately rattling his sword to try and get a much-deserved pay raise. 
Considering the boatload of money that Mario Williams got this offseason (not to mention the gargantuan contract Julius Peppers has), the Giants should find a way to get a few million more for Umenyiora.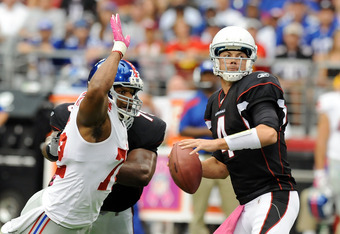 Norm Hall/Getty Images
According to this list, eight defensive ends will make over twice the amount that Umenyiora is slated to be paid. The Giants are even paying Chris Canty 50 percent more than Umenyiora! 
The Giants cannot pay Umenyiora gaudy, Elvis Dumervil-type figures.  But he has at least earned the courtesy of playing with peace of mind, so if he gets his knee rolled into his career won't be over without ever earning a market-rate payday.
While cap space is an issue for the Giants, Reese has restructured numerous deals already this offseason, and a fair re-signing should be feasible for Umenyiora. He needs to get paid.
And add to that the fact that the Giants need Umenyiora. With Dave Tollefson departing for the Oakland Raiders (he didn't want to be a backup either), the Giants cannot afford to trade away Umenyiora and hope to replace both pass rushers from the draft. 
Even moving Mathias Kiwanuka from linebacker to defensive line would leave them short-handed in the rotation on the D-line, and consequently, at linebacker too.
Despite the re-signing of Chase Blackburn and the trade for Keith Rivers, Kiwanuka's flexibility provides the Giants with a versatility that's very difficult to scheme against. Why make him one-dimensional again?
Plus the linebacking corps was so thin last year, they signed Blackburn off the couch. Luckily for them, the math teacher was able to make a crucial interception in the Super Bowl 50 yards down field.
The Giants must preserve the D-line so they can focus on strengthening other need areas. Is Rivers really the plan if Jonathan Goff signs elsewhere?   
If it ain't broke, don't fix it. Keep Kiwanuka where he is, pay Umenyiora and keep the formula of that ferocious defensive line led by Tuck, JPP and Umenyiora. Because if not, Umenyiora will be like toilet paper in a public restroom: sorely missed when it's gone.