Ferrari's Fall from Formula 1 Fame Set to Continue in Bahrain
April 17, 2012

Handout/Getty Images
By now, the the message must have sunk in at Ferrari, and not even the balmy Bahrain spring weather will be able to thaw the chill that comes with the awful realisation that the Prancing Horse is no longer a threat on the Formula One grid.
Ignoring the aberration of Malaysia—where a combination of rain and possibly witchcraft delivered Ferrari an unlikely and ultimately inexplicable victory—the Maranello team are struggling to remain competitive.
While they have been a top-three team for most of the last two decades, this year the reality is much darker. They aren't even top five. They're possibly seventh fastest.
While McLaren and Red Bull have clearly had the edge over the past few years, now Mercedes, Lotus, Sauber and probably even Williams have surpassed them.
Ferrari, however, have everything covered.
After the Chinese GP, Ferrari Technical Director Pat Fry told ESPN F1, "The result does not represent the car's true potential in race configuration but we have to accept it. We lack performance, we know it, but there is no point in beating ourselves up over it: rather we need to concentrate all our efforts on improving car performance."
There's probably a little bit of room for them to beat themselves up. The fact that the team is now battling with teams like Force India, Torro Rosso and even Caterham has to be particularly galling. With no time to bring in upgrades, the pain looks to continue at this week's Bahrain race.
Their performance drop-off is quite remarkable.
While no-one is surprised that Red Bull took a big hit from the regulation changes—their revolutionary blown diffuser being a cornerstone of their success—Ferrari had reportedly stopped working on their 2011 car early to focus on this year's model.
As early as August 2011, team boss Stefano Domenicali was excited about what they were producing. "What I can say, having seen the model in the wind tunnel and the work going on in the drawing office, is that it will be a very innovative machine," he told the F1 Times. "In fact, this is to be expected, this is necessary given that our first goal is that, in 2012, we must be competitive right from the very start of the season."
The confidence continued through the preseason with Domenicali lauding the car at the team's 2012 launch and boldly claiming to the Daily Mail, "I am sure our car will be winning right from the beginning. We have learned many lessons from the past and taken some difficult decisions. But I am sure all our efforts will be represented with this car."
As Max Smart might say, "missed it by that much."
The interesting thing to come from all this is that this dog of a car may well be letting Felipe Massa off the hook.
It could be that he's actually driving the car just about as well as it can be driven, and it's only Fernando Alonso's superior talent and tactical ability that has the car anywhere near the front of the pack.
I'm just kidding, Massa's ongoing poor form is hurting the team almost as much as the slow car.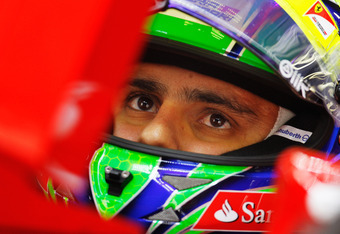 Paul Gilham/Getty Images
Despite that, it may be Alonso who is the biggest problem for Ferrari. He's too good a driver to waste his time in an uncompetitive car and even though he has a contract out to 2016, there's bound to be a get-out clause if he needs it. Red Bull may be looking for a driver next year.
On top of everything else, the car is also hideous to look at. This is an unforgiveable sin for a Ferrari.
Domenicali writes this off with, "The fact that it's ugly or very nice doesn't count a lot, the most important thing is the car has to be performing."
That's absolutely true, but if you can't achieve the latter, you may as well give the fans something pretty to look at.