New England Patriots: How Dan Koppen's Deal Affects Matt Light and Brian Waters
April 17, 2012

Jim Rogash/Getty Images
The New England Patriots offensive line already had a traffic jam developing. Now it's turning into the Ventura Freeway at rush hour.
The Patriots made their most recent free-agent signing Thursday, bringing back longtime center Dan Koppen. It's a move high in continuity, consistency and loyalty.
Excess could be another word for it.
With Koppen on the squad, the Patriots offensive line now includes Logan Mankins, Sebastian Vollmer, Nate Solder, Dan Connolly, Marcus Cannon and Robert Gallery among players either penciled in for starting spots or deserving of starter consideration. And that doesn't account for the likelihood the Patriots draft another candidate.
That's a crowded situation. It'd really get crazy if Matt Light or Brian Waters, both considering retirement, decided to return to the team.
Koppen's signing, however, lowers those odds.
Koppen was thought to be out of the Patriots' picture going forward, and his re-signing comes as a surprise. With Mankins, Cannon, Connolly, Gallery, Nick McDonald, Donald Thomas and Ryan Wendell filling the guard spots, the room seemed to be running out for Koppen, especially considering his age (32) and season missed due to a leg injury.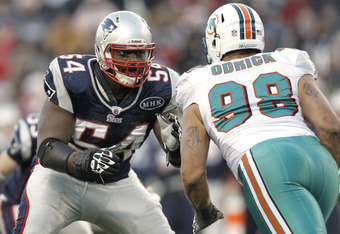 Winslow Townson/Getty Images
But Koppen is back, and not for cheap. He's back for two years and $6 million, or an average of $3 million a year, which is starter money by Patriots standards.
Koppen has had a solid career in New England, but the team could have moved on without him. The fact that it won't implies someone else isn't coming back.
It sure makes it seem like Bill Belichick is planning on going forward without Light or Waters. Maybe both.
Had Waters returned, Connolly would have retained his starting spot at center with Mankins flanking him in the other guard spot. But if Waters decides to follow through with his retirement, Koppen regains the starting center position and Connolly instead mans the vacant guard slot.
Connolly is also making $3 million per year, so, as ESPN's Mike Reiss suggested, he'll likely start somewhere. It could be center. It could be guard.
The move could be an action to help adjust to a Light departure, as well. Were Light to leave, Cannon, who's a tackle by size, would probably be looked at more as a tackle by the coaches.
That would thin out guard options, and if someone like Connolly is being used more at guard, that weakens the center depth, which again explains the Koppen signing.
This is speculation, what with the Patriots still needing to go through a draft and camps to begin to settle things, but the fact remains that it's a numbers game on the offensive line.
There are only so many spots available, and a big name and old friend was just added into the mix. The Patriots could be planning for one player—or two—leaving.