2012 NFL Draft: Media Hype Will Make Andrew Luck's Transition a Tough One
April 17, 2012

Doug Pensinger/Getty Images
We have heard all about Andrew Luck.
He is a once-in-a-generation player. The next John Elway. In fact, Mel Kiper and Todd McShay already have an entire section on ESPN dedicated to Luck. The two of them compare him to the other top quarterback prospects over the past 30 years, including Elway and Peyton Manning.  
Not one snap and he is already being mentioned in that elite tier of quarterbacks.
Can you imagine this next NFL season when he is finally in the league?
He is going to be arguably the biggest storyline of the NFL next year. ESPN's First Take with Skip Bayless is going to be talking about him every show like they did with Tim Tebow this past season.
It is media hype like this that is going to make Luck's transition in the NFL one of the toughest in a while.
Everyone knows Luck has great skills and deserves be the No. 1 draft pick. There is no arguing against that.
However, once he steps on to an NFL field, Luck is going to be eaten alive by the media.
First of all, Luck will be going to the Indianapolis Colts, where he is living in Manning's shadow. Every single play and game, Luck will be compared to Manning. The media has hyped him up to the point where everyone is expecting him to have a Cam Newton-like year. If he does not, which he very well could, he is going to be hearing the criticism from everyone.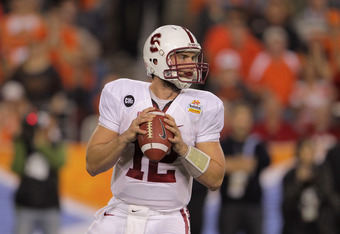 Doug Pensinger/Getty Images
They will all be questioning whether they should have ditched Manning for Luck. It is going to be like Brett Favre vs. Aaron Rodgers, Part Two.
If Robert Griffin III performs better than Luck some weeks, people may even start saying the Colts drafted the wrong guy.
Being on the Colts also does not make Luck's transition any easier. They were the worst team in the league and will be one of the worsts in the league this upcoming season. They are going to be rebuilding for the next couple seasons. Luck has a horrible supporting cast, which could be detrimental to his career. He has no running back to take the pressure off him and wide receiver Reggie Wayne is not the player he once was.
The media will also be much tougher on him now that he is in the NFL. In college, Luck was not criticized much. He was a student-athlete and not in the national spotlight every week. Now being a professional in the NFL, he is going to be watched every week by the entire nation. If he makes any mistakes, expect them to be shown over and over again on ESPN highlights.
Being a rookie with all this pressure and hype, Luck may not be able to handle this. All of the criticism could get to his head and rattle him very easily.
Also, don't think for one second NFL veterans have not heard all of this media hype about Luck. In the NFL you have to earn respect. Just because Luck is being named one of the top prospects of all time does not mean players are just going to fall over for him.
The difference between NCAA football and the NFL is like night and day. Luck is going to be going up against bigger, faster and stronger athletes than he has ever seen in his playing career. These NFL veterans are going to be even more motivated when they go up against Luck to show everyone that he is playing on a whole new level. 
When it comes down to it, at the end of the 2012-2013 NFL season, we are going to see that the media hyped up Luck way too much. Don't get me wrong, Luck will have a great career, but the bar was set way too high for a guy who has not taken one snap in the NFL.