3 Adjustments LeBron James and Miami Heat Must Make Before NBA Playoffs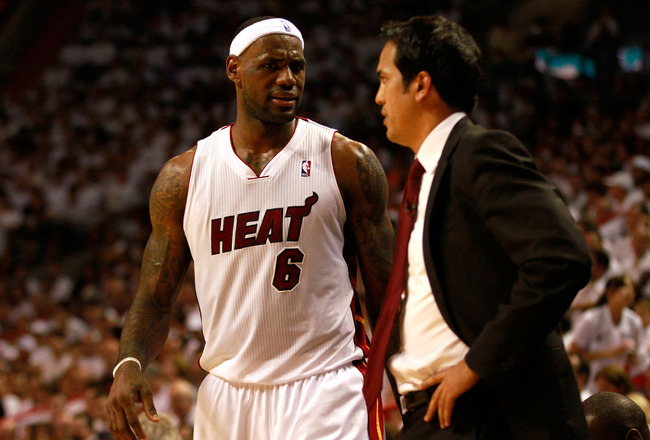 Marc Serota/Getty Images
The NBA playoffs are right around the corner. The center of attention resides largely in South Florida as the Miami Heat gear up for another crack at the trophy they no doubt assumed they'd be hugging 10 months ago.
While this team is bound to start every season as the favorites to win it all, for the past two years they've found ways to elicit concern among their salivating fans as the schedule unwinds.
This year—no doubt to LeBron James' dismay—the Heat still have yet to be unbeatable. Of the kinks in this Goliath's armor, few are capable of changing the outcome of a series. Still, a few key tweaks and adjustments would make this postseason that much easier on LeBron and Co.—because if one thing is certain, it's that LeBron has it hard enough already...
Failing to make the list by virtue of being applicable at all times are an attitude adjustment, taking fewer possessions off, and reducing those lazy stretches and late-game lulls.
1. Readjust Priorities at the Point
Mike Ehrmann/Getty Images
If you asked someone back in mid-January how the Heat looked at the 1, they might have told you—albeit with guarded optimism—that Mario Chalmers and Norris Cole looked like a serviceable two-headed point guard for the future.
Chalmers' strong performance in the NBA Finals was still fresh in people's minds back then, and most expected it to carry over into lasting results going forward. Likewise, rookie Norris Cole seemed to have hit the ground running after dropping 20 points on the Celtics in his second pro game. He even looked like a possible All-Rookie pick.
Decent starter plus surging backup was supposed to equal no more complaints about the point. As it were, complaints have arisen. Both players' shooting seems to have fallen off a cliff in March and April. Their overall composure seems to be suffering, resulting in more unforced errors than Dwyane Wade, LeBron and coach Erik Spoelstra are likely to tolerate for long.
Not that they can't make themselves useful under the right circumstances—see: Mario Chalmers' timely shot-making—but the Heat should consider trimming their roles in initiating the offense. Leave that to the LeBrons and Wades of the world.
2. Rest the Big Two, as Well as Bosh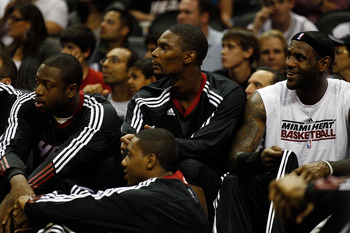 Chris Graythen/Getty Images
This is obviously not the strategy to employ going into the playoffs, but a change in their approach exclusively for the remaining handful of games leading up to them. As you know, this team relies heavily on its top three guys to get, well, anything done. Fatigue eventually comes into play, especially in a condensed season with minimal down time.
People love to downplay the effect of fatigue on the "Three Banditos'" performance—or simply dismiss it altogether as an invalid excuse—but there's no bargaining with human physiology. Even highly trained athletes can wear down with heavy usage.
LeBron James may be a freak of nature, but he is still human; his limits are simply much, much higher, but they are there.
The question is, do the Heat keep sending their full roster out there in an attempt to overtake the Bulls? Do you wait until Chicago clinches the top seed before sitting your stars, or do you start the cool-down process earlier to have them as fresh as possible come playoff time?
Either way, Erik Spoelstra should make a specific point of finding time to sit all three of these guys as much as possible going into late April.
3. Get to Know Ronny Turiaf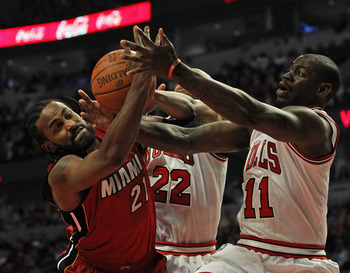 Jonathan Daniel/Getty Images
Ronny Turiaf is no game-changer; that much is clear. He does, however, bring something to the Heat that they otherwise have in short supply: intensity. He's also a decent stopper, as evidenced by his one-block average in limited minutes since joining the Heat. Finally, he gives the Heat a guy who can finish off a play when set up properly.
He has been plugged into the active rotation alongside Joel Anthony where the two basically split minutes at the pivot, but the team shows little to no signs of actually leaning on him for anything other than garbage duty and plugging the lane.
By no means is this writer suggesting he's a better scout than Miami's coaching staff, but they should definitely explore the possibilities with Turiaf come playoff time. He's had experience playing in the finals as a Laker, and he's not so far removed from the days when he was a solid defensive presence and finisher at the rim.
Simply using Turiaf as a bit player with no lines in the script would be underusing him, as Turiaf can do many things for a team based solely on intensity. If anything, Erik Spoelstra should up Turiaf's minutes, hoping that fiery, hard-nosed attitude rubs off on the rest of a roster that is well known for coming up short in that department at disastrous times.
Keep Reading

Miami Heat: Like this team?