Weekend's Best: Matt Kemp and the Los Angeles Dodgers Tower Above MLB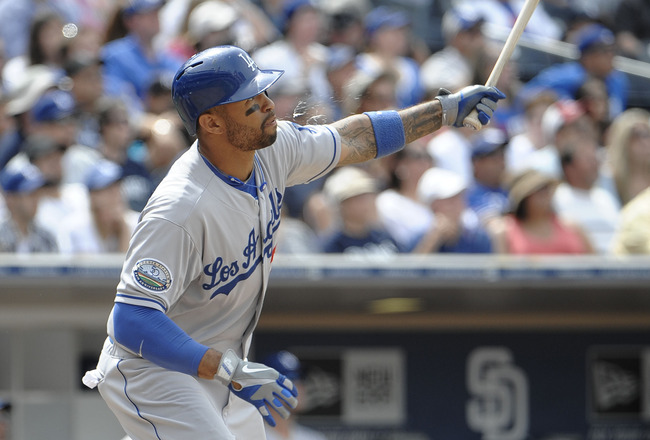 Is Matt Kemp's bat made of maple or dynamite?
Denis Poroy/Getty Images
So how was your weekend? Was it relaxing? Did you break out the grill for the first time? Maybe you got that big project done. Take a day trip somewhere?
That's wonderful. But it wasn't Matt Kemp's weekend.
The Los Angeles Dodgers center fielder batted 7-for-10 in three games against the San Diego Padres. He hit four home runs, including a pair of two-run shots on Saturday, and drove in seven runs. Oh, and Kemp drew four walks while he was at it.
After swinging dynamite, Kemp has a triple-slash average of .487/.523/1.026. He leads the major leagues in all three categories. Kemp's six home runs are also the highest total in the bigs, as are his 16 RBI. Following last season's flirtation with the triple crown, Kemp looks like a guy who wants to seize that prize for the first time in 45 years.
(Can you believe some bloggers didn't even list Kemp among their top National League MVP candidates? For instance, this goofball.)
Kemp isn't just piling up big numbers while his team falters, either. Following a three-game sweep of the Padres, the Dodgers have the best record in baseball at 9-1.
Yes, that mark has come at the expense of the Padres and the Pittsburgh Pirates, so the Dodgers aren't crushing elite competition. And there's certainly been some luck involved in winning those games, as Sunday's ninth-inning triple play demonstrates. (Was Jesus Guzman's bunt a foul ball? You make the call.)
But the Dodgers are certainly beating the bad teams, which is what should be done. Finish .500 or better against the upper tier of the National League, and you have a playoff team.
Now, for the rest of the weekend's best. Please share your suggestions for standouts in the comments.
Aaron Harang, Los Angeles Dodgers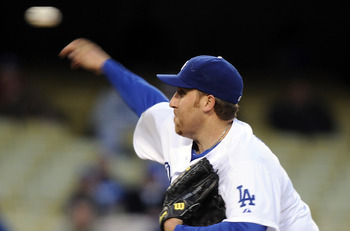 Aaron Harang broke a 50-year-old Dodgers record with nine consecutive strikeouts on Friday.
Harry How/Getty Images
Aaron Harang allowed four runs and four hits in 6.1 in Friday night's win over the Padres.
That part might not look particularly impressive—but how about 13 strikeouts? How about nine consecutive strikeouts?
Following a leadoff single by Cameron Maybin, Harang blew through the next nine hitters he faced.
The strikeout streak ended with a boom, as Will Venable led off the fourth inning with a home run.
Nonetheless, Harang nine straight Ks broke a 50-year-old franchise record set by Johnny Podres.
Matt Cain, San Francisco Giants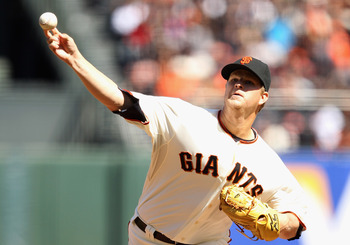 Matt Cain pitched a one-hit shutout against the Pirates on Friday
Ezra Shaw/Getty Images
No team has scored fewer runs this season than the Pittsburgh Pirates, and it's really not even close.
The Bucs have put 18 runs on the board, 10 fewer than the next-highest total.
So maybe Matt Cain shouldn't get too much credit for shutting out that lineup.
But a one-hit shutout speaks for itself.
Cain only allowed a sixth-inning single, and that was from opposing pitcher James McDonald. He also racked up 11 strikeouts in a dominating performance.
Howie Kendrick, Los Angeles Angels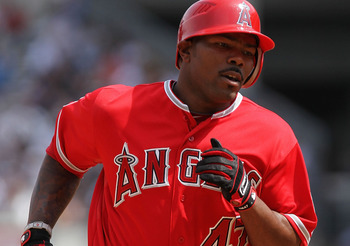 Howie Kendrick hit 6-for-10 in two games against the Yankees over the weekend.
Nick Laham/Getty Images
The Los Angeles Angels didn't have a great weekend in the Bronx, losing two out of three to the New York Yankees by a combined score of 17-12.
But Howie Kendrick did the best he could to pull the Angels out of the league basement, batting 6-for-10 in two games with a home run and three RBI.
He almost hit for the cycle in Sunday night's 11-5 loss, missing a home run in the eighth inning when a drive down the right-field line curved foul.
For the season, Kendrick has a .327/.361/.559 triple-slash average.
Derek Jeter, New York Yankees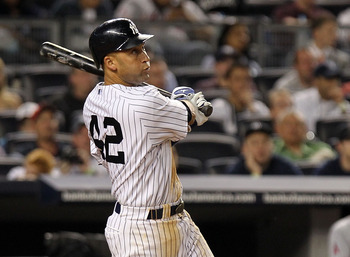 Derek Jeter is batting .366 over the Yankees' first nine games.
Nick Laham/Getty Images
After suffering a season-opening sweep, the Yankees appear to have righted themselves with five wins in their last six games.
Their captain has contributed to the resurgence, getting at least one hit in each of the past six games and boosting his OPS for the season to 1.005.
Over the weekend, Jeter hit 5-for-14, breaking out with a home run and three RBI in Sunday's 11-5 win over the Angels.
Chipper Jones, Atlanta Braves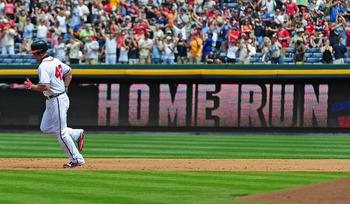 Chipper Jones' three-run homer was the difference in the Braves' 7-4 win over the Braves on Sunday.
Scott Cunningham/Getty Images
It's been a rough early start to the season for Chipper Jones, who underwent arthroscopic surgery on his left knee late in spring training and returned to the Braves' lineup this past week.
Jones sat out the first two games of Atlanta's weekend series with the Milwaukee Brewers while his knee was drained of fluid to reduce swelling.
But on Sunday, Jones showed that his bat can still make a meaningful contribution with some well-timed thump.
The 40-year-old third baseman hit a three-run homer off Chris Narveson in the third inning, breaking a 1-1 tie. That was essentially the difference for the Braves in a 7-4 win over the Brewers, giving Atlanta a three-game weekend sweep and a fifth straight win that's put them over .500 for the season.
Keep Reading

Los Angeles Dodgers: Like this team?