MLB 2012 Predictions: Top 5 National League MVP Candidates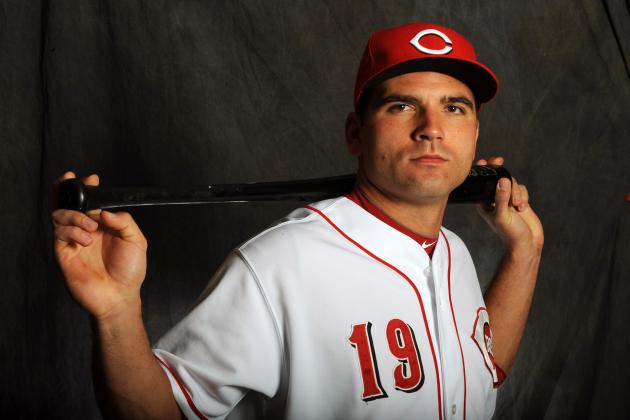 Rich Pilling/Getty Images
Is former NL MVP Joey Votto the favorite for the award in 2012?
With Albert Pujols and Prince Fielder gone to the American League, the National League has lost some serious star power and two perennial MVP candidates.
How could any baseball writer look bad picking Pujols in the NL balloting? Now we actually have to think about this stuff.
Defending NL MVP Ryan Braun lost some luster from his image during the offseason with the charge that he tested positive for using performance enhancing substances. Braun successfully appealed the penalty, however, and his 50-game suspension was overturned.
But suspicion remains in the court of public opinion. Is it possible Braun can overcome that and again warrant MVP consideration with a great season?
Without the established candidates in the field, the opportunity is there for new names and faces to emerge in the NL MVP race. Several young superstars are ready to stake their claim as the best player in the league.
Begin Slideshow

»
Christian Petersen/Getty Images

Justin Upton finished fourth in last year's NL MVP balloting, drawing plenty of support among observers until Matt Kemp and Ryan Braun's numbers simply couldn't be ignored.
But Upton was the driving force behind the Arizona Diamondbacks' surprising turnaround, one which led to a first-place finish in the NL West. Upton finished his 2011 season with a .289/.369/.529 slash average, 31 home runs, 88 RBI and 21 stolen bases.
You can't help but get the feeling that there's so much more to come. Upton is only 24 years old, and has just begun to show what he's capable of doing over a full season.
For the D-Backs to repeat as NL West champs and return to the postseason, they will need Upton to be as good—if not better—than he was in 2011. There's no reason to think that he's not up to that task.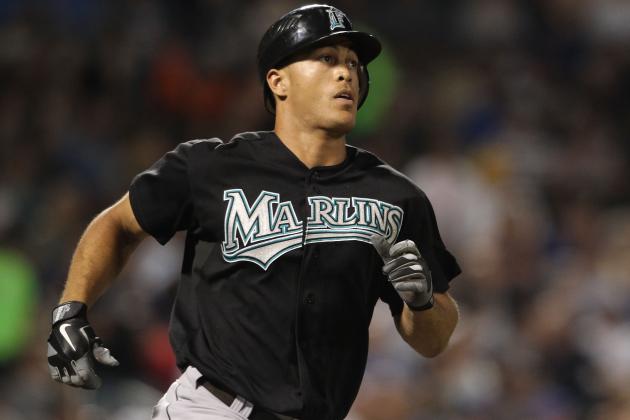 Nick Laham/Getty Images

With a new ballpark, new uniforms, a new manager and a free-spending offseason, the Miami Marlins are emerging as a trendy pick for one of the National League's postseason spots.
The Marlins will be getting more attention this season, and that means more people will be watching a 22-year-old phenom who looks ready to impose his will on the sport.
No wonder the former Mike Stanton wanted to make sure he would be known by his real first name, Giancarlo.
In his first full season as a major leaguer, Stanton hit 34 home runs with 87 RBI, compiling a .262/.356/.537 slash average. What kinds of numbers will he put up when he really figures out major league pitching and reaches his prime as a player?
The one thing that might keep Stanton's power in check is his home ballpark. As Fish Stripes lays out, the new Marlins Park is big, and won't be kind to right-handed power hitters. What Stanton might lose in home runs, however, he might gain in doubles and triples.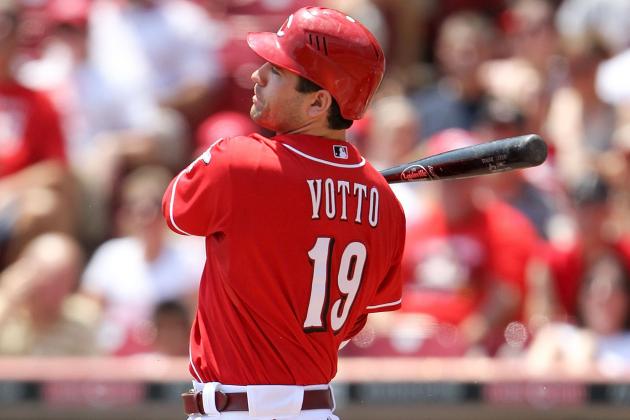 Andy Lyons/Getty Images

With Pujols and Fielder moving on, Joey Votto is clearly the best first baseman in the National League now. And it's really not even close.
As ESPN.com's David Schoenfield asked on Twitter recently, who would you pick for the NL All-Star team at first base after Votto? Probably Lance Berkman, now that he's taking over first base in St. Louis.
One problem for Votto will be that opposing pitchers won't give him as many opportunities to put up big numbers. Votto led the NL in walks last year with 110, and there's no reason to think he won't be pitched around just as much this year.
If you're a believer in lineup protection, the Reds should bat Jay Bruce in the cleanup spot behind Votto. But Dusty Baker seems to favor a left-right-left order in the middle of the lineup, which means Ryan Ludwick or Scott Rolen will bat in the No. 4 hole. Would you rather pitch to, those guys or Votto?
Votto will be NL MVP if the Cincinnati Reds win the NL Central. However, I believe they'll fall short in the division race, and that will ultimately hurt Votto's chances.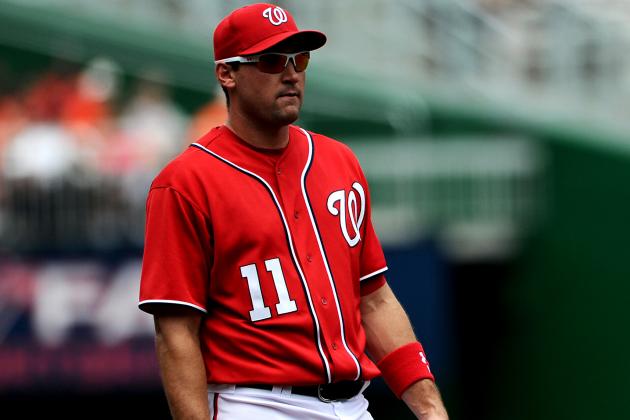 Patrick Smith/Getty Images

Picking Ryan Zimmerman to win NL MVP this year might be one year too early, which is why I have him No. 2 here.
The Washington Nationals are expected to contend in the NL East, and I believe they'll win one of the wild card spots. If the Nats make it to the postseason, it will be largely because of their starting pitching. But someone will have to carry that lineup, and Zimmerman is that guy.
Oh, and by the way, he plays great defense at third base. That could give him an edge when comparing him to other MVP candidates.
One knock against Zimmerman in recent years is that he hasn't been able to stay healthy through a full season. But after recovering from an abdominal injury last year, Zimmerman stayed in the lineup and had a strong July and August.
When he's been healthy, Zimmerman is a 30-homer, 100-RBI hitter. The Nats believed in him enough to sign him to a six-year, $100 million extension this spring. They expect him to be their cornerstone player, and he will show he's worthy of that status.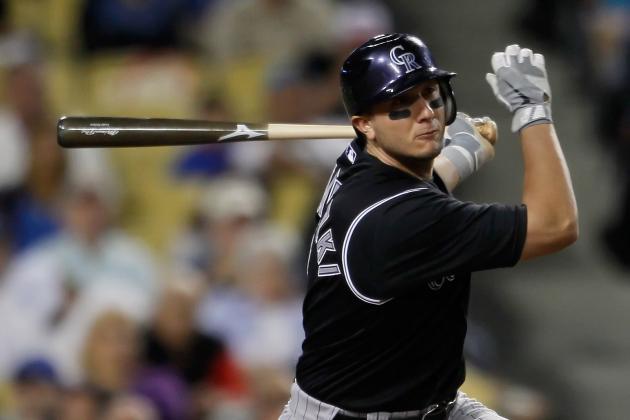 Jeff Gross/Getty Images

Troy Tulowitzki has been one of the best players in the National League for the past five years. He's averaged 28 homers and 103 RBI while playing the most difficult defensive position on the field.
But Tulowitzki doesn't just play shortstop—he plays it very well. According to Fangraphs' Ultimate Zone Rating, he's one of the best defenders at that position in the majors. And among his defensive peers, none of them come close to matching his offensive production.
Last year, Tulowitzki had his best season, hitting .302/.372/.544 with 30 home runs and 105 RBI. Yet that performance didn't receive much notice because the Colorado Rockies finished fourth in the NL West.
Helping Tulowitzki's cause will be a better team around him. He won't have to carry the offensive load with teammates Carlos Gonzalez, Marco Scutaro, Ramon Hernandez and Michael Cuddyer providing reinforcements. Juan Nicasio and Drew Pomeranz look ready to emerge as quality major league pitchers.
If the Rockies contend for a division title and playoff spot—as I believe they will—then Tulowitzki won't be going about his business quietly among fans and award voters. They'll see the big offensive numbers and the highlight reel plays he makes at shortstop.
People already know how good he is. The difference this year is that he will get the most MVP votes to show for it.