MLB 2012 Predictions: National League Central Again Topped by Milwaukee Brewers
March 28, 2012

Jonathan Daniel/Getty Images
The National League Central lost two of the marquee players in baseball during the offseason. The three teams likely to contend for the division title each made big changes. But after all the dealing and tweaking, will the standings end up looking much the same as they did last year?
1. Milwaukee Brewers
Losing Prince Fielder was obviously a tremendous blow for the Brew Crew. Hitters who slug 38 home runs with 120 RBI are not easily replaced. General manager Doug Melvin found one bat who can help make up for that lost production in third baseman Aramis Ramirez.
But the big question centers on the player who will step in for Fielder at first base. Mat Gamel had a fine season for Class-AAA Nashville, hitting .310/.372/.540 with 28 homers and 96 RBI. But he hasn't be able to achieve that level of performance thus far in the big leagues, where he's seen very little action over the past two seasons. If Gamel poses no threat at the plate, opposing teams might pitch around Ramirez and reigning National League MVP Ryan Braun frequently.
However, Milwaukee didn't lose anything on the pitching side. Zack Greinke pitched well last year, but comes into this season fully healthy and is working for a new contract. Along with Yovani Gallardo and Shaun Marcum, the Brewers have the best top three starting pitchers in the division. That will ultimately give them the edge in what looks to be a close NL Central race.
2. St. Louis Cardinals
How could the Cardinals be counted out of any race after the epic rally they staged to leapfrog the Braves for the NL wild card, followed by shocking the Phillies, Brewers and Rangers during the postseason and winning the World Series?
Yet how many teams could shake off what the Cards have lost over the past five months? Albert Pujols is wearing a different red-and-white uniform in Anaheim now. Tony La Russa decided it was time to call it a career and go out on top. And Chris Carpenter's status for the season is uncertain after he was diagnosed with nerve inflammation in his pitching shoulder last week.
Carlos Beltran will replace some of Pujols' production in the lineup, and the Cardinals have the outfield depth to give him an occasional rest and keep him healthy. (Once Allen Craig recovers from knee surgery, that is.) And Lance Lynn should be a decent fill-in for Carpenter until he returns or the Cards decide to look at other options.
The great unknown is whether or not total rookie manager Mike Matheny can suitably replace La Russa in the dugout. Some analysts believe that managers ultimately don't mean that much to a baseball team's fortunes. This could be an excellent case study for that theory. But I think the Cardinals will be one of the NL wild card teams.
3. Cincinnati Reds
Jared Wickerham/Getty Images
The Reds made some notable offseason moves in an attempt to close in on the Brewers and Cardinals. Mat Latos is the starting pitcher that Cincinnati was missing at the top of its rotation, though isn't really the true ace that would make a difference in this division. Trading for reliever Sean Marshall was a savvy move to give the bullpen depth and looks even smarter now that closer Ryan Madson is out for the season.
Joey Votto is an MVP candidate at first base. Along with Jay Bruce and Brandon Phillips, the Reds score more runs than you'd think possible, looking at their lineup. They'll have to maintain that level of offensive production to help out the pitching staff. (Will Bronson Arroyo give up 46 home runs again?) But getting some reinforcements in the outfield would really help. Ryan Ludwick wasn't exactly the upgrade they needed.
The Reds might have the resources to get that help, too. Homer Bailey is fighting for the fifth spot in the rotation. But if he loses out to Aroldis Chapman, could he find himself dealt for that much-needed outfielder?
4. Pittsburgh Pirates
Oh, Pittsburgh Pirates, you were such a great story when baseball had the sports world to itself during the summer. The team was on the verge of becoming America's baseball darlings, fighting for first place in the NL Central and actually taking a half-game lead in mid-July.
First place! The Pittsburgh Pirates! In a division that put two teams in the postseason and eventually produced a World Series champion. But it all came crashing down after the call that will live in infamy, Jerry Meals saying the Braves' Julio Lugo was safe when he was tagged three feet from home plate. That gave the Pirates a soul-crushing, 19-inning loss that sent a promising season into a tailspin.
How about this year? Erik Bedard and A.J. Burnett (when he recovers from a fractured eye socket) give the Bucs a top of the rotation that could make things interesting on several nights. And the bullpen has some strong arms that could protect some leads.
But the Pirates have to build those leads first, and besides Andrew McCutchen, there's just no one in the lineup that poses much of a threat. Pedro Alvarez is on notice. He needs to start hitting like the guy who was drafted No. 2 overall in 2008 for Pittsburgh to make any noise whatsoever.
5. Chicago Cubs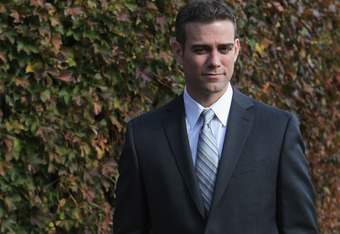 Jonathan Daniel/Getty Images
The more wishful Cubs fans out there may have held onto hopes that their team would sign a big name like Albert Pujols or Prince Fielder. Such a splashy move would have the added benefit of sticking it to a division rival.
Alas, Theo Epstein looked at a roster with too many holes saddled with some bad-to-horrible contracts and saw a rebuilding project. There was no better indication of that than acquiring first-base prospect Anthony Rizzo from the San Diego Padres rather than sign Fielder or Pujols. Epstein and general manager Jed Hoyer are going to take their time with this reconstruction.
The Cubs do have some talented players that could frustrate opponents. But other than Starlin Castro, they all look more like trade bait. Will Matt Garza be on another team by the end of July? Marlon Byrd will surely provide outfield help for the many teams that need it. Bryan LaHair could be moved to clear first base for Rizzo. And Carlos Marmol and Kerry Wood look like trade deadline acquisitions for playoff contenders.
6. Houston Astros
The Astros will get a farewell tour around the NL Central before moving over to the American League next year. Fans wistful about leaving the NL can enjoy watching their longtime division rivals for one last season. Will that be enough of a consolation prize for what's sure to be another miserable summer?
The biggest storyline for 2012 might be whether or not Jeff Luhnow can unload Wandy Rodriguez on a desperate playoff contender. But the $36 million left on his contract is a tough swallow for any team, which is probably why Rodriguez is still with the Astros. The same is surely true with Carlos Lee, who's set to be paid $18.5 million this year.
But Luhnow has been able to clear other veterans off the roster for younger players, such as when he traded Mark Melancon to Boston for Jed Lowrie and Kyle Weiland. Dealing Humberto Quintero and Jason Bourgeois to Kansas City opened spots for catcher Jason Castro and centerfielder Jordan Schafer, two players that need to develop.
Otherwise, this looks like another year in which the Astros could contend for the No. 1 overall pick in June's amateur draft. And maybe that's not so bad. Having two straight top picks yielded Stephen Strasburg and Bryce Harper for the Nationals.