Chris Carpenter Injury: 4 Ways the St. Louis Cardinals Could Replace Him
March 24, 2012

Ezra Shaw/Getty Images
Bad news got worse for the St. Louis Cardinals and Chris Carpenter on Friday, with word that the weakness in his pitching shoulder is being caused by nerve irritation. Surprisingly, this injury is actually separate from the bulging disk that led Carpenter to stop pitching last week.
Treatment for the inflamed nerve will keep Carpenter out for longer than the bulging disk was expected to. As reported by the St. Louis Dispatch's Derrick Goold, Carpenter likely won't be able to pitch for the Cardinals for at least a couple of months.
The timetable for Carpenter's return is indefinite, as Goold explains, because the nerve irritation has to be alleviated before he can begin strengthening his shoulder. Carpenter can't begin throwing again until he builds his strength back up. 
So with an uncertain return for Carpenter, how do the Cardinals move to replace him? Here are four early possibilities.  
Lance Lynn
This is the precaution the Cards already took when Carpenter first went down, moving Lynn out of the bullpen and into the rotation. For now, it looks like Lynn's stay in the rotation could be much longer than originally anticipated. He's pitched well in his two spring starts, allowing one run and two hits over eight innings.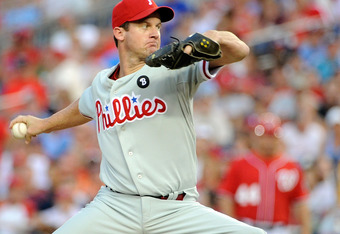 Greg Fiume/Getty Images
While teams such as the Boston Red Sox and Detroit Tigers hoped to sign him, the scuttlebutt was that Oswalt's preference was to sign with the Cardinals. Carpenter's injury certainly opens a potential spot for him. But Oswalt has said he doesn't want to join a team until midseason.
What if Carpenter has fully recovered by then?  
John Lannan
The Washington Nationals would like to trade him, as there might not be a spot in their starting rotation for him. The Tigers have been the team linked to him in trade rumors, notes CBSSports.com's Jon Heyman, but that could change now. The question is whether or not the Nats still want to deal him, now that Chien-Ming Wang is out with a hamstring injury according to the Washington Post. 
Shelby Miller
Miller is the Cardinals' top minor league prospect, and if he's ready for the big leagues, this would be an ideal time to call him up. But he probably needs at least one more minor league season to develop properly. Miller, 21, dominated in his stint with Class AA Springfield last year, compiling a 9-3 record and 2.70 ERA with 89 strikeouts in 86 2/3 innings. 
The Cardinals likely don't feel the need to react with an immediate move, however. They've already prepared Lynn to replace Carpenter in the rotation. But they also have some very recent experience with losing a top starting pitcher and prospering without him.
Many wrote the Cards off last spring when Adam Wainwright blew out his elbow. But a World Series trophy says that the season still ended up working out very nicely.