MLB 2012 Predictions: National League West Goes to Colorado Rockies
March 27, 2012

Garrett Ellwood/Getty Images
The NL West is home to several elite players in Major League Baseball. Individually, any one of them could carry their teams to a division title. But the superstar who doesn't have to do it alone will end up being the one who makes to the top.
When doing predictions for the previous sites I've written for, I often look to a team's bullpen to ultimately determine who will a division. This pick goes against that usual instinct. The Diamondbacks and Giants have better pitching staffs. The Dodgers might, as well.
But in a division where pitching would seem to rule, I think the team that can score some runs will eventually have the edge. The D-Backs and Giants have some thin-looking lineups (especially with Bruce Bochy's insistence on keeping Brandon Belt down), while the Rockies added Marco Scutaro, Michael Cuddyer and Ramon Hernandez to give their batting order some depth. With Troy Tulowitzki and Carlos Gonzalez, they already had two of the best hitters in the division.
Plus, Colorado's pitching staff could be good enough to win. Jeremy Guthrie gives the starting rotation a veteran anchor who will look much better away from the AL East buzzsaw. Jhoulys Chacin, Juan Nicasio and Drew Pomeranz all have breakout potential. And if (when?) Jamie Moyer eventually breaks down, Guillermo Moscoso, Alex White and Josh Outman could fill in nicely.
If pitching rules, the Giants will hold the crown. Tim Lincecum and Matt Cain are the best top two starters in the division and could be even better this year. That seems silly to say considering that the two of them really only "struggled" in terms of won-loss record, which exposes the folly of judging pitchers by that standard. But Lincecum's offseason workouts indicate that he's looking to come back even stronger, while Cain is pitching for a new contract. Get out of the way of these guys.
Unfortunately, they'll still have a lackluster lineup supporting them. Angel Pagan and Melky Cabrera will provide more consistent hitting and speed to the outfield, so that's probably an upgrade over last year's edition.
Buster Posey's return will be a boost, though there's some question as to whether he can catch full-time on his rebuilt ankle. Emmanuel Burris is doing the team a favor by beating out Ryan Theriot and Mike Fontenot. But is Bochy really going to continue the charade of playing Aubrey Huff over Brandon Belt at first base?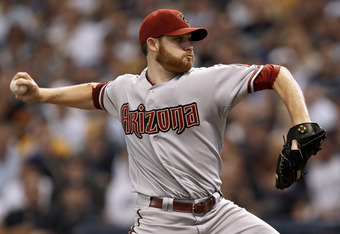 Jared Wickerham/Getty Images
The D-Backs were perhaps the most surprising team in baseball last season, overtaking the Giants for the division title. The same crew returns this year, so there's no reason to think that they can't win again. Except some players, such as Ryan Roberts and Ian Kennedy, had career years that don't seem repeatable.
Arizona has a deep starting rotation, which could be enough to push them to the top. And reinforcements are on hand in Trevor Bauer and Tyler Skaggs if the pitching staff needs a boost. The D-Backs also have nice depth in their bullpen, something that may have been the difference in winning the division last year.
Justin Upton is an MVP candidate, and he'll have to be that good again—and probably better—to carry a lineup with some big holes, especially in the infield. Can some of that starting pitching or bench players like Gerardo Parra and Willie Bloomquist be used to get some help?
In Matt Kemp, the Dodgers have the best hitter in the division, and probably the league. With Clayton Kershaw, they have the best pitcher in the league. So how can a team with those two players, along with a solid back end of the bullpen, finish in fourth?
There's just not much else on the roster to help these marquee players. The pivotal player will be Andre Ethier. Will he put up big numbers to try and draw a big new contract? Or will he sulk about not receiving a contract extension and occasionally take himself out of the lineup?
Maybe if they're close, Ned Colletti can make a deal for the other slugger the batting order needs. But without that, pitching will probably have to carry the Dodgers. And that's a tough way to go considering the superior pitching staffs in the division.
You just want to pat the Padres on the shoulder and give them credit for trying. (Well, at least I do. I shouldn't try to speak for you.) Carlos Quentin was a decent acquisition that should provide some middle-of-the-order pop. But Quentin has also benefited from playing in Chase Field and U.S. Cellular Field, two of the most hitter-friendly parks in the majors. How will Petco Park affect his production?
In a ballpark where offense goes to die, can the Padres score enough runs to help their pitching staff? Rookie of the Year candidate Yonder Alonso will certainly help, but he's not a classic power-hitting first baseman. Cameron Maybin is miscast as a lead-off hitter, but is showing continued improvement. Chase Headley is a solid No. 3 hitter, but not a big slugger.
The starting rotation looks solid enough, though it is lacking an ace. Can Edinson Volquez be the kind of pitcher? Is Cory Luebke ready to break out? How will Clayton Richard rebound after surgery? But as we've said with the other pitching-rich teams in this division, scoring runs is going make the difference and the Padres are lacking.
Check back with Horsehide Chronicles Wednesday for predictions for the NL Central, as well as candidates for the NL Cy Young Award.