Anthony Bennett: Each School's Chances of Getting Top Remaining Prospect
April 14, 2012

Jonathan Daniel/Getty Images
Anthony Bennett, quite possibly the best power forward recruit in the country, has yet to make his decision on where he'll play college basketball in 2012.
And it's hard to blame him.
First, he had to win a state title with Findlay Prep, with a McDonald's All American game squeezed in there. Then he had help carry the International squad to a win over the USA at the Nike Hoop Summit.
Now he's at the Jordan Brand Classic.
Mix in practices, traveling, homework, heck, probably some dating, and Mr. Bennett is a very busy guy. Deciding on what college to attend between all of that isn't easy.
But he's narrowed it down to five, and after he takes official visits later this month and next, he'll be ready to make a decision.
Here's a look at each school's chance to land the talented big man. 
UNLV Runnin' Rebels: 35 percent
Most people like Florida in this Bennett sweepstakes, but I'm going with UNLV as the favorite.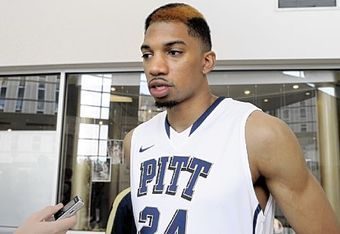 Not only is UNLV about 20 minutes from where Bennett currently attends high school in Henderson, Nevada, but it also now home to Khem Birch, former Pittsburgh forward.
Birch, like Bennett, is orginially from Canada and the two share a close friendship. It's hard to beat a school that is this close to home and gives Bennett a chance to play with his good friend. 
What's more UNLV is slowly getting back on the map as a basketball powerhouse. With Bennett, they'll officially be back. 
Florida Gators: 30 Percent
The Gators have been thought to be at the top of Bennett's list for a long time, and now they've even opened up room for the power forward.
Walter Pitchford, a 6-foot-9 forward, is transferring from the Gators and that gives Florida one open scholarship and a need for a big man.
For what it's worth, three of the seven ESPN insider analysts predicted Bennett to Florida, which is more than any of his other targets.
That's relevant, right?
Kentucky Wildcats: 15 percent
I would guess the odds that Kentucky acquires Bennett's services have been dropping ever since John Calipari landed Nerlens Noel, but it's impossible to count them out.
The Cats have already landed Noel, a center, Willie Cauley, a center/power forward and Alex Poythress, a small forward/power forward.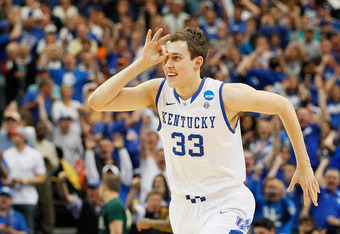 Kevin C. Cox/Getty Images
Throw in sophomore power forward Kyle Wiltjer, and it's already a crowded frontcourt. Bennett could certainly open some room with that big body of his, but I would guess that it's unlikely. 
Oregon Ducks: 10 percent
There hasn't been a ton of talk about Bennett to the Ducks, but don't discount them as a sleeper in the race.
Oregon basketball is certainly on its way back up; they've already signed talented four-star point guard Dominic Artis, and Bennett would be the superstar to carry this team near the top of an improving Pac12. 
It's hard to pass up all of that.
And Nike. It's hard to pass up Nike, too. 
Washington Huskies: 10 percent
The Huskies may not realistically be in this race, but they might be able to benefit the most from an official visit.
Head coach Lorenzo Romar is a terrific recruiter, and if Bennett visited Seattle, Romar would be able to sell him on the campus, the school, and most importantly the style of play.
The Huskies play a very up-tempo game and like to utilize big men who can run the floor and shoot, which makes Bennett the perfect fit in Washington's system. 
It probably won't be enough, but it's certainly enough to at least intrigue Bennett.