New York Yankees: CJ Wilson vs. Phil Hughes
April 14, 2012

Nick Laham/Getty Images
HIROKI KURODA vs. ERVIN SANTANA compared to C.J. WILSON vs. PHIL HUGHES:
If you looked at Kuroda and Santana's career stats vs. the active hitters prior to yesterday's game, the Yankee win was already a lock.
Not taking anything away from Kuroda, but no one foreseen a less than an inning away from a complete game performance considering his last and only two both took place in 2008.
Kuroda also did have some success and experience against Angels Albert Pujols back when he was a Dodger, and that is advantage that the other Yankee starters don't have.
As for Santana, the majority of the Yankees bats have always whacked the heck out of him except for Swisher, he came into the game with a career .182 average against him. Swisher came into yesterday with a hot and confident bat, which proved lethal.
Still, as a whole the Yankees had hit almost .300 against Santana making the matchup in favor of the Yankees from the get-go; pending that Kuroda as back to his old self.
Looking at this afternoons game, it is just not as cut and dry.
WILSON vs. HUGHES:
Looking at today's matchup it is not as clear-cut because Phil Hughes' stats read like a script to Jekyll and Hyde. He went from 2010 All-Star to being almost ineffective last season and now I think he is somewhere in the middle.
And that makes it easy to pick C.J. Wilson as the clear winner, but in baseball it is the unknowns that make it so fun.
Analyzing Hughes is tough; he did show up in shape this spring, and pitched well in camp, but that has yet to carry over.
Hughes didn't look sharp at all in his first regular season start down in Tampa. He was pulled after throwing 99 pitches in four and two-thirds innings; he allowed two walks, two runs and one homer, while striking out five.
That is why I think the outcome of this game depends heavily on Hughes performance and how he handles Pujols.
As of today, the only thing that Hughes and Pujols share is a love affair with the fastball; Hughes throws it about 62 percent of the time and Pujols hits it all the time.
This could be a potentially big problem for Hughes unless he throws his with a lot of confidence.
He needs to keep his fastball on the outside upper corner, his change-up high, and stop worrying about what the radar gun reads, if he wants to get a hitter like Pujols to swing and miss. Hughes has to mix it up more than normal, as I believe that if he throws his breaking ball more he has a good chance.
Pujols has yet to hit a homer this season, but it will happen and Hughes doesn't want to be his target practice.
Bottom line is that if Hughes doesn't throw like it is 2010, the Yankees could be in for a long afternoon.
As for Wilson, he has clocked 164 at-bats with the active Yankees roster, holding them to a .226 batting average. He has given up homers to Jeter and Ibanez in the past but his biggest threat is Robinson Cano, who in 23 career at-bats vs. Wilson he is hitting close to .400.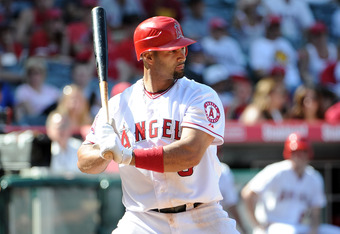 Harry How/Getty Images
It will be interesting to see how A-Rod's hot bat will do against a pitcher who has never given up a homer to him, and has held him to a .111 average.
On the road Wilson posted a 2.25 ERA last season, which was the best in the AL. This might be Wilson's first season with the Halos, but he got plenty of big game experience against the Yankees in the Bronx when he was with the Rangers.
Wilson got the Halos first win of 2012, as he threw seven innings of one run, three hit ball against the Twins.
Advantage: Wilson unless Hughes dazzles.