San Jose Sharks: 10 Reasons They Owe Fans 10 More Wins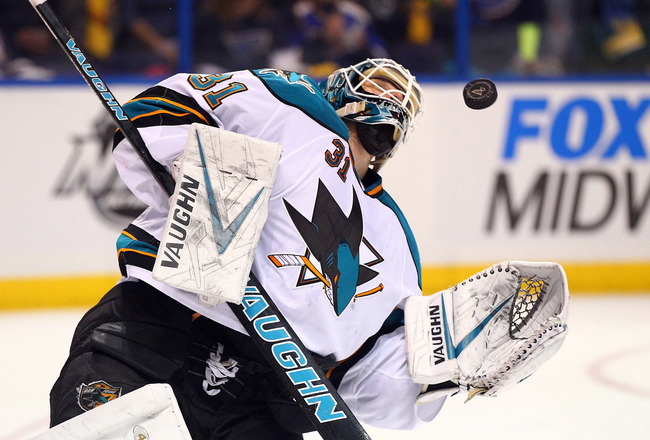 Dilip Vishwanat/Getty Images
After the 2011-12 San Jose Sharks regular season was over, I adopted a new mantra: "Win a dozen or don't win any."
I have only been following the Sharks since the 2002 playoffs, right after meeting my future wife—a San Francisco native. Prior to that growing up in Wisconsin, I had no special loyalties.
Since I now had ties to a team, a horse in the race (they made the second round) and an already present hatred of all sports teams Dallas (which was ironically where we met), the transition came naturally. Living and working throughout the Bay Area has cultivated my interest in the team and blogging intensified it.
But I can only imagine how frustrated longer-standing Sharks followers are. Every year, this team gets fans hopes up that things will be different, and every year, they are done playing with a week or more left in May.
When a team like the San Francisco 49ers makes the playoffs but cannot win the conference, it's a stepping stone to greater things. That is not good enough for the San Jose Sharks.
They are the 10th-oldest team making their eighth run at the title. They have had the league's best record over that period and have been a top-two seed five times. Yet, they regressed into a season in which they have had their heart, stamina, will and work ethic questioned.
For the Sharks, it is put up or shut up time. They have to get over the hump to justify the regular season woes.
If battling back from a lackadaisical start last season wore them out as general manager Doug Wilson said, this team has repeated its critical mistake and must be altered, not tweaked. A second-round exit would likely perpetuate the status quo and would certainly get their followers' hopes up again.
Make it good or make it quick. If the Sharks are not going to go further than they have in the past, they might as well get their elimination over with.
Now they have won the first game. They have turned the tables and become the favourites, as well over half the teams that win Game 1 win the series (even over half the lower seeds).
That means they have 11 to go to win the conference. But I want to match the number of reasons with the number of wins needed, and who does a list of 11? Since technically even getting to Game 7 of the Western Conference finals would be a first, they can set a franchise best with 10 more wins.
Here are 10 reasons they owe us that much.
1. 2004 Playoffs Derailed by Former Shark Miikka Kiprusoff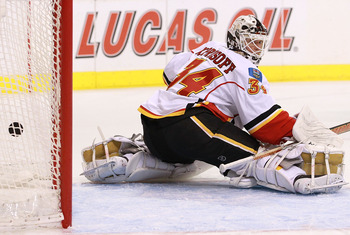 Ronald Martinez/Getty Images
Once the San Jose Sharks re-signed Evgeni Nabokov, they had a glut at goaltender. Future NHL starters Miikka Kiprusoff and Vesa Toskala could not both get playing time behind Nabby.
Hence, Doug Wilson traded Kipper for a second-round pick. Even though that pick turned out to be for a very solid No. 3 defenceman in Marc-Edouard Vlasic, to date it has not been worth it because of what it cost them that same season.
Without Kipper, the Calgary Flames would never have even made the playoffs. With him, they beat the Sharks in six games for the Western Conference championship, and the Sharks best chance of playing for Lord Stanley's Cup was lost.
Wilson owes us another team that can win that series, preferably rebuilt around the pick he acquired in the trade.
2. 2006 Playoff Derailed by Raffi Torres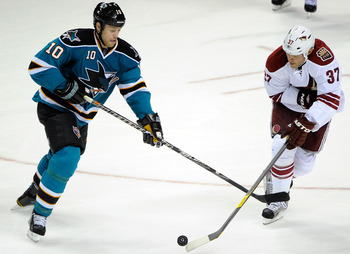 Thearon W. Henderson/Getty Images
The San Jose Sharks were on their way to a 2-0 series lead in the second round against the Edmonton Oilers. That is when Raffi Torres took matters into his own hands.
Or should I say his elbow.
Torres leveled second-line left wing Milan Michalek with an elbow to the head. The spark plug for good Sharks' secondary scoring did not play the next two games in Edmonton and was not the same for the last two of the series.
Nobody retaliated with their fists or on the scoreboard. The Sharks did not win another game in that series. They owe their fans for a failure to respond in that series.
3. 2007 Playoffs Derailed by Patrick Marleau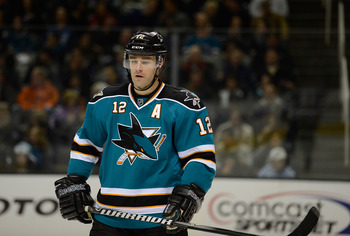 Thearon W. Henderson/Getty Images
In 2007, the San Jose Sharks again went through the Nashville Predators with ease. Captain Patrick Marleau had his typically good series to facilitate that.
Then he disappeared. Back when the Sharks regularly lost to the Detroit Red Wings, they had a 2-1 series lead. In the final minute of Game 4, they had a one-goal lead, and Detroit removed the goalie for the extra attacker.
A 3-1 series lead is statistically almost identical to a 3-0 lead in terms of the rarity of losing. But Patrick Marleau, without a point all series, went for the puck to get an empty net goal. Robert Lang got there first and beat Evgeni Nabokov with under 35 seconds left.
Detroit went on to win that game and the next two in the series. The San Jose Sharks owe us for failing to close that series and give us a chance to see them contrast styles with their rival Anaheim Ducks in the conference finals.
4. Failure of Rental Brian Campbell
Dave Sandford/Getty Images
At the 2008 trade deadline, the San Jose Sharks landed the big fish.
Or Buffalo. Or Sabre.
Brian Campbell was going to be reunited with childhood friend Joe Thornton and provide the Sharks their coveted elite puck-moving defenceman. The offence exploded over the end of the season as the Sharks became the NHL's hottest team and finally retook the division.
Campbell was OK in the playoffs (seven points in 13 games), but he had a crucial giveaway that led to a breakaway goal in a one-goal game of the first round. And the point was that San Jose lost two more games with him than it had without him. He went to Chicago in the offseason without even considering a return to San Jose.
The pick Buffalo received was used on Tyler Ennis, who has 100 points in his first 153 NHL games including the playoffs. The Sharks owe us 10 more wins because as it turns out they lost him for nothing.
5. 2009 President's Trophy Wasted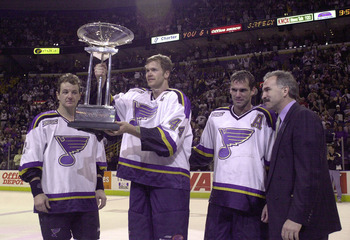 Elsa/Getty Images
Winning the President's Trophy is often not done in the same year as winning the Stanley Cup. Since the lockout, only the Detroit Red Wings have pulled off that feat (2008).
But in 2009, the San Jose Sharks joined the 2006 Wings as the only teams since the lockout to have won the President's Trophy and lost in the first round of the playoffs. They scored just 10 goals all series (1.67 GSA) and were lucky to come away with two victories.
They did not get traffic in front of Jonas Hiller and allowed the Anaheim Ducks to get too many loose pucks in front of their net. Afterward, all they could give their fans was an acknowledgment that they needed to become a team that got that six inches closer to the net.
They owe fans results that still have not come since that explanation. (They are getting better in front of the net, however.)
6. 2010 Sweep by Chicago Blackhawks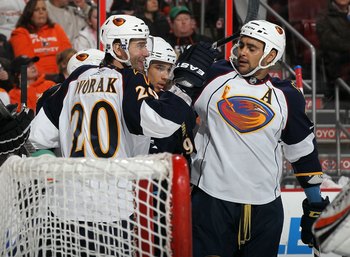 Jim McIsaac/Getty Images
In 2010, the San Jose Sharks finished a point ahead of the Chicago Blackhawks to earn the top seed in the Western Conference. But anyone who was paying attention knew the Hawks were the better team.
In the 2009 playoffs, they won seven more playoff games than San Jose. In the regular season head-to-head, the only game they lost to the Sharks was stolen by Evgeni Nabokov, whose team was out-shot by about a 3:1 margin.
Still, it would have been nice if they had won a single game in that series. Three of them were close enough that one key play could have made the difference. Almost the entire goal differential was once again established in front of the net, as Chicago outscored the Sharks 5-1 in screened goals.
When you are the more experienced team and the higher seed, you have to win at least one game. The Sharks still owe their fans for being absolutely dominated in what should have been a tight series.
7. 2011: Not Finishing off Detroit Red Wings in 5 Games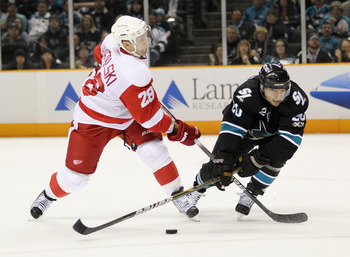 Ezra Shaw/Getty Images
Doug Wilson stated after last season that his San Jose Sharks ran out of gas in the playoffs because they dug themselves too big a hole in the regular season. Maybe that was to whitewash over having done the same thing in the second round of the playoffs.
With a brilliant first three games, the Sharks shot out to a 3-0 lead over the Detroit Red Wings. Even after dropping Game 4 in Detroit, they looked poised to dispatch their rivals in five games for the second year in a row, earning a small break before the Vancouver-Nashville series ended.
They were up by two goals going into the final 20 minutes. They gave up three unanswered goals and lost in regulation, then looked disinterested in Game 6. The series ended up going the distance and they never had a chance in the conference finals against the younger, faster Canucks.
They owe fans at least 10 more wins for not having the killer instinct to close out a dangerous foe last season and leaving themselves at a disadvantage in the next round.
8: Inconsistent 2011-12 Season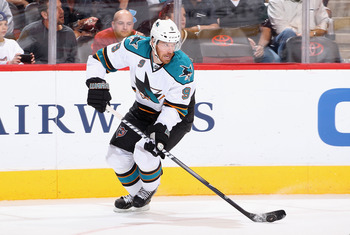 Christian Petersen/Getty Images
The San Jose Sharks were one of the most active teams last summer, as Doug Wilson sought to retool his team into a defensive one after two failed conference finals. They were supposed to be stronger on the blue line and be able to absorb their thinner forward lines.
Instead, they could not absorb even one injury to a forward on their top-two lines. Martin Havlat is hardly the team's most essential forward, but they are a .500 team without him and a .679 team with him.
No champion should be so lost without its fifth-best forward. But there was an even bigger indicator of their success: Outside of three 15-game streaks, the Sharks were 11-22-4. Havlat was in the lineup for 32 of those 45 games, during which the team went 23-6-3; they were 9-1-3 in the other 13.
In other words, they played better during their streaks without him (.808) than with him (.766). They owe fans 10 more wins because they did not play the way they did for those streaks in the other 37 games.
9. No Picks in 2012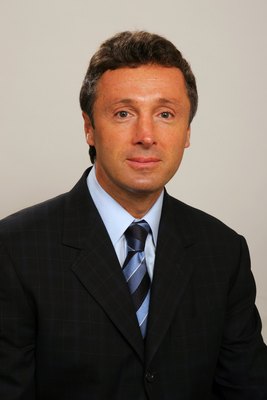 Getty Images/Getty Images
Those aforementioned offseason moves have left the San Jose Sharks with bare cupboards.
Doug Wilson gave up not just a top-6 forward, but a first-round pick and a prospect to get Brent Burns. OK, at least there's some return on that one, and it will go beyond this season.
But he also sent a third-round pick in exchange for James Sheppard, who did not even play for the team. OK, you absorb that. Third-round picks are at best 50 percent to have any real impact on the franchise.
But sending a second-round pick for Dominic Moore? The team has a plethora of third- and fourth-line players. What impact could one expect Moore to have?
Among the Sharks current group of young forwards, it would be overly optimistic to think the team will fill even half the slots needed once Thornton, Marleau and Boyle are no longer able to produce at elite levels. Getting some playing time to them will help them develop, but having draft picks to replace them is better than a negligible upgrade this season.
The Sharks owe us a deep run because their chances would appear to be waning with each passing year.
10. It's Their Turn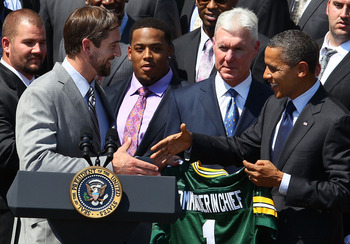 Mark Wilson/Getty Images
Pure indulgence. Absolute arrogance.
But this is about me.
In the 2010 calendar year, the baseball team I follow, the San Francisco Giants, won the World Series.
In the 2011 calendar year, my football team, the Green Bay Packers, won the trophy named after our legendary coach. (I say "my" and "our" not only because I am now part owner of the greatest franchise in sports history, but because the Packers have owned me for four or more months in every autumn for over 35 years.)
It is 2012, and I do not care about any other professional sport. It is the San Jose Sharks' turn to win their title. (Never mind that I said the same thing last season, citing that they were all the current seasons.)
Of course, you may have some similar personal reason that the Sharks owe you a finals appearance for, please feel free to share!
Keep Reading

San Jose Sharks: Like this team?