Words with Frenz: AFC East Mailbag, April 13 Edition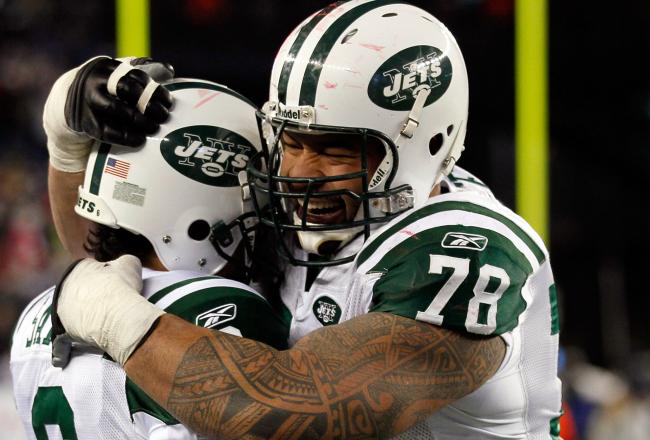 I know what Mark Sanchez is thinking here: "Please, Wayne! You're already responsible for me getting hit so much! Don't smother me!"
Jim Rogash/Getty Images
Fridays aren't always Hawaiian shirt day, but we do like to have a little more fun on the last day of the week—which is why we always save the mailbag for the end.
I put all your best AFC East questions on the table here, talking about the draft, the future of Patriots receiver Wes Welker and the dire situations at offensive tackle for both the New York Jets and Buffalo Bills.
@ErikFrenz Do U think Pats should risk #1 pick on cb Janoris Jenkins, talented corner expected to drop on draft? #Frenzmailbag

— Tom Watson (@tomwatsonpats) April 13, 2012
Jenkins is an interesting story. On the one hand, his character concerns have been well-publicized due to his dismissal from the Florida Gators football program.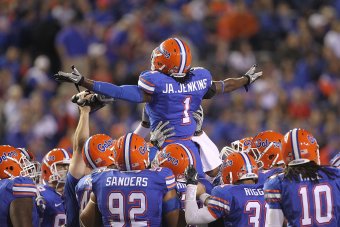 Jenkins got to ride his teammates shoulders before he rode a one way plane out of Florida.
Mike Ehrmann/Getty Images
On the other hand, it was only when Will Muschamp took over as the Gators coach that Jenkins was dismissed. Those character concerns would have never come to light under Urban Meyer, and without Urb running the Gators program, the rumored pasts of Patriots tight end Aaron Hernandez and linebacker Brandon Spikes would also never have come to light.
With that in mind, Jenkins would be more like a second- or third-round pick for the Patriots. He's a top-15 talent, but his shady past leaves him as a potential bust if he can't get his act together.
@ErikFrenz Why with all @WesWelker has done 4 @patriots have they still not locked him down long term? I'm aware of the age #WordsWithFrenz

— Ryan Steeves (@ThisisRyanS) April 13, 2012
Good question.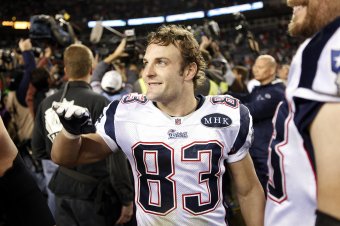 Will it be smiles and high fives for Wes Welker and the Patriots when the contract negotiations are over?
Marc Piscotty/Getty Images
Talks are at a
standstill right now
, according to Tom E. Curran of CSNNE.com, and though Welker may not show up to the voluntary workouts, there's
no obligation or financial motivation
for him to do so, according to Jeff Howe of NESN.com.
The Patriots aren't inclined to do anything either, so it might be a little bit. Welker will be back in time for training camp, but who knows how long this goes on. Recently, the Patriots have made good on promises to get deals done before the season starts, with the likes of Vince Wilfork and Logan Mankins as examples.
There are still a couple of months left, which is plenty of time before it has to be done.
@ErikFrenz Best option for #Bills starting LT in 2012??

— Will Henry (@Whenry77) April 13, 2012
Right now, I would say Chris Hairston. This is before the draft, though, so that could change easily.
Hairston struggled a little bit when he had to play in place of recently departed Demetress Bell, but he's the best bet right now.
This is why I have so many offensive tackles high on my Bills big board.
They could snag Iowa tackle Riley Reiff, or even Georgia tackle Cordy Glenn.
@ErikFrenz Do you think the Jets plan to make a significant upgrade at RT in the draft? Wayne Hunter was "exposed" last year. #beingkind

— Chris Trapasso (@ChrisTrapasso) April 13, 2012
The Jets have a lot of options with the 16th pick. Outside linebackers, wide receivers and offensive tackles should all be on the board, and any one of those three positions would be a wise decision to build depth, if nothing else.
Of those, I would put outside linebacker as the biggest need for the Jets. Bryan Thomas is 34 years old and coming off an injury-shortened season. Calvin Pace is 31, and the Jets have no depth at the position anyway.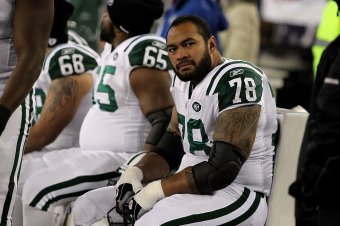 This sulk is strikingly similar to one Mark Sanchez.
Chris Chambers/Getty Images
I would put offensive tackle at need No. 2.
Can they get away with another year of Hunter? Yes, but only if the rest of the line starts playing up to their potential. Hunter gave up 11 sacks in 2012, but it was also a down year for right guard Brandon Moore, who lines up next to Hunter, and Nick Mangold missed time, too.
Mark Sanchez has the propensity to hang onto the ball a little too long, waiting for plays to develop. This is why he's at his best on naked bootlegs, when he gets to roll out and create some extra time, but you can't roll right if your right tackle isn't giving you room to do so.
Tackle should be one of the Jets' biggest priorities, but my feeling is they have enough needs that they should go with the best player available on their board instead of reaching for a need.
Alright, guys. That's all I have for you this week. Thanks again for dropping your questions, and if you ever feel the need to ask me something, feel free to drop me a tweet. I'm always active and responsive.
This article is
What is the duplicate article?
Why is this article offensive?
Where is this article plagiarized from?
Why is this article poorly edited?