Miami Heat: 7 Bold Predictions for the Heat's 2012 NBA Playoff Run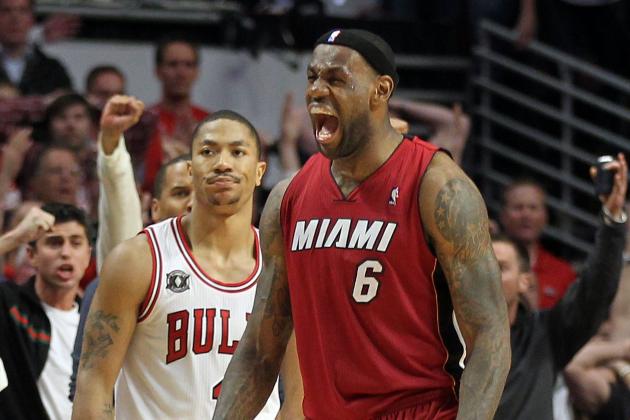 Mike Ehrmann/Getty Images
Miami crushed Rose and the Bulls in the Eastern Conference Finals.
LeBron James, Dwyane Wade and the Miami Heat are in for a rough ride when the 2012 NBA playoffs begin.
Miami's recent play reveals a tired, unmotivated team. The Heat have clearly felt the effects of the compressed NBA calendar.
But, so has every other team. Clearly then, the Miami Heat are in control of their own destiny.
What does their future hold?
Begin Slideshow

»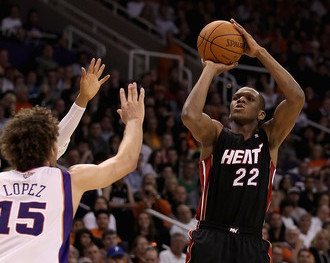 James Jones lurks behind the arc. (Photo by Christian Petersen/Getty Images North America)
In LeBron James and Dwyane Wade, Miami has two of the best attackers in the world. Good floor spacing is critical to such a style.
At times, the Heat's floor spacing gets unbalanced because the Heat allow their opponents to shut down all paths to the hole with impunity.
To thwart the other team's efforts, Miami needs to burn them with three-point shooting.
Though Heat forward Shane Battier plays strong defense, he has not stroked the three-ball with consistency. Mike Miller is a great playmaker, but he is occasionally hesitant to shoot from downtown.
So that leaves Coach Erik Spoelstra with the Heat's most fearless shooter—James Jones. But, Jones has struggled to get off the bench this season.
It's true, Jones will never offer the same kind of defense Miami gets from Battier. He will never set up his teammates with the same skill the Heat see from Miller.
Jones just lurks in the corner, and when the opposition overplays their hand, he strikes like an assassin.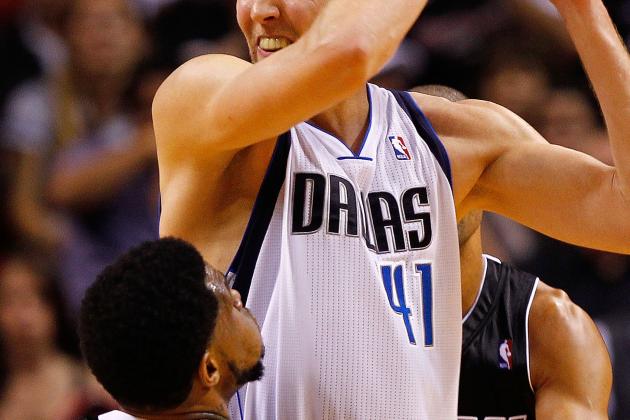 Mike Ehrmann/Getty Images
Udonis Haslem is a tenacious warrior.
For those who watched the 2006 NBA Finals, or those who watched him return from injury for the 2011 Eastern Conference Finals, there is no question that Udonis Haslem's tenacity will alter any series.
And the thing about tenacity is that it's most potent when you need it most.
There is no doubting that Haslem's shot has been off this season. But Miami doesn't necessarily need his scoring. They need his 7.2 rebounds per game.
They need his grit and determination.
Don't assume that Carlos Boozer will go off in the Eastern Conference Finals if Haslem has anything to say about it.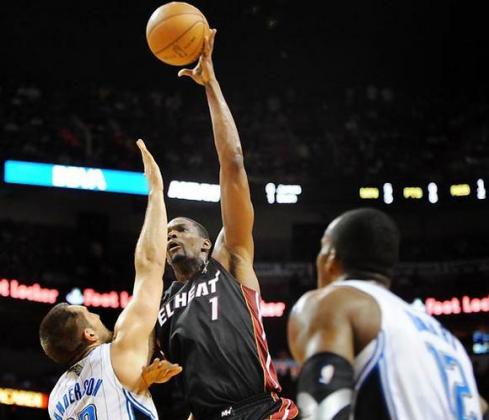 Chris Bosh will get the ball "where big men get it." (Robert Duyos/Sun-Sentinel)
The Heat can win if Chris Bosh shoots the ball poorly. Miami can cruise past the competition if Bosh rebounds the ball as if he's RuPaul.
But Miami is guaranteed certain failure if Bosh impacts neither scoring or rebounding.
Before this season, Chris Bosh told us that he would like to average double-digit rebounding.
He's come up woefully short.
LeBron James leads the Heat with 7.9 rebounds per game. Bosh, however, has only conjured up seven rebounds per game in his last 10 outings.
With 17 points per game, his scoring has been merely adequate over the last 10 games.
But if we've learned anything about Chris, it's this—the bigger the moment, the bigger the Bosh.
Expect him to play big in the playoffs.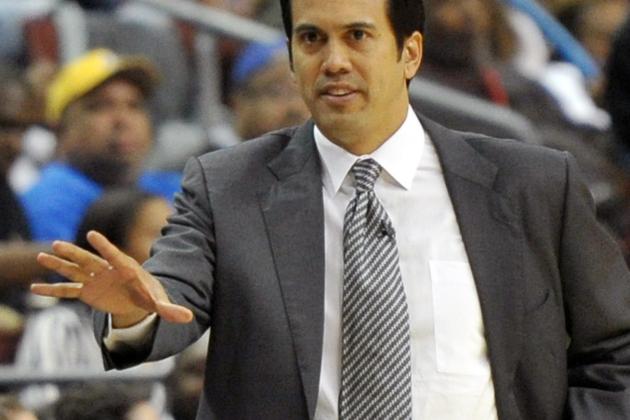 Drew Hallowell/Getty Images
Spoelstra's inexperience could hurt the Miami Heat.
We've got to be honest. Erik Spoelstra's youth and inexperience assure us that he will be outcoached at some point in the playoffs.
We saw it in the 2011 NBA Finals. Dallas won the series with their efficient offense and strong rebounding. They also choked Miami's half-court offense by forcing LeBron into his least efficient parts of the floor. They did the same thing to Kevin Durant in the 2011 Western Conference Finals.
Spoelstra never came up with a way to get James shots in his hot spots.
Now that LeBron has improved his low-post moves, this is no longer a problem.
Despite Spoelstra's inevitable shortcomings, the Heat's overwhelming talent will help them overcome this hurdle.
Though Wade knows that LeBron is the best, they're still friends. (David Santiago, El Nuevo Herald)
As I wrote yesterday, the Miami Heat have improved this season for a number of reasons.
Miami's bench is more athletic. The team is in better health. And if their recent struggles are any indication, Miami is making rest a top priority.
But the biggest reason the Heat are better is because the team is acknowledging something they failed to address last year: LeBron, not Dwyane Wade, is Miami's best player.
Miami has won 10 of the 11 games in which Wade did not play,
Wade knows that he's still one of the best players in the NBA. But he knows his buddy, LeBron, is better.
This new clarity in the team's pecking order will help Miami perform better this time.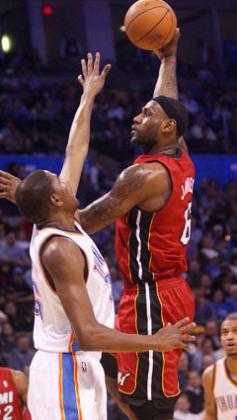 The Miami Heat will meet the Oklahoma City Thunder in 2012 NBA Finals. (AP)
In the Eastern Conference, we have a good idea of what's likely to happen. Things aren't looking nearly as neat, however, in the Western Conference.
The Lakers' Andrew Bynum is the NBA's best center. Kobe Bryant is the NBA's second best shooting guard. And Pau Gasol is an All-Star-level talent.
Since Chris Paul plays for the Clippers, we can't count them out either. The San Antonio Spurs are on a tear.
But if I have to put my money somewhere, it's going on the Oklahoma City Thunder. They're the most talented team, and they balance that talent with veteran leadership.
Kevin Durant and Russell Westbrook can be an absolutely lethal combo. Throw in James Harden, and they can outscore anyone.
Ultimately, it's too much talent for any team in the Western Conference to handle.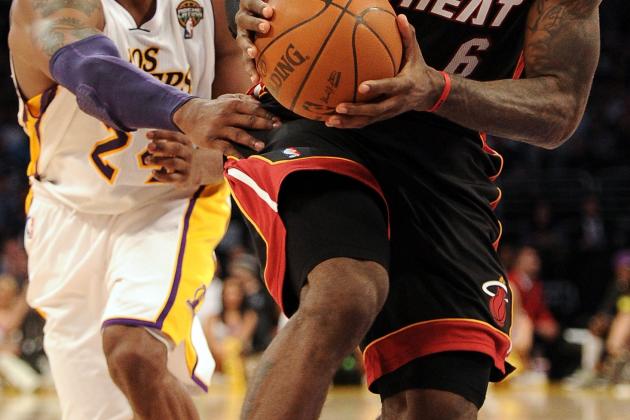 Harry How/Getty Images
Move over Kobe. The King shall get his ring.
LeBron will be the NBA Finals MVP.
Yes, he choked last year. But, that has little to do with what will happen this time around.
This season, we know that the King is on a mission because he has elevated his game to another a level. And his teammates now know that the Miami Heat will invariably rise and fall with him.
Last season, LeBron was too concerned with sharing. This season, he's only concerned with winning.
When he relies too heavily on his teammates, LeBron is often ineffective. When LeBron knows it on him to take over a game, he does it with devastating abandon.
Now that he knows that it's on him, James will lead Wade, Bosh and the Miami Heat to the 2012 NBA title.