Kentucky Basketball: 2012-13 Season Can't Compare to 2011-12, Even with Noel
April 17, 2012

Chris Graythen/Getty Images
Sports fans are notoriously optimistic, and for a program like Kentucky, coming off a dominant eighth national title and the vindication of coach John Calipari's one-and-done model for success, that optimism isn't necessarily unfounded.
Yet as the college basketball world attempts to process the significance of the Wildcats' historic 2012 run, many have cited that model, and another top-ranked recruiting class, as reason that Kentucky can be just as good in 2012-13.
It is a tempting narrative to capture the modern era of college basketball: Kentucky will be the best team in the country as long as Calipari brings in the top-ranked recruiting class every year to his one-and-done farm system for the NBA. With the signing of Nerlens Noel, Kentucky clinched its fourth consecutive top-ranked class, which means, they argue, that the Wildcats should have enough talent to reign over the NCAA in a manner similar to 2012, according to the new paradigm.
With Tuesday's expected announcement that the team's entire starting five will enter the NBA draft, that just simply is not possible.
That Calipari has had the talent to win a national title in each of his three seasons in Lexington is undisputed, yet it is now, after he finally broke through and won one, we are fearful that titles by his freshmen-laden squads will become the new norm. To suggest that 2012-13 Kentucky will match the dominance of its predecessor makes a sweeping generalization about the nature of college basketball on the basis of one season of accomplishments.
It is an odd argument: The excited response to Calipari accomplishing something he previously struggled to do on multiple occasions not only completely dissolves skepticism, but turns it into unyielding belief in the superiority of the one-and-done model. In reality, the reasons why the first two iterations of Calipari's Kentucky program failed remain compelling reasons to doubt his success in the future.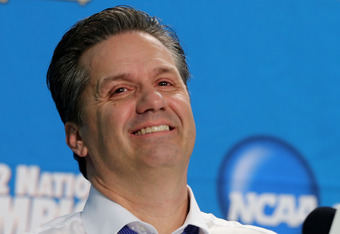 Jeff Gross/Getty Images
More than it predicts future national titles, the the 2012 championship proves that a team can win with a team driven by freshmen. Unless it impacts Calipari's recruiting in a way that takes it beyond the level he has already achieved, it has no bearing on whether he will win with similarly-modeled squads in the future.
This alleged recruiting impact—that players could no longer justify saying no to Calipari—was another pervasive worry in the wake of the title run, and in this case, Shabazz Muhammad's decision to attend UCLA has already exposed it as a myth.
The other flaw in the vision of Kentucky supremacy is that it disregards the uniqueness of this particular group of Wildcats. It takes only a few minutes of spectating to observe the stark differences in cohesion and style between 2009-2010 Kentucky and this year's national champions.
What makes Anthony Davis, Michael Kidd-Gilchrist and Marquis Teague special is that they actually exceeded over the course of season the colossal expectations set for them by their preseason recruiting rankings. That group cannot be simultaneously once-in-a-decade special and instantly replaceable by the next ordinary top-ranked recruiting class before it sets foot on the court.
Most of the hype over Kentucky for next season begins with the belief that Nerlens Noel is as good as Anthony Davis. This is a common mistake: witnessing something completely unprecedented and unforeseen, and then looking for signs of it happening again—sort of like expecting Robert Griffin III to duplicate the rookie season of Cam Newton.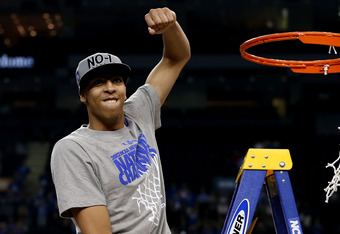 Jeff Gross/Getty Images
But for the sake of argument, let's assume Noel does match that level. Kentucky fans replace The Brow with The High Top Fade as their gravitating, superstar national player of the year candidate. The 2012-13 Kentucky team still enters the season at a far lower starting point than 2011-12, a team that, as I mentioned, exceeded even those expectations.
Calipari's top-ranked recruiting class is, ultimately, an ordinary top-ranked class. Noel became Kentucky's only consensus top-10 commitment; last season, the Wildcats had three of the top seven and two of the top four. They also returned as sophomores two key members of the previous year's top-ranked class in Terrence Jones and Doron Lamb.
Assuming, as is widely expected, Kentucky loses all of its starting five to the NBA as underclassmen, let's take a look at the projected lineup of next year's team compared to this year's.
2011-12: Marquis Teague, Doron Lamb, Michael Kidd-Gilchrist, Terrence Jones, Anthony Davis
2012-13: Ryan Harrow, Archie Goodwin, Alex Poythress, Kyle Wiltjer, Nerlens Noel
The national champions outclass their successor at every position except in the Davis-Noel comparison, for which it is still a reach to call it a draw before Noel ever plays a college game. In both talent and experience, this year's squad was unique, and it is an unfair burden to assume any team can replicate their dominance, especially a Kentucky team that reloads, but not with the same force that it had this year.
Kentucky will rightly enter the year on the list of teams that can win a national title, but the college basketball community is much in need of well-warranted skepticism toward labeling them the favorite, at least until we see them together on the court.