Madden 2013: Why Victor Cruz Is Perfect Cover Man for Iconic Video Game
April 13, 2012

Al Bello/Getty Images
Make that two snubs now for New York Giants' wide receiver Victor Cruz.
After not being elected a starter in the 2011 NFL Pro Bowl, Cruz has been voted off of ESPN Sportsnation's cover vote for the iconic Madden 2013 video game—little do fans know that they just voted off the best man for the job.
Cruz made it to the third round before being ousted by voters to San Francisco 49er's linebacker Patrick Willis by a score of 55 percent to 45 percent.
Willis is undoubtedly a beast on the defensive side of the ball, but it makes me wonder what led fans to choose him over the lightning rod receiver.
The five-year LB out of Mississippi had the worst season of his career in 2011—which would have been an above average season for most linebackers—recording 97 tackles, two sacks, one interception and four forced fumbles.
Before 2011, Willis had put together four straight seasons of 100-plus tackles, highlighted by his rookie season in 2007 when he posted 174 tackles, four sacks and two forced fumbles on his way to winning the Defensive Rookie of the Year award.
But back to Cruz.
The underdog from Paterson, N.J. went from working out with Eli Manning at Hoboken High School—just hoping to make the squad—to leading the New York Giants in receptions (82), receiving yards (1,536) and touchdowns (nine).
It wasn't just his performance on the field that made him an instant celebrity in New York, but rather his laid-back, humble demeanor off the field and his infamous salsa dance after a score that saw him fall into Giants fans' hearts.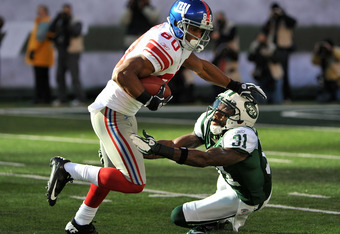 Christopher Pasatieri/Getty Images
Cruz also set two Giants' receiving records against the New York Jets on Christmas Eve, further solidifying his worth to both the Giants and the NFL.
To top it off, Cruz put the first offensive points on the board in Super Bowl XLVI, scoring on a 2-yard pass from Manning to complete his journey to stardom in the NFL.
Aaron Rodgers and Cam Newton both had great seasons in 2011—Rodgers took home MVP while Newton was the Rookie of the Year—but Madden's cover has only seen one WR, that being Larry Fitzgerald, who shared the spotlight with Troy Polamalu.
Calvin Johnson is obviously deserving of the cover as well, but Cruz presents more of a feel good story and memorable season.
Megatron was the better receiver last season—96 receptions, 1,681 yards and 16 touchdowns—but as Peyton Hillis showed us in 2010-2011, you don't have to be the best player at your position to grace the cover.
Hillis didn't even crack the top 10 in terms of total rushing yards during the 2010 season, but he came out of nowhere to shock the NFL and put up huge numbers when no one was expecting it.
That's exactly what Cruz did for the Giants.
And not only did he put up excellent numbers for the G-Men, but he added a spark that New York desperately needed and aided them to another Super Bowl victory.
Madden's cover man will be announced on April 18.
Cruz won't be on it, but he should be.
Follow Pete Schauer on Twitter @Pete_Schauer