Oscar Robertson Wrong to Blame Miami Heat Problems on Big Men, Not LeBron James
April 13, 2012

Jonathan Daniel/Getty Images
Oscar Robertson is taking it far too easy on LeBron James and his role in the Miami Heat's failure to win important games—a problem dating back to the 2010 season when LBJ first signed.
According to FOX Sports Florida's Chris Tomasson, the Big O said:
"(James is) a great basketball player and he's played great since he's been in the league," Robertson said. "But you can't win a championship by yourself… (The Heat) need somebody in the middle. You don't win championships without having a decent center."
Can't win championships by himself?
Oscar, the man has Dwyane Wade and Chris Bosh on his team. He certainly isn't alone.
LeBron is just one of the "three kings" of South Beach, and the team was designed by NBA super genius and five-time champion coach Pat Riley.
"I think it will be difficult for them to win," Robertson said. "With Oklahoma City being tough and Chicago's got a tough basketball team, and (Miami) not having a center who can compete with those teams."
Having a center can be in important...if the team in question is average. But a roster with Wade, James and Bosh (a big man!) should not be blaming their problems on Ronny Turiaf or Joel Anthony.
The aging Boston Celtics are finding success with Greg Stiemsma (who!?!) playing significant minutes at the 5 for crying out loud.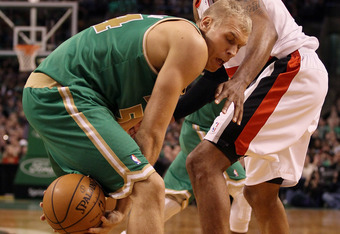 Elsa/Getty Images
It's becoming obvious that LeBron is lacking the drive to like be Michael Jordan or even Kobe Bryant—players whose one goal in life is to win.
However, that absence of passion will not excuse the 6'8", 250-pound small forward from the all-time greats discussion, largely of his potential. 
James is supposed to be the best basketball player in the world. He's got the height, the muscular frame, the speed, the athleticism, the jump shot, the ball handling and anything else you could ask for from a superstar in the NBA; except for one critical flaw.
He does not have the heart.
Instead of going for the jugular, the King mostly decides to defer or comes up short (in a game against Chicago on Friday night, LeBron could have iced the game with a free throw that he missed).
The South Beach team is consistently putting the Heat in position to win a game late. It's up to LeBron to decide if he wants to develop that killer instinct and put opponents away on a regular basis.
LeBron and the Heat will never reach their true potential and can never be considered NBA legends without that happening.