FYI WIRZ: NASCAR's Top Guns Won't Have Rust as They Blast into Texas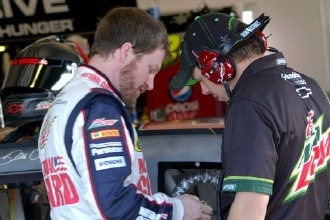 Dale Earnhardt Jr. examines a car part with a crew member

NASCAR drivers only get three weekends off during the long 36-race season, complete with an additional shootout and All-Star race. But 13 off days won't cause moss to grow or rust to build in any racing sense.
Drivers may be rested by April 14, but they will also soon be tested by speed on one of NASCAR's fastest intermediate racks, Texas Motor Speedway in Fort Worth.
The Samsung Mobile 500 on the 1.5-mile quad-oval with 24 degree banking will get the green flag on a Saturday night.
Fans without tickets or cowboy hats can view the return of stock car excitement at 7 p.m. ET on Fox.
The top five drivers in NASCAR actually total six this week, owing to a tie for fifth place, so it's appropriate to get the opinions of all of them as they head into the seventh points race of the year.
Top guns are eager to describe Texas Motor Speedway while one thought seems common—drivers love this track.
Greg Biffle (No 16 Ford)
"I'm jacked up going to Texas and I cannot wait," Biffle said. "I love that race track. Texas is a challenging place, coming off of Turn 2 the track really flattens out, but getting into (Turns) 3 and 4 it's different on both ends, making for a kind of a long sweeping corner.
Tony Stewart ponders a moment in the garage area
"Typically we run the bottom in 3 and 4, and maybe run up the race track a little bit in 1 and 2. Kind of a double dog leg down the frontstretch, and it can be a little bit challenging getting to pit road for green-flag pit stops.
"I've had a lot of success at Texas, and I feel like it could be our first win of the season coming up."
Dale Earnhardt Jr. (No 88 Chevrolet)
"At Texas, you can expect pushing in the middle of (Turns) 1 and 2 and that you'll be really loose into (Turn) 3. You try to just get around the rest of the track the best you can," Earnhardt said. "I expect to go out there and run in the top five, lead laps and try to win the race."
Tony Stewart (No. 14 Chevrolet)
"You have to be comfortable or you're not going to go fast," Stewart said. "The more comfortable I am, the faster we go. This track, the grooves have moved around, especially in the last couple of years. We've seen the track get wider and it's made it to where you can move around.
"If your car's not driving exactly the way you want it to, you can move around the racetrack and find a spot the car likes better.
"The racing just gets better and better, as far as being able to move around on the racetrack and guys not having to just follow each other and get stuck behind each other. You can actually pass. You can race. You can get away from guys if your car's fast."
Matt Kenseth (No 17 Ford)
"I really enjoy racing at Texas, and especially the added fun of it being a night race now, just adds some excitement to the weekend," Kenseth said. "Texas gives us several lines to race on, so it's just turned into a place where drivers can take the high line or the low line when it comes to racing for position.
"Texas is just a great fast track with the challenge of relatively flat straightaways and high-banked turns so it's a place that can be challenging."
Kevin Harvick (No. 29 Chevrolet)
"A really fast race track—it's one of those few race tracks where you feel the speed in the car," Harvick said. "The unique part about this race track is that you have that big speed for about three or four laps and as you go through the tire run the speed really drops off a tremendous amount.
"You have a lot of options and the racetrack has a lot of bumps, which adds character. You have to make your car work good and you have to get up off Turn 2, but you can run all over . When race time comes we will be moving around all over the place so it's fun."
Martin Truex Jr. (No.56 Toyota)
"I love Texas," Truex said. "It's always been a fun track. It's one of those tracks (where) I've really had a lot of success. I'm looking forward to going there and hopefully having a good run."
Motorsports is always uncertain, but after Saturday night it's likely one winning driver of 43 will love this track even more than before the green flag.
FYI WIRZ is the select presentation of topics by Dwight Drum at Racetake.com. Unless otherwise noted, information and all quotes were obtained from personal interviews or official release materials provided by NASCAR and team representatives.
This article is
What is the duplicate article?
Why is this article offensive?
Where is this article plagiarized from?
Why is this article poorly edited?