Shabazz Muhammad Commits to UCLA: Why the Bruins Are Now Pac-12 Favorites
April 11, 2012

Jonathan Daniel/Getty Images
Bruin Fans: You don't need to pinch yourselves. It's not a dream.
Shabazz Muhammad, perhaps the nation's best offensive prospect in the country, really is coming to Westwood. With his addition, UCLA might very well have a team worthy of their new building. 
Kudos to Kyle Anderson, another highly touted Bruin recruit, for helping bring in the 6'6'' guard out of Las Vegas, Nevada. It was perhaps Anderson's close friendship with Muhammad that helped him pick UCLA over defending national champion Kentucky and Coach Mike Krzyzewski's Duke Blue Devils.
But let's not get ahead of ourselves. With the talent Muhammad possesses, there is little doubt that he'll be a yearlong loaner for Ben Howland's Bruins. Still, with a lineup that will feature Muhammad, Anderson, a crafty small forward in Jordan Adams, and returning players like Tyler Lamb, Norman Powell, the Wear Twins and a (hopefully) in-shape Joshua Smith, it's hard not to like UCLA for next year's Pac-12 crown. 
Muhammad and Anderson bring size and explosiveness to the Bruin perimeter, which should aid them on both sides of the ball. Both prolific high school scorers, what will be key in their success at UCLA is their defense. If the duo buys into Howland's hard-nosed man philosophy, with their length and athleticism they could become incredibly effective defenders. 
Adams will likely be a solid rotation player coming of the bench, much like De'End Parker was earlier last season before he sat due to injury. He can score from anywhere on the court, but like every Howland player, his defense will dictate how much he plays. Of the three standout freshman, Adams is the likeliest to stay beyond his first year.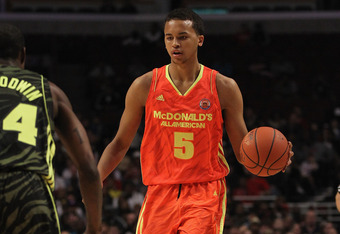 Jonathan Daniel/Getty Images
Of the returning players, Smith will have the largest (no pun intended) responsibility to perform. The beefy 6'10'' center who game could never overcome his foul-trouble or easy fatigue won't be returning home to Kent, Washington over the summer. Instead, Smith will remain in Westwood where coaches and trainers can help him with his conditioning.
And help him they must if UCLA is to contend. Smith followed up his remarkable freshman campaign with an atrocious sophomore season, returning to the team overweight and uncommitted. If he applies himself over the summer, works on his strength and learns to defend without fouling, Smith could be the force in the post UCLA thought they were recruiting in the first place. 
Smith's improved play will give young guards like Muhammad, Anderson and Powell more leniency from defenses if the opposition always has a load in the paint to worry about. I see a fantastic inside-outside game developing if Smith has a good summer.
Helping him out on the block will be David and Travis Wear, who should have fantastic second years with the Bruins. After a slow start to 2011-2012, the Wears stepped up their defense and became UCLA's most consistent players game after game. They shot well from inside (and sometimes outside) the arc, were decent on the boards, and played with a passion noticeably absent from Big Josh Smith.
If the Wears don't regress over the summer, the duo could be truly fearsome in a Pac-12 that's on its way back into prominence. While there are certainly some respectable front courts in the conference, no team can match the Wears, Smith and a shot-blocking machine in Anthony Stover down low. It's jut too much sheer size to deal with, and if the backcourt is a potent as it's shaping up to be, the opposition might find themselves often at sea.
Speaking of the backcourt, UCLA does have some noteworthy players returning to compliment their new freshman stars. Lamb has the athleticism and range to go off at any time, but was too inconsistent to truly be considered an offensive weapon. He would drop 26 one game, and then disappear for the next three. Lamb will likely keep a starting spot at the 2 or 3, but with so much talent in the backcourt, he'll have to continuously play at a high level.
Apart from Muhammad and Anderson, the backcourt player I'm most intrigued to watch is the high-flying Powell, a sophomore who was UCLA's best pure athlete last year. He showed flashes of being NBA material against lesser opposition, but didn't have the confidence to continue that trend on the bigger stages. A vocally committed defender, Powell will get his minutes, and should set a positive example to the new guys about what it means to play Howland defense. 
Still, it looks like the Bruins will be left wanting in backcourt experience, right? Wrong. Lost in the shuffle of UCLA's high-profile guard signings is Larry Drew II, a redshirt senior point guard who transferred like the Wears from North Carolina. Where will he fit in to the team? Will Howland start by seniority, or try to get the most court time for his new ballyhooed stars? It's an interesting debate, and one I'll probably save for another article.
Will all the positivity surrounding the program, it's easy to get ahead of ourselves and hand UCLA the Pac-12 regular season trophy here and now. I won't go that far, especially with the talent that Arizona (and interestingly USC) is bringing in, but I feel safe in naming UCLA a heavily contender, even favorite, for next year's conference crown.
It's all real, Bruin fans. Get your tickets while you can.