Washington Redskins: Why Robert Griffin III Is Already the Face of DC Sports
April 12, 2012

Joe Robbins/Getty Images
It's preemptive.  It's bold and may even seem a little (OK, very) nonsensical, but that doesn't make it any less true: Robert Griffin III is the face of DC sports.  
I get it.  
It's almost laughable to think that a guy who hasn't even been drafted yet is already the poster-boy for professional sports in the nation's capital.
And not just any sports franchise, mind you.  This is the Washington Redskins we're talking about.
The Redskins represent the beating heart of DC's sports scene.  
It's unfair, especially when you consider the success that the Capitals have had in recent years and how the Nationals are suddenly looking like a competent MLB ballclub with Stephen Strasburg on the mound.  
But alas, they're all constituent parts—limbs and digits—that are fueled by the central engine, the heart, that is the Redskins.  
And it's a heart that's in need of a life-giving jolt.  That's where Robert Griffin III comes in.  
It's not that the Redskins haven't boasted stars on their lineup in recent years.  Champ Bailey, Sean Taylor, Clinton Portis, Chris Cooley, DeAngelo Hall, Brian Orakpo, London Fletcher—take your pick.  
It's not the lack of talent that has rendered DC's braves in a critical state.  It's the lack of true, franchise talent under center.
So here we are, only weeks away from the 2012 NFL draft, and Redskins Nation seems to be balancing itself on the edge of about a million eggshells.  The long, dark cloud over the city seems poised to finally lift.  
The end—or, perhaps, the beginning—is almost here.  Robert Griffin III is almost a Redskin.  
Barring a last-second (and completely unlikely) "okie-doke" by Colts owner Jim Irsay, Andrew Luck will head to Indianapolis and Robert Griffin III will be on his way to the District.  
What then?
Is that million-watt smile and the boundless athleticism just a well-crafted facade hiding middling talent that will ultimately fail to pan out, or is this for real?
The truth is that RG3 has given Redskins Nation every reason to believe that it's real.  
It's about hope, in a word.
Hope that this fleet-footed wunderkind out of Waco, TX can get to work immediately and erase decades of irrelevancy for the Redskins.  Hope that after hundreds of millions of dollars of perilous investments that have yielded almost nothing in return (insert Haynesworth pun here), that the Redskins have finally done something that will actually pay dividends. 
Yes, there's a new sense of hope in DC.  And hope, like anything in this Internet-induced era, is viral.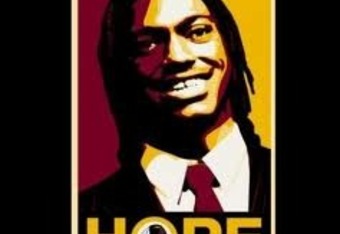 Do a Google search if you don't believe me.  Check the Twitter trends for DC anytime in the last few months. 
Tune into LaVar and Chad Dukes' show on your drive home from work and hear what is dominating the conversation. 
It's not Alex Ovechkin's sudden return to efficiency or the fact that Nick Backstrom is finally back in the Captials' lineup. 
It's all Robert Griffin III, all the time. 
And why not?
After all, this is a guy who was born to be marketed. 
He was a come-out-of-nowhere Heisman winner that single-handedly put Baylor football on the map.  He's was a brilliant student who, at one point, expressed interest in earning a law degree or pursuing a career in digital media.  He's from a grounded military family who cut no corners in raising him. 
He's humble, amicable and at times can be insufferably modest. 
All in all, he's the kind of all-American, type A personality that the Redskins have needed under center for quite some time. 
The famously stern and prickly coach Jon Gruden certainly gave RG3 a ringing endorsement, if that says anything.
Maybe more than anything, it's the fact that Griffin himself has said that he wants to play here, that he would love playing for Mike Shanahan. 
Yes, you read that right. 
RG3 would be excited about coming and inheriting the star role in a franchise that has become a standing punchline in NFL circles. 
Lets face it, legacies—however successful—are a fossil fuel.  They're only effective and relevant for so long, until people start to look around and realize that you've accomplished nothing in recent memory.  Legacies become tired and ultimately become depleted.   
In that regard, the Redskins are running on fumes. 
It's not about reclaiming birthrights to an era that has long since past.  It's about laying down the foundations for an entirely new and modern legacy of winning.
To do that, you need someone new, modern and energetic to be the face of a franchise. 
That's Robert Griffin III.
Can RG3 shoulder the notion of being a struggling football town's rallying cry? 
All signs point to yes, thus far. 
He's seen crunch time before.  His game-winning throw against Oklahoma, for instance, was certainly a mettle-tester. 
Or how about his "no pressure, no diamonds" shirt, which is less a reference to geology than it is to the ability to overcome the impossible? 
Words may be wind, but everything Griffin has done up to this point, his combine and pro-day included, have indicated that he is as good or better than advertised.  
There is one thing that this writer/fan is sure of: Never in my life (born in September of '87) have I seen a city and a fanbase so utterly enthralled by a single prospect leading up to the draft. 
It's pandemonium. 
The hysteria, like it or not, will continue on until the first snap of the season, which, barring a sudden explosion of talent on the part of the other RG3 (Rex Grossman III, for those that didn't know), will be taken by Griffin. 
Then it will be time to put our hope up against the flames. 
Will it all be worth it, in the end?  Will RG3 prove to be the messiah figure that many of us so desperately want and need?
That's the thing about hope—time will tell the tale. 
So here we are, 14 days and nine hours away from the potential genesis of a new golden age in DC. 
Robert Griffin III has done all he can to prepare for his moment on the podium when Roger Goodell hands him his jersey.  Yet nothing can adequately prepare him for the reception he'll get when he officially arrives in DC. 
It'll be a hero's welcome for a player who's yet to log a minute of actual time in the NFL.
Absurd?  Maybe a little.  But, believe it or not, heralded athletes do come along now and again.  Just ask the Colts. 
They'll tell you all about how it happened in 1998.
We're a long way off from seeing an RG3 monument on Constitution Ave, but digitally, culturally even, Redskins nation has already built him a thousand-foot tower. 
We've made it clear that we want RG3 to make his home in DC, to bring home NFC East titles and, God willing, a Lombardi trophy or two.  Perhaps he is equally committed to being here and doing just that. 
Regardless, we've already offered RG3 the key to the city. 
Use it wisely, Robert.