Pittsburgh Steelers Successfully Re-Sign WR Jerricho Cotchery, Dodging a Bullet
April 11, 2012

Jared Wickerham/Getty Images
The Pittsburgh Steelers were hoping to re-sign free-agent wide receiver Jerricho Cotchery before some other team could swoop in and grab him.
At first, it seemed as though they'd at least wait until the April 20 deadline for teams to make an offer on restricted free-agent wide receiver Mike Wallace, but with Wallace's suitors down to potentially zero, they could safely pull the trigger and give a deal to Cotchery.
It was announced on Wednesday Cotchery had been re-signed to a two-year deal, after being courted by the St. Louis Rams, Kansas City Chiefs and his former team, the New York Jets.
Cotchery was brought on as a free agent in 2011 to provide another veteran presence to the Steelers' mostly young receiving corps and as injury insurance. He immediately ingratiated himself to the Pittsburgh locker room, with coaches and players alike hoping for his return this season.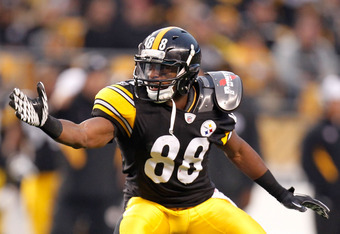 Gregory Shamus/Getty Images
His 16 catches for 237 yards and two scores—his lowest yardage total since his 2004 rookie season—can be attributed to the fact that he was also low on the depth chart. Now he will compete with Emmanuel Sanders to be the team's starting slot receiver.
Signing him to a two-year deal was a savvy move for the Steelers.
Next season, Wallace becomes an unrestricted free agent, and the team will have to come up with quite the hefty sum in order to keep him around, and Sanders and Antonio Brown will both be restricted free agents.
Locking down Cotchery is the second of two free-agency moves the Steelers have made in consecutive days, having signed tight end Leonard Pope to a one-year deal on Tuesday.
Clearly, the team feels more comfortable spending the limited cash they have on hand, with Wallace likely to stick around for at least one more season.