How Paul Pierce's Boston Celtics Exposed the Real Truth About the Miami Heat
April 11, 2012

Elsa/Getty Images
The Boston Celtics smacked down the Miami Heat in South Beach on Tuesday night.
There is really no other way to put it.
The Heat were outworked, out-hustled and outplayed in almost every facet of the game, and the Celtics have suddenly turned around the previously popular belief that this club couldn't contend this season.
Boston took what Miami gave it on the offensive end.
The Heat can have a swarming attack on defense at times, but there are holes where the team can be exposed.
As ESPN's Beckley Mason very smartly observed, the Celtics made their money all night from the perimeter.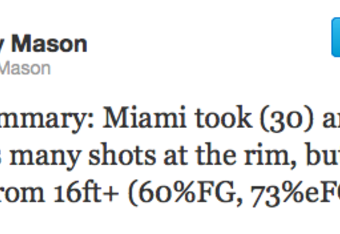 For the season, Boston is shooting just 37.0 percent from behind the three-point line. Although the team is shooting a respectable 46.1 percent from the field, it's clear that the Celtics caught fire from an area of the floor that Miami could not defend.
Is it possible to beat the Heat? Absolutely. But it's not easy.
The Celtics are constructed in a very unique way.
Paul Pierce is shooting a lights-out 46.9 percent from deep in April, and his hot-shooting performance on Tuesday (27 points) was a big reason why Boston was able to come out with a victory.
But there is a bigger reason as to why Boston specifically presents such a strong challenge to Miami.
Rajon Rondo's ability to penetrate into the lane causes the Miami defense to collapse, leaving open shooters on the perimeter.
Miami can't do that against the Celtics.
With successful perimeter shooters in Kevin Garnett, Ray Allen and Paul Pierce on the floor, Rondo can weave his way through the key, and as soon as he draws a double-team, the point guard will kick it out to the open man.
The Heat had a tough time defending the perimeter and the three-point shot against a team that starts a penetrating point guard, and that's not going to change unless rapid adjustments are made.
That issue is masked effectively when teams don't have a player who can slice and dice into the lane, but the Celtics have that in Rondo.
This is the second time this season Boston has shot over 60 percent from three-point land against the Heat this season.
That's a trend that has to change for Miami to flex its muscle over Boston.
Otherwise, the Celtics might have figured out a way to beat the Heat.