Washington Wizards: Kevin Seraphin Starts Strong, Team Seals 2nd Straight Win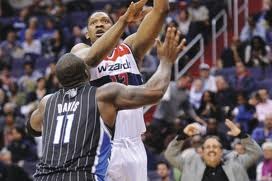 Against the Orlando Magic, the Washington Wizards had the best center on the floor in Kevin Seraphin, who outplayed the Magic's veteran center Glen Davis. Davis replaced All-Star center Dwight Howard, who is suffering from back spasms.
Seraphin's play was the story of the first half for the Wizards. Midway through the fourth quarter, the Wizards' guards controlled the game to give the team their second straight win, 93-85.
"(Seraphin) was big tonight," said Wizards head coach Randy Wittman. "He is playing with confidence and he's growing every night. I told him I'm going to stay on him. I don't want him to get satisfied with where he is at. I think he has a lot of room to still improve and I want him to stay hungry.
"That was, from start to finish, a really good win tonight," he continued. "I think coming back after the performance we had last night, it was critical to back it up. This afternoon a couple of guys said, 'we've got to play with the same confidence we played with last night', and that showed tonight."
The Magic led by as many as 13 in the first half. However, with Wizards guard John Wall being aggressive, as he scoops and dips his way to the basket down the stretch, and Seraphin's command of the paint allowed Washington to tie the contest at the half.
"When we were down 13 points, I just tried to come back and play hard. We needed to win," said Seraphin.
Seraphin went 11-for-16 to lead all scorers with 24 points and 13 rebounds.
"He (Seraphin) has gotten a lot better and has made tremendous strides from last year," said guard/forward Martin Cartier, who finished with 12 points. "He is going to be a good professional player. He is going to continue to play with confidence and help provide us with a strong presence down low."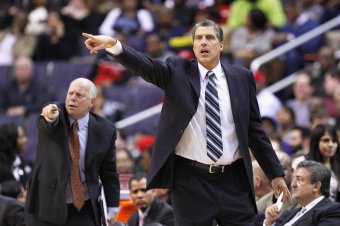 Rob Carr/Getty Images
As usual, the Wizards got away from set plays, took bad shots and made some questionable passes. Nevertheless, the guys in red, white and blue stayed out of foul trouble, played hard and without Howard on the floor, the Wizards were able to compete with the Magic on the boards.
The Wizards out rebounded the Magic 45-43. Most significantly, the Wizards had more defensive boards (39 to the Magic's 30), eliminating many second-chance opportunities which they would had if Howard played.
With the solid shooters on the Magic's roster, the Wizards knew the importance of defending the three.
"We did a great job playing perimeter defense," said Wall. "With Dwight (Howard) out we knew they were going to live and die on the three-point line. We did a good job playing hard. We kept fighting and we had a lot of guys come off the bench and step up and have a good game."
The deciding factor for both clubs came with 1:41 remaining in the contest Tuesday night at the Verizon Center. Magic forward Jason Richardson missed a big three that would have brought his team within two, after Wall missed a jumper previously that would have given the Wizards a strong seven point lead.
"That's how basketball is, one missed play or a missed opportunity can make or break a game for you," said Richardson after the contest.
Following Richardson's miss, Wall, who finished with 15 points, led the charge down the floor to set up forward James Singleton for an alley-oop, which ultimately sealed the game.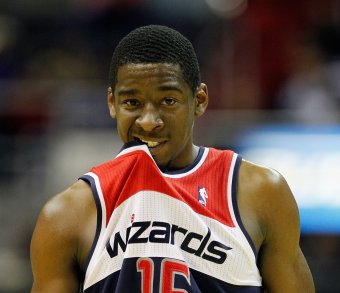 Rob Carr/Getty Images
Singleton had only two points entering the fourth quarter and finished with 12.
Wizards guard Jordan Crawford was very impactful late in the game as he finished with 21 points in the win.
"I was just taking what the defense gave me in both halves," said Crawford. "In the first half, they were leaving the little man open and I was taking it. I was just being aggressive all around and didn't want the defense to key in on one thing.
"As long as the players keep their confidence, we can do a lot of things," he added. "The difference tonight was confidence and getting important stops."
Barry Barnes is a featured columnist for Bleacher Report. Unless otherwise noted, all quotes were obtained first-hand.
This article is
What is the duplicate article?
Why is this article offensive?
Where is this article plagiarized from?
Why is this article poorly edited?

Washington Wizards: Like this team?