Can Rangers' Yu Darvish Live Up to Ichiro Suzuki's Legacy?
April 11, 2012

Kevork Djansezian/Getty Images
When Seattle Mariners superstar Ichiro Suzuki faced off against the Texas Rangers' Yu Darvish Monday, it was a meeting of old and new in the wave of Japanese players entering the MLB.
Just over a decade ago, it was Ichiro who made his debut in the Majors on Opening Day in 2001. In front of a captivated national audience, he helped lead the Seattle Mariners to victory over the Oakland A's. He'd set the league on fire from there on, hitting for a scorching batting average and flashing game-changing speed.
Then, a few days ago, it was the $112 million man's turn. Darvish turned in a less-than-spectacular performance, giving up five runs while not making it out of the sixth inning.
Even though we're only one game into Darvish's career, the comparisons to Ichiro's hype could be found, from the scores of Japanese media following his moves to the adoring fans—Japanese and American alike.
When Ichiro broke out on the scene in '01, he created a new brand of baseball. That was Ichiro baseball—something that set him apart from nearly anyone we had ever seen before. You could slap a trademark on everything he did, from his indulgence in hip fashion to his unmistakable batting stance.
We'll have to see if Yu Darvish can bring a similarly unique skill set, but it's been reported that he boasts anywhere from seven to 10 different pitches in his repertoire.
Certainly, Darvish carries that same exotic mystique we get from Ichiro, compounded by the fact that every media tidbit we get from him is processed through a translator. But every Japanese player, to an extent, is like that.
The fact of the matter is that when Ichiro burst onto the scene, it was a culture shock for the league and fans everywhere. He was a media sensation in the US as the first Japanese-born position player to play in the MLB.
And when he became the second rookie in baseball history to win the MVP, he turned conventional baseball wisdom on its head. Books were written about him, food items were named after him and he kept appearing on the cover of sports magazines.
With a decade between the two players, the baseball world has become more accustomed to international players, so Darvish isn't as special of an enigma anymore.
Perhaps, though, the biggest potential damage to Darvish's legacy is the ease to which he could be compared to the gyroball-hurling Daisuke Matsuzaka. As we know, Dice-K's injuries and relative mediocrity outside of 2008 caused him to be a poor investment for the Boston Red Sox. He's just another average pitcher now.
Of course, all of this is based on the assumption that Darvish turns out to be worthy of a comparison to one of baseball's great players. While he could very well disappoint like Matsuzaka, we can clearly see the talent from Japan's version of Tim Lincecum.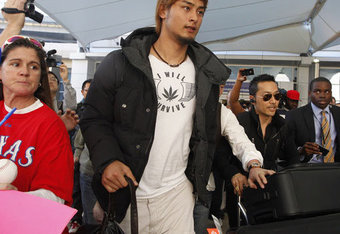 Heck, he's even got the cannabis thing down—only kidding, of course!
At the end of the day, Darvish has gigantic shoes to fill if he wants to establish his legacy as a Japanese player next to Ichiro. He's got to become the face of the star-studded Rangers franchise and become a perennial All-Star while breaking a couple records in the process.
Perhaps it's not a fair question, because Darvish is a different kind of player than Ichiro and his parents had ties to the US. Dare I say that he's almost 'Americanized?'
He has the physical stature of a Justin Verlander at 6'5" and an edgy swagger and confidence one wouldn't normally expect from 'import' players. Although I expect Darvish to meld in with baseball, his determination to succeed and overall skill set will allow him to become a very good, if not great, pitcher in the MLB.
Ichiro has built such an outstanding reputation for himself through the years that he may go down as the greatest Japanese player in MLB history. In that respect, we shouldn't expect Darvish to live up to the legacy Ichiro has set for Japanese players. But part of the beauty of the game of baseball is that we are constantly surprised by what we see, and Yu Darvish could establish himself as the best pitcher in the world.