Ron Washington: Texas Rangers Skipper Might Be the Best Manager in Baseball
April 11, 2012

Kevork Djansezian/Getty Images
The importance of a major league manager tends to be over-scrutinized when his team is losing and overvalued when his team is winning. In other words, too much is made of the manager's influence when times are good. Ditto when things go poorly.
The manager has an impact, to be certain. It can be likened to a doctor and patient relationship. Aside from extreme situations—or 1950s television shows—your doctor doesn't make random house calls.
If you feel sick, you've got to set up an appointment and drive yourself to their office. Your doctor isn't going to take your medicine for you either, just as the manager isn't going to play the field or deliver at the dish. 
You wouldn't want him to anyway.   
Did Terry Francona really have to go in Boston because his players had become overindulged and played exceptionally poorly down the stretch in 2011? 
The bottom line is that Francona cannot be blamed for his players' poor performance any more than he can be attributed with his players' outstanding performance during the Red Sox's glory days of world championships in 2004 and 2007.  
However, when a team "gives up" on a manager, and ignores whatever semblance of authority the skipper has implemented, then yes, it might be time for him to exchange his lineup cards and uniform for headphones and a suit.
If the Red Sox had made the postseason last season and the story about "chicken and beer" had even managed to pop up, it would be seen as a manager that knows how to get the most out of his players rather than the other way around—as a positive, rather than a negative.
Francona's cue-ball noggin was placed squarely behind the eight-ball by his players' poor play. That's it. Plus, you can't fire the owner.    
Ultimately, the best way to evaluate a big league manager's success is if he was able to successfully put the pieces of the puzzle together and forge a team that produces championships. The best skippers in the game do what they can to ensure their team is in the best position to win games day-in and day-out.
Perhaps the best at doing this right now in Major League Baseball is the Texas Rangers' Ron Washington.  
Does "Wash" have any World Series skins on his wall as of yet? No. But he has used his excellent tutelage and superior guidance to get the most out of his team—and in back-to-back seasons has managed to earn the Rangers two American League championships, famously coming up just shy of the ultimate versus the St. Louis Cardinals during last year's Fall Classic. 
So, why is Washington one of the best skippers in the bigs?
He treats his players as contemporaries
Washington is the very definition of a "player's manager."  Sure, this term, and this style of management can go one of two ways—it's a delicate balance. You can't be too buddy-buddy with the players, yet you have to be able to relate with your team.
You certainly can be too likable. Players will walk all over you if they think they can. It's one of the reason's I admire Joe Girardi. He's dealing with a ton of ego up there.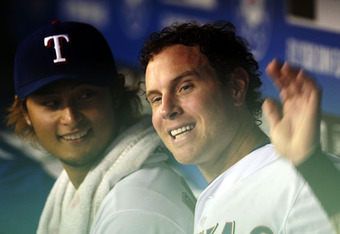 Ronald Martinez/Getty Images
Wash manages to pull it off with his blend of old-school rhetoric fused with grit and gusto. It takes a special type of manager to make this style of coaching work. The result for Wash is that his players love him, and they also know that their skipper returns the adulation. He gives his men respect, and his players return the favor with unbridled loyalty.  
He's loyal when he needs to be, he's consistent in his approach and players respond to this by giving it their all—100 percent of the time.
Yu Darvish—Fourth Starter
How  many other managers would stave off the temptation to make Yu Darvish the Opening Day starter? OK, now of those, how many would push Darvish back so that they can honor the promise they made to Colby Lewis that he'll be the Opening Day starter?
Is there any other manager in the bigs who has the cache to prevent the team's GM from stepping in and making this decision for them?  
Lewis—although easily the team's most successful postseason pitcher in franchise history—is closer to a fifth starter talent-wise on the Rangers' deep and talented rotation.  
Washington went with loyalty over all else, and did the right thing by letting Lewis toe the rubber for the team's first game of 2012. Lewis responded by producing an at-times dominate effort, knocking down nine strikeouts and getting the Rangers their first win of the new season.
Lineup Management
Ronald Martinez/Getty Images
You can approach this one from several different angles, from Ian Kinsler batting leadoff, to Michael Young batting cleanup all postseason last year, to David Murphy starting—even against lefties—and back to the whole Mike Napoli, Nelson Cruz in the bottom third of the lineup "situation."  
Washington might get more flack for the way he fills out his lineup card than for any other facet of his management style.
I must admit, I was never a big fan of Kinsler as a leadoff batter. Boy was I wrong about that. He might not be the best in all of baseball at batting in the one-hole, but he certainly has the most complex set of skills of any leadoff hitter in the game. Thank you, Wash!  
Last postseason—particularly in the ALDS—Young made me cringe at the cleanup spot on occasion. But, hey, you know what? With Young as a four-hole hitter, the Rangers were this close to seizing the ultimate enchilada...and his stick did come around as the postseason progressed.
Murphy's defense might leave a little something to be desired. But he needs to be the everyday left fielder, and seeing as though he is leading the team with his sizzling .533 batting average, Murphy is capitalizing on the opportunity. Josh Hamilton in center field. Yep, that was another correct call made by good ol' Wash.
Napoli is struggling, and aside from Cruz's 3-for-4, four RBI Monday in the 11-5 thrashing of the young Mariners, he's seemed a little out of sorts thus far as well. Hey, leave Cruz in the six-hole and Napoli in the eighth spot. Looks genius when they are cold, and when they get hot, it creates a lineup with absolutely zero holes.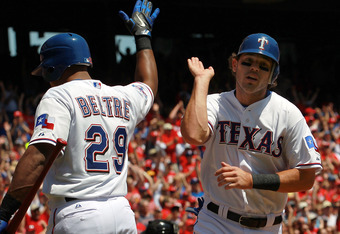 Ronald Martinez/Getty Images
So, is Ron Washington the best manager in the bigs?
There really is no right answer to this query. Obviously, he doesn't have the World Series championship just yet. But, how many other current managers have back-to-back American League pennants? Just because he hasn't won the penultimate prize, doesn't mean he hasn't commandeered his squad to big wins.  
Subjective as it is, this much I know to be true: There is no other manager in Major League Baseball that I'd rather have guiding my favorite team in their quest to that elusive World Series championship.
Yep, give me the man with the balding afro, goofy grin and maniacal laugh. To me, Washington is the best manager in baseball. And as he once again has another championship-caliber club that should compete deep into the playoffs, I wonder how many other baseball fans out there are starting to see the greatness in Washington...are you one of them?