NBA Rumors: Steve Nash to the Miami Heat Makes All Kinds of Sense
April 10, 2012

Christian Petersen/Getty Images
For a guy who does his best to avoid the rumor-mill, current Phoenix Sun and soon-to-be free agent Steve Nash has attracted plenty of attention lately.  When asked during a recent visit with the Dan Patrick Show if he'd be interested in joining the Miami Heat next season, Nash thoughtfully praised the Heat before stating simply, "I'd listen." 
Then, motivated by Wednesday's report that his back problems had worsened of late, the 38 year-old Nash made headlines again, this time declaring his intention to seek a three-year contract at the end of the 2011-12 season (via ESPN).
And though both comments were, in all likelihood, intended to land innocuously, Nash to the Heat makes all kinds of sense.
Never mind that expressing admiration for a potential suitor is usual practice for any impending free agent, or that Nash prefaced his statements by reaffirming his desire to stay in Phoenix if ownership re-commits itself to winning.  And forget that Miami has virtually no room under the salary cap to offer anything but the mid-level exception. 
No team is as suited to Nash's improvised style as the Heat.
Offensively, Nash couldn't ask for a better compliment of players.  With LeBron James and Dwyane Wade slashing to open seams—and Mario Chalmers, Shane Battier and Mike Miller patrolling behind the arc—the 16-year vet would benefit from the most athletic roster of his career.
What's more, where other organizations have threatened stars' production and eroded team synergy by adding talent, Nash poses no such risk.  At nine field-goal attempts per game, his shooting habits more closely resemble those of role-players Chalmers (7.7) and Norris Cole (6.8) than the "Big Three" of James (18.7), Wade (17.3) and Chris Bosh (14.2).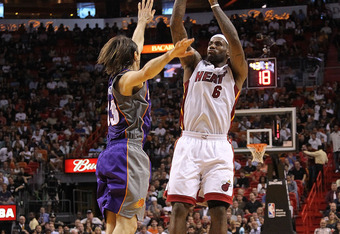 Mike Ehrmann/Getty Images
Bosh, in particular, would profit from Nash's arrival.  Just ask Amare Stoudemire about the energizing effects of a pass-first point guard.  Without Nash orchestrating the duo's patented pick-and-role, Stoudemire's numbers have shrunk from 22.5ppg on 56.5 percent shooting his last four seasons in Phoenix, to 17.6ppg and 47.7 percent this year.  Nothing spells morale boost like easy looks and a willing passer. And Bosh, whose sometimes-detached play has suggested he's worried about becoming Miami's odd man out, would be the principal beneficiary.    
That's not to say there aren't limitations to signing a player through his 41st birthday.  It's true, Nash can't stymie the prolific scoring of a Russell Westbrook anymore, or tame the quickness of Rajon Rondo and Derek Rose, but he won't need to in Miami.  Those assignments already fall to the rangy Wade, to say nothing of James' defensive versatility or the blanketing Battier's capable of delivering.
And with plenty of scorers, the Heat aren't hurting for the 18-plus points Nash posted during his 2006 MVP-run. 
What Miami's interested in, and Nash has continued to deliver, is the ability to create easy looks for teammates.  His 11.3apg this season is remarkably higher than when he captured the league's top honor as a 32-year-old.
As for those pesky criticisms that Miami struggles in crunch time, well, Nash can help with that too.  A career 90 percent shooter from the charity stripe, Nash is second only to Mark Price, and 54 percent from the field would gel nicely with the discriminating shot selection espoused by coach Erik Spoelstra. 
But it's not just the Heat who would come out ahead. 
For Nash, the benefits are nearly as attractive.  Whereas other bidders' postseason chances hinge on the health of one or, if they're lucky, two players, it would take an improbable trifecta of injuries to endanger the Heat's prospects.  While his body's proven remarkably resilient—he's played at least 75 games each of the past 10 seasons—the ego-less Nash might be open to the reduced minutes he'd receive in South Beach if it meant fresher legs for a title-run. 
Fewer minutes and less reliance on his production would also go a long way toward combating fatigue and lengthening his career—a particularly attractive notion to a player in search of his first championship.
Of course, the most obvious hurdle to Nash's acquisition is Miami's significant financial constraints, and though Nash has expressed a willingness to trade cash for wins in the past, the gap between the mid-level exception ($3-$5 million) and his current wage ($11.6 million) is considerable. 
But Nash's selfless play on the court might just transfer off it, and 16 years in the league at more than $100 million in career earnings could be enough to bring perspective to one of the NBA's most contemplative players.
So while inviting the eight-time All-Star to join Miami's cast is a proverbial slam dunk for Heat GM Pat Riley, Nash's considerations are more varied. 
Sure, money's a factor, but it may ultimately have more to do with what role Nash is interested in playing and how long he intends to play it.  He still has one of the NBA's best motors, shoots with a high percentage and can pile up the assists, but with Phoenix looking more likely to rebuild than reload, Miami poses a tempting alternative.
Given the talent that has gravitated to South Beach of late, don't be surprised if Nash also warms to joining the Heat.