WWE Mailbag: Answering Your Questions on WrestleMania 28, Batista and More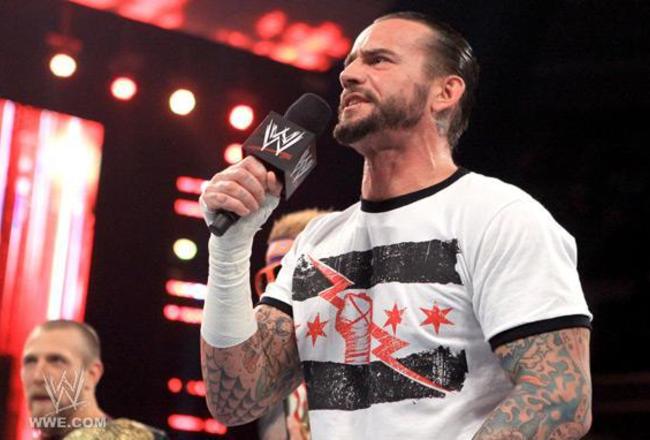 Photo courtesy of WWE.com

There's no Smackdown tonight, but that doesn't mean your Friday can't be as awesome as usual.
Why? Because it's time for the WWE Mailbag, of course.
As you probably know, the formula is pretty simple: You ask the questions, and I give my answers.
You can ask those questions on Formspring or Twitter. Make yours good, and I'll pick the top 10 to answer in a mailbag every Friday.
In today's edition, we tackle some interesting topics, including a look back at WrestleMania 28, Batista's WrestleMania future and more.
Here we go.
Jeff Hardy's Best WWE Match?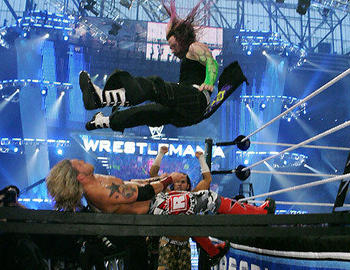 Photo courtesy of WWE.com
Jeff Hardy's Best WWE Match?
I didn't really realize how many fantastic matches Hardy had in the WWE until I was asked this question.
There are a lot of choices, including his Ladder Match against The Undertaker for the Undisputed WWE Championship back in 2002 or any of his countless TLC tag team matches, such as the one at WrestleMania X-Seven.
But if I had to pick, I'd go with Hardy's TLC Match against CM Punk at SummerSlam in 2009.
There was a great story between the two going on at the time, with the heel, Straight Edge Punk verbally attacking Hardy for some of his lifestyle choices and past decisions, which resulted in an epic match at SummerSlam.
Does it come as a surprise that all the Hardy matches I named were Ladder matches? Not really.
Hardy is one of the best Ladder match competitors of all time, and though I like a number of those matches, the SummerSlam one tops them all.
Who Will Win More World Titles: Rhodes or Ziggler?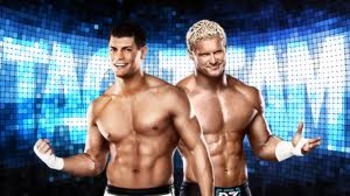 Who will win more world championships? Dolph Ziggler or Cody Rhodes?
Ziggler and Rhodes are arguably my two favorite current wrestlers, so this is a tough one.
That being said, I gotta go with Rhodes.
As good as Ziggler is, Rhodes is five years younger (he's 26, while Ziggler's 31) and is probably a better all-around talent.
Of course, that's not meant to take anything away from Ziggler, who's amazing in the ring. It's just that Rhodes is already really good in the ring and on the mic at such a young age, which means he's likely headed for anywhere between five and 10 World title reigns, in my opinion.
I think Ziggler will get a few World title reigns, but I also think that he'll have more of a Shawn Michaels-like career, one that's highlighted more by fantastic matches than it is World title victories.
Meanwhile, Rhodes is the future of the WWE, and he could be at the top of the company for well over the next decade.
My Thoughts on ADR Being Added to the Sheamus/Bryan Feud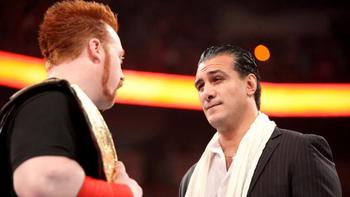 Photo courtesy of WWE.com
What do you think of Alberto Del Rio being involved in the Sheamus vs. Daniel Bryan feud?
I don't like it.
While I'm not totally against a Sheamus vs. Del Rio feud, why not just hold off on it until after the Sheamus vs. Bryan feud ends?
Bryan is undoubtedly the hottest act going (out of the three) at the moment. Yet, he has been completely overshadowed by ADR and Sheamus since WrestleMania 28.
Considering that the WWE draft is expected to take place soon, the WWE could have easily moved ADR to Smackdown for a feud with Sheamus that started after Extreme Rules.
But for some reason, they decided to rush the hell out of it, and all it's accomplished is making Bryan look like an afterthought during his quest to regain the World Heavyweight Championship.
Terrible booking, if you ask me.
Ranking the "Big Four" PPVs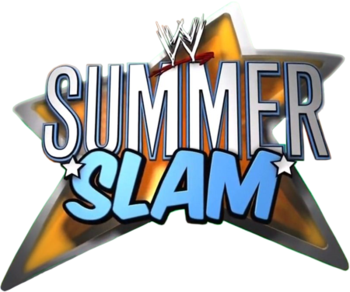 Photo courtesy of WWE.com
Rank the big 4 pay-pier-views based on importance.
I'm going to rank them based on importance/relevance as of today, not how they've been throughout history.
4. Survivor Series: While this pay-per-view could be really special, its main selling point (the 5-on-5 tag team matches) has lost a lot of its luster in recent years.
No one seems to care about the traditional SS matches anymore, and the marquee matches just haven't been there lately. Things have gotten so bad for this PPV recently that it was almost scrapped altogether.
3. SummerSlam: This is another PPV that hasn't lived up to expectations in recent years, though I do have to commend the WWE for giving us two excellent matches at last year's show.
It may not have the same relevance it did 20 years ago, but the WWE has done a better job of putting on solid SummerSlam PPVs than Survivor Series PPVs recently.
2. Royal Rumble: I wrote a big column the other day on how the WWE has killed the relevancy of the Royal Rumble, but it's still the second biggest PPV of the year.
It is the first official step on the road to WrestleMania, it features one of the WWE's most-anticipated matches, and even if it's predictable and/or doesn't mean what it used to, at least the winner of the Rumble match gets a World title shot at WrestleMania.
1. WrestleMania: Do I even need to explain this one?
Who Should Have Been the Anonymous Raw GM?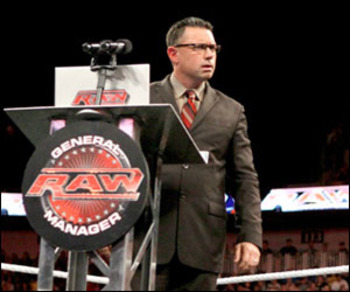 Photo courtesy of WWE.com
If you were a WWE Booker, who would you have be the anonymous Raw General manager?
The sad thing about this question is that I honestly don't think the WWE ever had any real idea who the anonymous Raw GM was going to be.
Anyway, I prefer heel authority figures (and whoever was behind the laptop seemed heelish, too), so I would have went with one of two guys: JBL or Michael Cole.
I know a lot of people wanted to see someone huge like HBK or Stone Cold behind the laptop, but it would water down their importance if they showed up on Raw every week.
That's why I say someone like JBL, who is a masterful heel on the mic and could be the perfect guy to run the show.
But Cole would have been a phenomenal choice as well. Just think about how much heat he would have gotten if, all along, he wasn't reading emails, but rather was making matches and decisions himself.
The fans would have hated Cole for that, and perhaps being the GM would have done us all a favor and gotten him away from the announce table.
Rating WrestleMania 28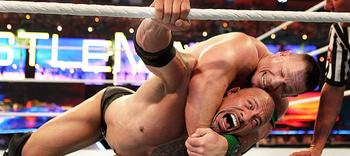 Photo courtesy of WWE.com
What will you rate this year's Mania and your three favourite matches from the event?
My three favorite matches? Probably the same as everyone else's.
I'd go with the three main events: Undertaker vs. Triple H, Chris Jericho vs. CM Punk and The Rock vs. John Cena, in that order.
As for the show overall, I'd give it an 8.5/10.
While those three main events were all awesome in their own rights, the rest of the card left a lot to be desired.
The Divas match was terrible, Cody Rhodes vs. Big Show was pretty bad, we were robbed with that short Sheamus vs. Daniel Bryan match, Team Teddy vs. Team Johnny was just OK, and that Randy Orton vs. Kane match was basically like your average TV match.
While WrestleMania 28 had one of the best trios (the best trio?) of main events ever, it took a big hit with the lack of a well-developed undercard.
Who Will End CM Punk's WWE Title Reign?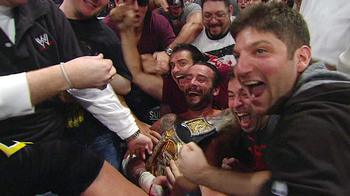 Photo courtesy of WWE.com
CM Punk is having a long and decent reign as WWE Champion. Who do you think will dethrone him?
Man, that's a tough one.
Just looking at the roster right now, there don't seem to be too many choices. But I'm going to go with a guy who's out nursing an injury right now: Wade Barrett.
Barrett is rumored to get a huge push that will result in a Money in the Bank win and a possible cash-in on CM Punk.
And I actually really like that idea, too.
Barrett and Punk have a lot of history together because of all the Nexus nonsense, but surprisingly, Barrett has still never won a World title in the WWE.
That's going to have to change eventually, and I think it will once Barrett comes back from injury and instantly targets Punk and his WWE title.
Will Batista Come Back to WWE Soon?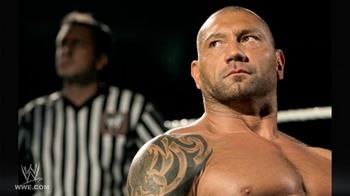 Photo courtesy of WWE.com
Will Batista be back in WWE soon or were those rumors false?
For those that are wondering, this is the rumor that the question is referring to.
Even though nothing panned out with Batista at WrestleMania 28, I'm extremely confident when I say that I think Batista will be back for some sort of short run or "retirement tour" of sorts, possibly even sometime later this year.
Batista has been very outspoken about the WWE since his departure from the company in 2010, and though I think he means a lot of what he says, I also think he's working the fans a bit to set up a potential return feud.
"The Animal" was in the midst of a great heel run when he left the WWE, and I don't think the last image we're going to see of him in the ring is him sitting in a wheelchair and quitting on the company.
Batista will be back at some point, and I'd put my money on him feuding with one of three guys: John Cena, Brock Lesnar or Triple H.
Who Should Undertaker Face at WrestleMania 29?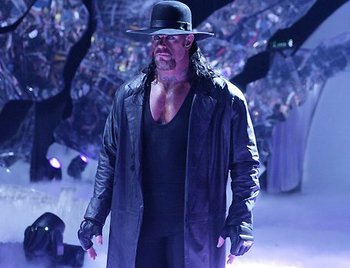 Photo courtesy of WWE.com
who would you want the undertaker to wrestle at next years wrestle mania
Realistically, The Undertaker can put on a great match with just about anyone, and I'd love to see him face any of the following guys: Chris Jericho, Brock Lesnar, John Cena, The Rock, Randy Orton, CM Punk or Sheamus.
If you're making me choose, though, I'll go with Cena.
I know a lot of people don't want to see this match, but Cena and Undertaker haven't feuded since way back in 2003, and that was long before Cena was the star he is today.
Putting the face of the company against the unbeatable Undertaker at WrestleMania 29 would be a huge draw because Cena is the one guy who fans might actually think could end "The Streak."
Both of these guys deliver in big matches, and I have no doubt that they could tear the house down at the WWE's biggest pay-per-view of the year.
Cena vs. Hogan as Big as Cena vs. Rock?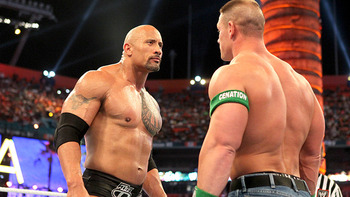 Photo courtesy of WWE.com
Would John Cena vs Hulk Hogan at WM be as big a match as Cena vs Rock?
No, it wouldn't.
I'm 100 percent serious when I say that I don't think that any match could possibly top The Rock vs. John Cena right now.
Why? Because as big of a clash of icons as Cena vs. Hogan would be, the match would suck.
Hogan is well past his prime, can't wrestle anymore and was never that great in the ring to begin with. But the reason there was so much hype and anticipation for The Rock vs. Cena was that Cena is at the peak of his career and Rock is still in excellent physical condition as well.
No one wants to see an immobile Hogan clash with Cena in a two-star match, and there's certainly no certainty that a match like Stone Cold vs. Cena would be very good because of Austin's neck and his age.
The Rock vs. Cena will be the biggest match ever for a long time because it was a clash of two different generations while also featuring two guys who could still go.
That may never happen again.
Keep Reading