Ozzie Guillen's 5-Game Suspension by Miami Marlins Is Sufficient Punishment
April 10, 2012

Drew Hallowell/Getty Images
Ozzie Guillen said something really stupid in an interview with Time magazine.
Actually, "stupid" is an oversimplification. Saying "I love Fidel Castro" and later trying to backtrack and say he respects Castro was horribly insensitive, especially to the community within which Guillen makes a living as the manager of the Miami Marlins.
The Cuban-American population of Miami was rightly outraged by Guillen's remarks. Many families have been severely affected by Castro's 50-year dictatorship in Cuba and fled to South Florida to escape the atrocities and suffering caused by that regime.
It is completely understandable that the Cuban-American community in South Florida is calling for harsh penalties on Guillen. Some want him suspended indefinitely. Many want him fired. 
The Marlins announced on Tuesday that the team was suspending Guillen for five games without pay, effective immediately.
That punishment isn't going to be enough for many people. FOX Sports' Ken Rosenthal, for one, called for Guillen to be suspended for a month.
But to me, the penalty seems sufficient.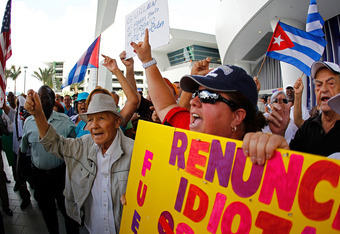 Mike Ehrmann/Getty Images
The Marlins handled this the right way by calling Guillen back to Miami to face the people he upset with his remarks and apologize for his actions. He should have to answer questions from reporters, many of whom come from families broken by the Castro regime. 
Guillen needs to understand why what he said was so hurtful and so inflammatory. Firing him would certainly hold him accountable for his insensitivity. But it might also be letting him off the hook. He should have to face the people whom he offended regularly. He should have to constantly make amends to the community he lives and works in. 
If having to do so on a regular basis becomes too big of an issue for the Marlins to deal with, then they can address whether or not the organization would be better off without him. But for now, keeping Guillen around is a constant reminder to the Marlins—and to Guillen himself—of the responsibility they have as representatives of the city of Miami and its population.
At a press conference held at Marlins Park after the suspension was announced, Guillen was obviously remorseful for what he said. It appears that he understands the hurt feelings and painful memories that his remarks brought to the surface. The Castro regime is clearly not something that can be discussed glibly, no matter who you are.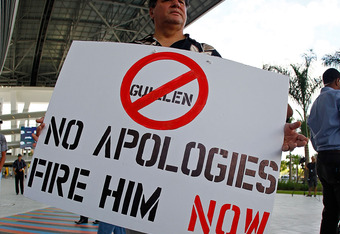 Mike Ehrmann/Getty Images
Guillen hasn't been held accountable for the outrageous things he's said in the past. (SI.com does a nice job of recapping his gaffes.) It's perhaps the primary reason his tenure with the Chicago White Sox had to come to an end. But Kenny Williams and Jerry Reinsdorf let Ozzie be Ozzie during his eight years in the U.S. Cellular Field dugout. Winning a World Series in 2005 surely earned him some extra slack. 
But since Guillen was never really taken to task for anything he said, he became entitled. Surely, he believed he could say whatever he wanted because he'd never been reprimanded by anyone in a position of authority.
Guillen probably even thought his Castro remarks were funny. The best comedians often try to push the envelope, stepping out as far over the edge as possible. Louis C.K. has spoken in interviews about sometimes seeing how far he can take it on stage. When he's gone too far, the audience will let him know it.
The only problem is Guillen isn't a comedian.
He's a prominent public figure, as the manager of a Major League Baseball team playing in a shiny new ballpark funded by tax dollars from the community, a community he deeply offended. He's paid very well, reportedly $3 million per year, to not only oversee a winning product on the field, but to also represent his team in a positive light. He's supposed to be someone Miami can support with pride. 
Maybe Guillen can become that sort of figure again. But he has to work to repair his relationship with the people of South Florida. He has to make amends with those he's offended. He has to demonstrate some humility.
By keeping him around, the Marlins are making him do just that.