Formula 1: Bahrain Grand Prix Moral Test Inevitable Consequence of Expansion
April 10, 2012

Robert Cianflone/Getty Images
As the time approaches for a decision to either commit to—or walk away from—the upcoming Bahrain Grand Prix, it seems that there is a rapidly emerging divide developing between the race organisers and Bernie Ecclestone on one hand, and most rational people on the other.
The 2011 Bahrain GP was eventually cancelled—only after considerable protests from the teams and sponsors—due to civil unrest, which caused a threat to the race's security.
It's difficult to see how anything has changed, yet here we are going through the same arguments.
While the situation in Bahrain has improved, daily protests continue. As recently as this weekend, police were injured by a bomb as opposition calls to release an anti-government protestor who is currently nearing death on a hunger strike intensified.
The FIA is assuring anyone who will listen that the decision to go ahead with the race is not financially motivated and is completely apolitical. If that's the case, why on earth would they want to go?
The reality is, however, that the decision to race in Bahrain will have political ramifications.
When the president of the Automobile Federation of Bahrain, Sheikh Abdullah bin Isa Al Khalifa, is quoted as saying he hopes the Formula One race can help to unify the country during a difficult period, it is clear that the government, at least, sees the race as a tacit endorsement.
"I know all eyes are on us, but for me I feel there is a buzz going on in the country to rally around Formula One.
"So my message to Formula One is 'be part of unifying my country'."
That's not F1's job and it should raise alarm bells at FIA headquarters.
The contention that the teams are all happy to be involved is also starting to become unravelled, despite being too cowed by the FIA to say so publicly.
The Guardian quoted a senior team member as having said, "I feel very uncomfortable about going to Bahrain. If I'm brutally frank, the only way they can pull this race off without incident is to have a complete military lockdown there. And I think that would be unacceptable, both for F1 and for Bahrain. But I don't see any other way they can do it."
Even Damon Hill is this week opposed to going, although if we give it a few days, he could change his mind again.
While Bahrain might need F1, the reverse is clearly not true: Its global expansion shows no signs of abating.
It seems that every year the circus rolls into a new town and onto a new circuit.
Last year, it was New Delhi in India; the year before, it was Yeongam in South Korea. This year it will be Austin, Texas; next year, New Jersey.
While the argument for the expansion is obvious from a business perspective—cities want to throw bucketloads of cash to secure a race—it's difficult to see any benefit for the sport as a whole.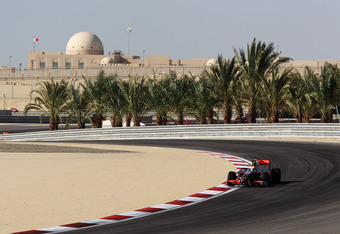 Mark Thompson/Getty Images
Almost without exception, the new tracks are all products of the mind of Hermann Tilke and, like many architects, there is a certain thematic style that shines through his work.
It's as if Herr Tilke has been using his childhood Scalextric kit as his inspiration, not knowing that he could go out and buy expansion pieces to make it more interesting.
The tracks were renowned for being almost impossible to overtake on before the advent of the drag reduction system. They are pretty, and probably fun to drive on, but ultimately not great race tracks.
It's McFormula One.
So what is the end game for F1 and, more importantly, what is the cost?
While the expansion into new markets continues unabated, the traditional cornerstones of the sport continue to be eroded and treated with contempt.
The great tracks like Spa, Hockenheim or Monza have been neutered and sanitized to the point where they are almost unrecognisable.
Spa looks set to join Hockenheim on the alternating roster, having to share its spot on the calendar with France's Paul Ricard circuit (coincidentally part owned by Bernie Ecclestone).
But while Europe continues to lose its influence, the expansion looks set to continue with an Argentinian race rumoured to be announced alongside the new races already secured.
It seems that the only criteria governing acceptance into the F1 family is funding and providing an inroad into a new market. No other test seems to be applied.
It doesn't even have to be logical—the move to have two US based races is a prime example.
Mario Andretti said on CNBC, "Formula One needs to be in the United States on solid ground, and the U.S. needs a Formula One race."
But why?
F1 has had a few tries at establishing in the US and failed, but there are plenty of other nations keen to join the party, so why bother trying to woo a disinterested partner?
As for the US needing an F1 race, that's equally unlikely. The US has well established motorsport categories that have evolved to meet local needs and have huge followings. Why would they bother with F1?
Andretti did get one thing right. He said, "You should never get away from where the real foundation of Formula One has been, which is Europe. Of course, there is nothing wrong with the expansion to countries like Asia, China, Malaysia. I just hope that Mr. Bernie Ecclestone keeps an eye on the strong tradition that Formula One has in Europe."
Who'd like to bet that's not the bit of the message that Ecclestone paid attention to. Anyone?