WWE Rumors: Brock Lesnar, Triple H, The Bella Twins and Tuesday's Top WWE News
April 10, 2012

WWE is trying to ride the wave of momentum following WrestleMania. It still hasn't figured out what to do with a lot of the mid-card workers, but the main-event scene is still interesting, to say the very least. 
RAW provided fans with the match they were expecting at Extreme Rules, with Brock Lesnar taking on John Cena. 
That is certainly a huge main event, one that will get people talking. We will break down what it could mean for business. 
Plus, we will have more information on what is going on behind the scenes with all of the pertinent WWE news you need to satisfy your appetite before Super SmackDown Blast From the Past tonight. 
WWE USING BROCK LESNAR TOO SOON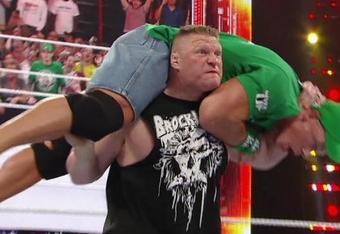 Look, Brock Lesnar is the big draw that WWE has, so it's easy to see why he is wrestling at the Extreme Rules pay-per-view. The problem is, none of the big names that WWE has brought back in the past has done anything to sell B-shows. 
Question on Everybody's Mind: Is Lesnar going to save WWE business post-WrestleMania?
Our Take: He is certainly going to pop a positive buyrate for his first match back, though how good it is remains to be seen. WWE is an event-driven business now, which is a fault of its own, and fans aren't buying Extreme Rules right after WrestleMania and one week after a UFC show. 
Hype Meter: 5 out of 5 Bloody Lips
Fans forget that WWE only has Lesnar under contract for 32 dates up until next year's WrestleMania, though if he goes past that number he can negotiate a lot more money for a few more days, and using him four times in his first month is not a wise use of his services. 
Deeper Dive
Is Lesnar Bringing Back Ruthless Aggression? (B/R)
-------------------------------------------------------------------------
TRIPLE H AND SHAWN MICHAELS AFFECTED BY BROCK LESNAR'S RETURN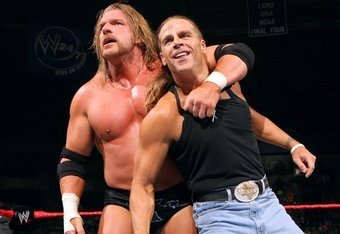 It turns out that John Cena wasn't the only one feeling "The Pain" after WrestleMania. WWE was all set to announce a WrestleMania 29 match between Shawn Michaels and Triple H for WrestleMania 29 the day after the big show, only to have plans changed after Lesnar signed a deal. 
Question on Everybody's Mind: Why is WWE entertaining the idea of that match?
Our Take: They are desperate to ruin Michaels' retirement and keep Triple H in the WrestleMania spotlight. Leave these stars be, especially when they go out on the highest possible note. 
Hype Meter: 5 out of 5 Pointless Feuds
It's not that an HBK vs. Triple H match wouldn't be good, there is just no reason for it. They wrestled thousands of times between 2002-04, so what draw is there to see it again? Thankfully, Lesnar was able to save the world from a big mistake. 
Deeper Dive
How Brock Lesnar's Signing Changed WrestleMania 28 Plans (Wrestle Zone)
-----------------------------------------------------------------------
DIRT SHEETS HATE CM PUNK, APPARENTLY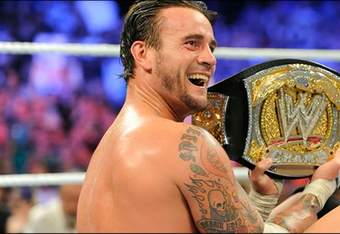 You know how the Internet Wrestling Community was hot for CM Punk? It turns out he wasn't feeling that love, or he didn't hear about it, because he posted a little shot at the dirt sheets who have a problem with him on Twitter. 
Dirt sheets can call me small, skinny, beat up, road-tired, fat, ugly, no friends etc...everyone else calls me champ. Everyone.

— CM Punk (@CMPunk) April 9, 2012
Question on Everybody's Mind: Does CM Punk really think dirt sheets don't like him?
Our Take: It's hard to fathom why wrestlers even respond to the "dirt sheet" reports about them, but Punk would seem to be one of the few WWE stars who gets love from them. Unless he has gone so WWE that the people writing them can't stand him.
Hype Meter: 5 out of 5 Bad Dirt Sheets
WWE has a habit of taking beloved stars from other promotions and either burying them to the point no one pays attention to them, or turning them so WWE that everyone who used to love them has to hate them. It's hard to see Punk being in the latter category, though he is more corporate than he once was. 
Deeper Dive
Counting Down WWE's Top 15 Superstars
----------------------------------------------------------------------
THE BELLA TWINS BREAKING MEN'S HEARTS ALL OVER THE WORLD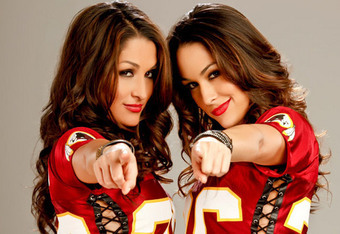 While the WWE Divas division is a mess right now, especially without Kharma, it figures to get a lot lighter in the coming weeks amidst rumors their contracts expire at the end of the month and they don't intend to renew them. 
Question on Everybody's Mind: If two Divas leave and no one notices, did they really exist in the first place?
Our Take: That's not entirely fair. The Bella Twins did some good things in WWE. Nothing immediately springs to mind, but surely in their years with the company they did something. Right? Bueller...Bueller....
Hype Meter: 3 out of 5 Twins
Give credit to the Bella Twins, they managed to stay relevant for two women with no talent a lot longer than Kelly Kelly, who just had two first names and no talent. 
Deeper Dive
The Bellas Leaving WWE (Wrestling Observer)
------------------------------------------------------------------------
Check back for more on the WWE as it comes, and check out Bleacher Report's Wrestling Page to get your fill of the WWE. For more WWE talk, check out Ring Rust Radio for all of the hot topics you just can't miss.