WWE Opinion: Does Brock Lesnar Signal the Return of Ruthless Aggression?
April 9, 2012

Nearly a decade ago, WWE purchased its two biggest rivals—World Championship Wrestling (WCW) and Extreme Championship Wrestling (ECW).
Since their edgy programming in the late 1990s and early 2000s was used to attract viewers and compete against the opposite companies, there no longer seemed to be a point in the ever-so-popular attitude.
With the in-ring careers of main event talent, like Stone Cold Steve Austin and The Rock, quickly winding down, Vince McMahon was desperate to start a new age to rejuvenate the product going forward.
This came in 2002, the year that officially marked the birth of Ruthless Aggression.
As the established veterans slowly faded away, debuting talent including John Cena, Randy Orton, Batista and Rey Mysterio took center stage. Their fresh blood brought a new feel to the WWE, as well as future World Champions who would soon after become the faces of the company.
However, there was one individual who was also introduced in 2002 and made an impact quicker than any of the aforementioned superstars. His name, of course, was Brock Lesnar.
On the night proceeding WrestleMania 18, Lesnar didn't take his time in making his presence felt by attacking a number of superstars while accompanied by Paul Heyman. It wasn't long before Lesnar became the 2002 King of the Ring winner and earned himself the prestigious WWE Championship at SummerSlam.
At the biggest blockbuster of the summer, Lesnar shocked the world by defeating The Rock and becoming the youngest WWE Champion in history (at the time). From there, the Next Big Thing would go on and emerge victorious against the likes of Undertaker, Big Show and Kurt Angle.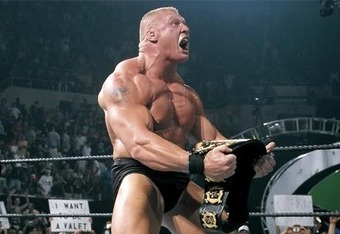 Due to the extraneous traveling schedule, Lesnar left WWE following WrestleMania 20 to pursue a career in the UFC as a mixed martial artist. Following his embarrassing loss to Goldberg in Madison Square Garden, Lesnar would never again be seen on WWE television.
That is, until last Monday night, when Brock Lesnar made his highly anticipated return to Monday nights, confronting, and later brutalizing, John Cena.
His electric comeback has left the WWE universe in shock and awe, wondering what his motive is for returning and what he'll do next.
While watching Cena stare into the cold eyes of the intimidating Lesnar, I couldn't help but feel nostalgic of their first feud together back in 2003. Not only that, but this moment gave me the feeling that Lesnar's return could very well signify the return of Ruthless Aggression as well.
After controversially winning the WWE Championship last summer, CM Punk may be calling this the "Reality Era," but it doesn't seem much has changed during the past year. Sure, the WWE Champion may have implemented "change" temporarily, but the lasting effects haven't done anything significant.
The main focus of the Ruthless Aggression era from 2002 to 2005 was to prepare young talent for the future, while also providing entertaining storylines.
Its inclusion of pure wrestling also made the matches better than any other era, in my opinion, with the World Championship main events at WrestleMania 20 as prime examples.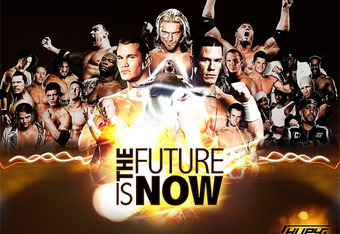 Once Brock Lesnar's music hit only a mere week ago, members of the IWC were quick to assume that change is once again imminent with his ground-breaking comeback.
Going into tonight's show, many fans (myself included) have never been more excited for a Raw in ages, given their new sense of replenished excitement in the product.
Additionally, newly appointed Raw and SmackDown General Manager John Laurinaitis has also made a major impact. When Team Johnny was victorious at WrestleMania 28, I was treated by flashbacks to when Eric Bischoff was given the head honcho role of the flagship show a decade ago.
Although the Attitude Era is widely praised by experienced wrestling fans, I believe the Ruthless Aggression was the most successful time period that succeeded in progressing towards the future, which is exactly why I'd love nothing more than to see it make its anticipated return.
If not, then a resurrection of the Ruthless Aggression era is also quite possible.
Talented athletes such as CM Punk, Daniel Bryan and Sheamus can be the leaders of change, while veterans such as John Cena and Randy Orton take a backseat to the blooming batch of superstars.
Eddie Guerrero and Chris Benoit, two smaller wrestlers who were told that they'd never make it, earned their spots over the course of the those three years and were rewarded with the World Championships respectively.
Similar superstars, such as Punk and Bryan, can follow in their footsteps by adopting this aggressive attitude we've come to see in recent weeks and continue to climb the ladder with their dedicated work.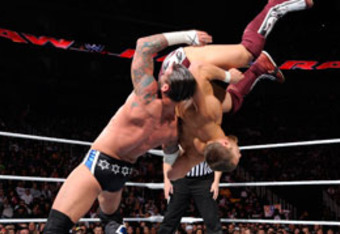 But then again, we've got Undertaker with short hair, Lesnar, The Rock, Masked Kane, a heel authority figure, John Cena and Randy Orton losing clean all for the first time since 2002.
Are those strong enough indicators that the dawn of another time of Ruthless Aggression has finally begun?
I, for one, will be watching intently during the next few weeks to see if Lesnar's return to the WWE truly makes the impact many hope it will or just fail miserably as past angles have taught us. All the cards are in place, and officials just need to know how to correctly play them.
Thanks for reading, Bleachers, and make sure to drop a comment below with your pending thoughts on the second coming of Ruthless Aggression. As always, your criticism and overall feedback of my piece is welcomed and greatly appreciated.
GSM out.
Visit my website at Next Era Wrestling, as well as my WrestleRant and Spoilers podcasts for more of my thoughts and writings, along with WWE/TNA news, rumors, reviews and more.
Listen to internet radio with Spoilerspodcast on Blog Talk Radio