Masters 2012: Louis Oosthuizen and Golfers Who Must Capitalize off Success
April 10, 2012

David Cannon/Getty Images
The 2012 Masters provided a great deal of excitement, but now that it has passed, there are several golfers who need to use their success at Augusta National as a jumping point to a stellar year. 
As the biggest golf event of the year, the pressure to win will not be as high anywhere else these golfers play this year. 
They battled through adversity to post solid scores and even though they didn't win, they can still use their time at Augusta to help propel them for a phenomenal season. 
With that said, here are a few golfers who must capitalize off their success at the 2012 Masters. 
Louis Oosthuizen
While everyone lost to Bubba Watson, Oosthuizen lost in the worst way—a two-hole playoff. Still, he can't let this bring him down, as he needs to find a way to continue to perform at a high level.
After winning the 2010 Open Championship in great fashion (seven strokes), Oosthuizen sort of disappeared on the big stage. 
Before this year, he had never made the cut at the Masters, and only once has he made the cut at the US Open and the PGA Championship. 
Now is the time for Oosthuizen to stay hot and continue to rise in the rankings. He nearly mastered the Masters, so his confidence should be sky high even though he lost at the very end. 
Peter Hanson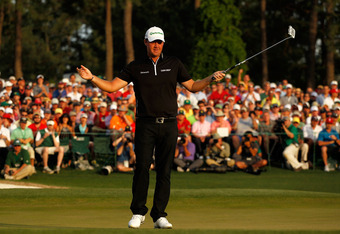 Streeter Lecka/Getty Images
Like Oosthuizen, Hanson had never made the cut at Augusta National until this year. He finished tied for third place this year at eight-under-par, which is a fantastic score at the Masters. 
Most casual golf fans may have never heard about Hanson, but if they watched this weekend, they know he's legit. 
Hanson has done well in the past at the US Open, but the Open Championship and PGA Championship have not been very kind to him. 
Still, Hanson has momentum on his side and he has to continue to thrive from the moment he tees off all the way until he sinks his last putt. 
Kuchar has really taken off in the last few years, but tying for third place at the 2012 Masters was the best finish of his career. 
He has the talent to win a Major championship and his success at Augusta National this year will significantly help his mental psyche for the next big tournaments. 
Kuchar's best season was in 2010, but he can easily make 2012 the best of his career thanks to his success at the Masters. However, it's up to him to make sure it happens.