Masters 2012 Leaderboard: Latest Live Scores, Results and Analysis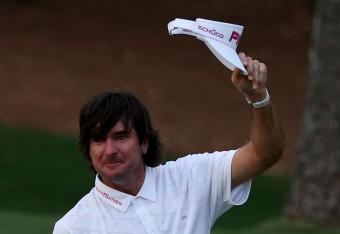 Bubba Watson holds up his visor after winning the 2012 Masters Tournament on the 10th hole at Augusta National Golf Club Sunday.
Andrew Redington/Getty Images
Some have dubbed Sunday at Augusta National Golf Club the most exciting day in sports.
On April 8, 2012 at the 2012 Masters Championship, it didn't disappoint.
Congratulations to Bubba Watson who won his first major ever on the second, sudden death playoff hole.
| | | |
| --- | --- | --- |
| Player | Thru | Score |
| Bubba Watson | F** | -10 |
| Louis Oosthuizen | F | -10 |
| Lee Westwood | F | -8 |
| Matt Kuchar | F | -8 |
| Phil Mickelson | F | -8 |
| Peter Hanson | F | -8 |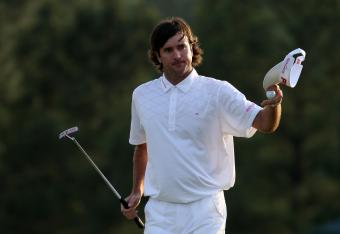 And we have a winner!
Bubba Watson is your 2012 Masters Championship!
Watson showing his emotion proudly as he cries and hugs his mother and caddy for an extended period of time.
Louis Oosthuizen barely missed putts on 18 and 10.
Bubba Watson now has two putts to win the 2012 Masters.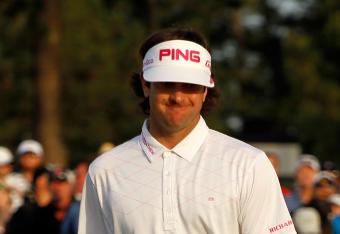 Bubba Watson may have hit the shot of the tournament!
Watson, a lefty, hooked in left to right out of the trees to put his birdie putt within 25 feet. Wow!
Oosthuizen hits it short, missing the green, leaving himself a tough up and down.
Watson is still trying to figure out how to hit his approach shot from the pine straws.
If I had to judge, Oosthuizen's position isn't that bad.
Watson, however, has to be really creative on No. 10 to get it back on the green.
Bubba Watson hit his drive way right, leaving the door wide open for Louis Oosthuizen.
Then Oosthuizen closed the door by hitting a poor drive of his own.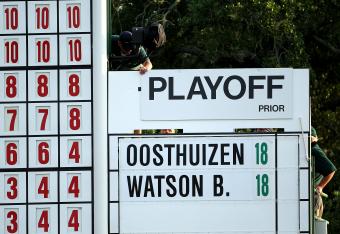 Bubba Watson had a putt to win after Louis Oosthuizen's putt just grazed the edge.
Another playoff hole for these two guys!
"If you can do anything, I can do it better!"
That old Gatorade commercial applies with the 73rd hole at the 2012 Masters since Oosthuizen hit it to 20 feet and Watson hit his approach into 10.
What. A. Tournament!
Mickelson actually hit a good shot, but it's not enough to catch up.
Louis Oosthuizen and Bubba Watson will have a playoff on 18 after the final group finishes the hole.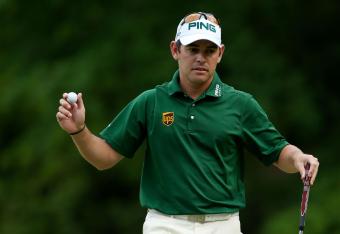 Clutch!
Unless Phil Mickelson holes out on 18 for eagle, Louis Oosthuizen and Bubba Watson will have a playoff.
Oosthuizen misses -- and still has a four-foot par putt. Watson has a tap-in for par.
Louis Oosthuizen may have had too much adrenaline as he hit his approach shot 10 yards too far, above the ridge, making it a hard two putt.
Watson, however, has a 30-foot birdie putt similar to that of Vijay Singh and Phil Mickelson when they won their first Green Jacket.
Sans a huge blowup by Oosthuizen and Watson or a birdie-birdie finish by Mickelson, the race has come down to group No. 30.
Watson birdied 18 Saturday, while Oosthuizen bogeyed it.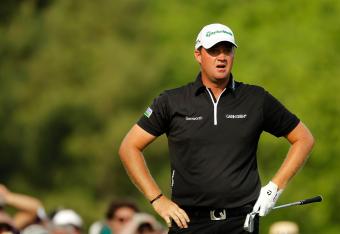 Well it looks like Peter Hanson's chances are done.
The outright leader at the start of Sunday is now +2 for the day, three behind the leaders.
Louis Oosthuizen makes a critical sandy up and down on 17 to make par. Bubba Watson made his three-foot par putt, too.
The co-leaders will go to 18, where Matt Kuchar has a 30 footer for birdie to go to -9, one behind the leaders.
Peter Hanson is not out of it. He has a three-foot birdie putt on 16. He need to birdie out to realistically have a chance.
Phil Mickelson got unlucky as his ball stayed up on the ridge of 16. Mickelson, as a result, has a three-foot par putt.
It's looking bad for Lefty.
But for the other lefty, Bubba Watson, he has a 40-foot birdie putt on 17 for the outright lead. Louis Oosthuizen has a three footer for par.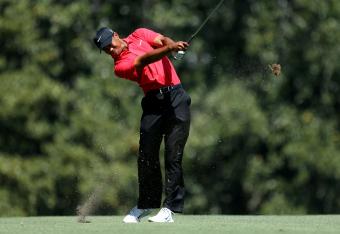 "@sHecKii I will ask this question: Watching the #Masters this weekend, is the PGA really missing Tiger Woods in contention?" -- @PicknSplinters
I think the PGA Tour will eventually need a player with Tiger-like dominance. However, for the short term, the quality of play on the Tour has been higher than ever -- so it does not miss Tiger Woods.
That being said, Masters Sunday is also by far the most exciting major. It may be the most exciting single sports day ever.
Phil Mickelson holds his own, but the dominance of a single player major after major will be missed eventually.
Great question! Keep asking me via Twitter at @sHecKii.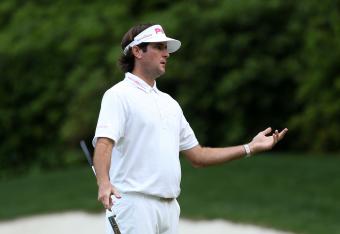 And the crowd goes wild!
Bubba Watson makes his birdie put on 16 to tie Louis Oosthuizen at -10. Watson has birdied the last four holes!
Looks like Lefty might have a chance at a green jacket -- but it won't be Phil Mickelson at -7 through 14.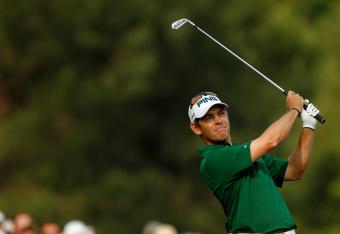 Louis Oosthuizen takes the outright lead with a birdie on 15!
Bubba Watson sinked his birdie, too, to trail Oosthuizen by one.
After a bogey on 16, Kuchar falls back to -8.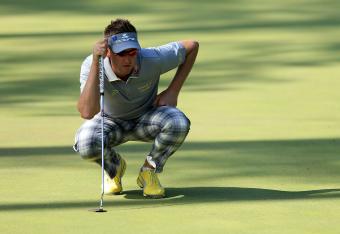 Ian Poulter bogeys the last hole to post a -5. Lee Westwood (-7) has an eight footer on 18 to post a -8.
Not sure if that'll get it done.
Bubba Watson (-8) left his eagle putt short, while Louis Oosthuizen left his chip way short. Both have healthy putts for birdie on 15.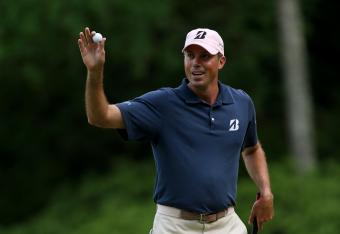 And we have a co leader at -9!
Matt Kuchar, after nearly making the second Albatross today, made an eagle on 15 -- with Louis Oosthuizen watching behind him.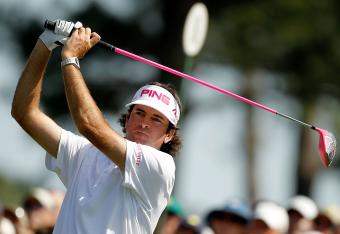 Bubba Watson made back-to-back birdies to get to -8, one behind Louis Oosthuizen and outright second place.
The longest hitter left in the field now has the par-5 15th -- and killed his drive to put himself in perfect position.
Oosthuizen himself made a clutch 13 footer for par after a disasterous mistake.
Ian Poulter, who has a chance to post the lowest score in the clubhouse, has a 30-foot birdie putt to go to -7.
Ouch. Huge mistake for Louis Oosthuizen.
With a wedge in his hand, the leader spins it off the green on No. 14 and now has a tough up and down.
Meanwhile, Phil Mickelson nearly made two eagles in a row on No. 13, but now is at -7, trailing Oosthuizen by two.
Ian Poulter barely missed his birdie putt on No. 17 and is now -6.
Bubba Watson, currently at -7, has an eight footer for birdie on 14.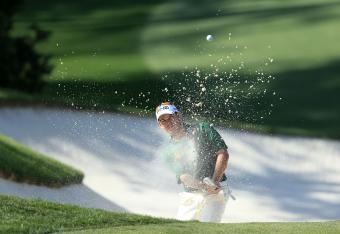 Louis Oosthuizen (-9) gets some breathing room.
His birdie on 13 gives him a two-shot lead over Lee Westwood, Matt Kuchar and Bubba Watson.
Maybe more importantly, it's three strokes ahead of Phil Mickelson.
Oosthuizen is also in the fairway on No. 14.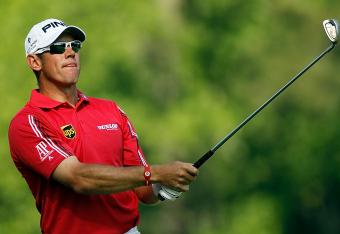 I do not know how Lee Westwood's putt didn't go in. Literally circled the hole.
Fellow Englishman, Ian Poulter, has a heavily breaking, six-foot par putt on 16 to stay at -6. Westwood is at -7, trailing one to Louis Oosthuizen -- who drove it perfectly on the par-5 13th.
Phil Mickelson is still two behind.
Leader change alert?
Lee Westwood has about an eight footer for eagle on No. 15 to tie Louis Oosthuizen.
Also, Peter Hanson (-7) literally shanked it on No. 12. However, it was so bad that it was short of the water. He has made nine straight pars.
This article is
What is the duplicate article?
Why is this article offensive?
Where is this article plagiarized from?
Why is this article poorly edited?