Chandler Parsons Shows He Belongs in Rockets Long-Term Plans
April 9, 2012

Jonathan Daniel/Getty Images
The recent double-dip recession caused applications at temp agencies to skyrocket, as well as a spike in the willingness of many struggling, unemployed persons to consider transient work.
In this setup, management expects its new hires to leave the company or organization after a determined period of time.
Any NBA player who has put on a Rockets' uniform knows that this trend can extend to professions where the earning potential in one year far exceeds what an administrative assistant might make in a career.
GM Daryl Morey has turned a proud basketball franchise into a glorified temp agency.
Anyone can apply. Only the superstar athletes should expect a lengthy stay. Everyone else remains perpetual trade bait in the event Morey can pull the trigger on a deal that will land a championship-level anchor.
Trevor Ariza signed a five-year deal with the Rockets but was traded after one season in Houston. Terrence Williams, Jonny Flynn, Hasheem Thabeet and even Jordan Hill? We hardly knew ye.
Two of the 2009 lottery picks listed above, of course, had no game and failed to do more than keep the bench warm. Thabeet and Flynn wasted both space and tantalizing physical attributes.
Williams and Hill lacked the consistent fire necessary to cement spots in Rick Adelman's and Kevin McHale's malleable rotations. Williams, for his part, wore his talent, but his braggadocio did not cover the naked ineptitude beneath.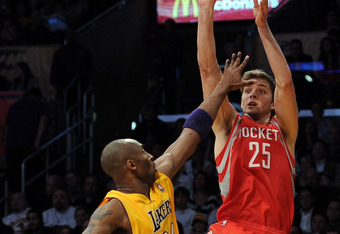 Harry How/Getty Images
Most employees make the choice to accept temp work. Morey has made it part of the job description here, a mandatory caveat to any introduction in which the GM cites a new acquisition's upside or his prospective future in Red Nation.
Note to aspiring professional ballers: If you come to Houston without All-Star appearances and MVP-level facility, keep that frequent flier number and your luggage handy.
In Morey's culture, no player is untouchable, and no one can proceed as if he is safe from the front office's chess game. Each trade deadline presents another opportunity to reshape that Rocket Play-Doh.
The result of this management style has yielded a commendable result: a roster devoid of overcompensated payroll eyesores that competes no matter the circumstances or the odds.
The Rockets have stayed in the playoff field despite injuries to starting backcourt mates Kyle Lowry and Kevin Martin. Lowry returned Sunday in the win against the Sacramento Kings after a bacterial infection and hospitalization forced him to miss a month.
When Martin, the silky-smooth scorer who led the team last year in points and free-throw attempts, might re-appear in the lineup is anyone's guess.
Those notable absences have not derailed Houston's postseason push. The Rockets responded to a wearisome home loss to the Pacers with three straight road victories, stealing two mammoth games against the Bulls and Lakers.
Chicago had not lost consecutive regular season games since February 2011. L.A. trotted out its fearsome trio of Kobe Bryant, Pau Gasol and Andrew Bynum.
These Rockets don't get scared. Lately, they have been the ones doing the spooking.
While the team appears poised to end its playoff drought in resounding fashion, Morey has not halted his quest to bring a third Larry O'Brien trophy to a city starved for another parade.
His roster shuffle continues, and no one can fault him for dancing long after the music stops.
The league's transaction deadline passed in mid March, but his thirst for change never expires.
A cadre of heroes allowed the Rockets to embark on this marvelous run.
Marcus Camby, shipped here from Portland in a no-brainer exchange, schlepped his leadership, shot blocking and volition from Oregon to Texas.
Patrick Patterson shows flashes of the consistency that would make him an indispensable piece.
Chase Budinger was a capable reserve scorer the moment he put on an NBA uniform, but stints in McHale's doghouse inspired him to add some defensive intensity and playmaking faculty to his game.
Luis Scola, when not attempting to posterize DeMarcus Cousins on a fast break, has steadied the ship and remained the team's Mr. Reliable.
Goran Dragic and Courtney Lee make it more difficult by the game for Morey to retain them this summer when the free-agency market opens July 1.
Lee scored 17 first-quarter points in Sunday's thrashing of the Kings. Dragic can drop 20 and 10 in his sleep now.
These insuperable Rockets, however, owe their relative smashing success to one rookie performer who has completed the journey from second-round pick to instrumental playoff piece in a matter of months. This squad would not sit five games above .500 without Chandler Parsons.
Morey operates his team like a temp agency, and fans should thank him for that. The best executives espouse phone bills with enough calls to fill up a phone book. He gets the most out of his unlimited minutes plan.
Yet, when he resumes his active deal making this summer, he should put Parsons on a short list with Lowry as a cardinal piece in his ever-changing puzzle.
Dragic will command a raise that should make Morey blink and perhaps take a pass. How can rival GMs not start the bidding for the Slovenian guard at $24 million, the price tag for then free agent Lowry in July 2010?
The last time a backup point guard made more money than the starter on this roster, fireworks ensued. They were loud but not in the pleasant, unifying way that attracts residents from every corner of a city to witness an extravagant display.
Aaron Brooks followed a campaign that earned him Most Improved Player honors with one calamitous enough to earn him a ticket out of town.
Dragic, an unrestricted free agent, should seek a full-time starting job. He deserves one after this scintillating stretch built on fearless fortitude.
Lee, while he is restricted, will attract significant interest from teams with a gaping hole at shooting guard, and there are plenty of these suitors to convince Morey to think twice about overspending to lock him up long term.
Parsons has established himself as a bona fide building block worthy of a featured role alongside that long-anticipated star. It says here that Morey should do everything possible to exclude Lowry and Parsons from prospective deals.
The Rockets inked the Florida product to a four-year deal worth about $3.7 million.
A guy who defends Kobe Bryant and Kevin Durant with the aplomb and intrepidity of Shane Battier deserves a shot at longevity with a coach who demands gallantry from his players.
He embraces the big shot—he sent a game against the Mavericks into overtime with a contested triple and sank the clinching three-point basket Friday in L.A.—and the pressure that accompanies jousts with postseason implications.
When dissent and lethargy threatened to torpedo the Rockets' season, Parsons followed Scola's lead and plugged away like a pinball wizard.
Credit Parsons, more than any player not named Scola, for not allowing the squad's playoff hopes to fall out of bounds.
He brings the right attitude and guts to each battle.
Averages of nine points and four rebounds will not cause Kareem Abdul-Jabbar to sweat the preservation of his all-time scoring record. Parsons' proclivity for contributing more than the statistics indicate should, however, inspire Morey to grant an exception to his transaction alacrity.
No GM faces a tougher mandate than Morey. Rockets' owner Leslie Alexander has insisted that his team maintain a winning record while it rebuilds.
That precept has to make some folks in the Washington Wizards organization cackle.
Yet, Morey has done an admirable job assembling one of the NBA's most cost-effective inventories and balancing the stated goal of a postseason berth with a mission to maximize financial flexibility.
The Rockets can make the playoffs in the tougher conference and still arrive at the league's summer spending fiesta with gobs of cap space.
Few rosters have the potential for as much metamorphosis as this one.
Gersson Rosas, the franchise's VP of player personnel, believes the Rockets' latest lottery pick, Marcus Morris, can some day man the 3 at the NBA level.
There is no "some day" attached to any assessment of second-round selection Parsons' court capacity. He is doing it right now, when the regular season stakes are highest and one extended slide could spell the difference between competing in early May and watching it on TV.
Referring to the Rockets as a temp agency is no insult. Fellow fans and pundits should see the humor in that assessment. It is, in fact, a compliment that this team wins as much as it does despite the constant upheaval.
What Morey might manage this summer–given that Deron Williams and Dwight Howard are doubtful acquisitions–remains unknown.
If Lee and Dragic fetch contract offers that surpass what Morey believes they are worth, he may decide to let them walk. Keeping both players, for the right price, would be nice.
A team with Dragic and Lowry sharing the point guard minutes can cite that position as championship-level strength. Lee, too, has proved that he is a winner.
Just don't forget Parsons when evaluating which employees belong here long term.
The word "temporary" applies to the duration of many incoming Rockets' careers as Morey fishes for a star. It's time to remove vital support man Parsons from that list.
This rookie belongs. He should stay awhile. How does a 12-year tenure in Houston sound, Chandler?
A temp agency can make an exception when it unearths such a rare gem. Even the Rockets.