Ranking the AFC East QBs, Pre-NFL Draft Edition
April 9, 2012

Al Bello/Getty Images
Tom Brady's relentless reign of dominance has made him the Genghis Khan of AFC East quarterbacks.
Thus, the top dog at quarterback in the division is obvious, but it's Nos. 2 through 4 which are a bit more debatable.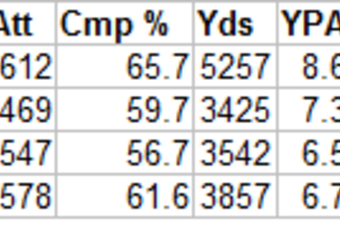 Here's a look at things from a statistical perspective from 2011, but even that doesn't paint the whole picture.
Lest we forget 2008, when Tom Brady went down and changed the entire landscape in the AFC East as a result. This ranking will look not just at the starters, but at the depth chart at the quarterback position.
Which team has the best quarterbacks in the division?
1. New England Patriots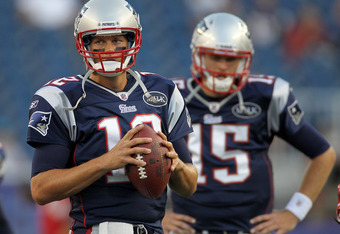 Jim Rogash/Getty Images
Brady alone would have been enough to land the Patriots the No. 1 spot at quarterback in the AFC East, but they arguably have two of the division's top four quarterbacks when you bring back-up quarterback Brian Hoyer into the discussion.
Though not an athlete by any stretch, Brady's accuracy makes him one of the league's best quarterbacks. The simple fact that teams are gearing themselves towards being better equipped to shut down Brady's elite pocket passing abilities is indicative of his superiority over the AFC East and the NFL as a whole. 
2. Buffalo Bills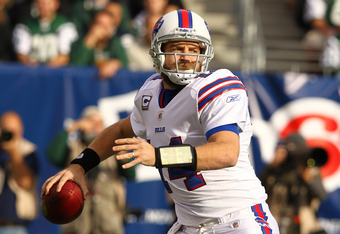 Al Bello/Getty Images
Ryan Fitzpatrick is accurate, has decent arm strength and solid mobility, but he just makes some really iffy decisions at times. How much of that gets pegged on his injuries from 2011, as well as the injuries to key offensive linemen and running back Fred Jackson? How much of it falls on a lack of playmakers at wide receiver?
Therein lies the crux of Fitzpatrick's situation at quarterback. He's good, but he has to be surrounded by talent. He won't be making it work on his own anytime soon. And up until recently, he's had almost no talent around him at all, which helps explain his status as a veteran journeyman.
If he can make better decisions with the football and stay healthy, he could have the Bills in the No. 2 spot by the end of the year. That being said, the Bills should make it a point to find a back-up quarterback in the draft to help bolster their depth in case Fitzpatrick is unable to stay healthy.
3. New York Jets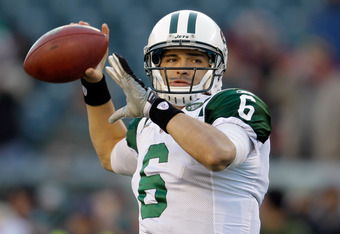 Rob Carr/Getty Images
The Jets have two quarterbacks capable of making plays in Mark Sanchez and Tim Tebow. Neither, however, inspire a great deal of confidence as a starter in the NFL.
No, Tebow is not a traditional quarterback and will not be starting (at least at first) for the Jets. However, we are looking at the quarterback position as a whole, not just one player.
That being said, neither Sanchez nor Tebow are accurate, but both have the ability to come up big in key moments. Those moments were few and far between for Sanchez last year, but he worked some magic in 2009 and 2010, leading his team to the AFC Championship Game both seasons. 
Both Sanchez and Tebow are at their best when they're on the move, and both are above-average in terms of arm strength. But it's unlikely that either will ever be considered an elite quarterback, although both can be very good if surrounded by talent.
4. Miami Dolphins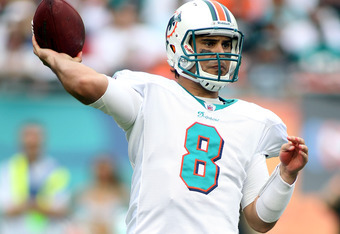 Marc Serota/Getty Images
Matt Moore and David Garrard. Both have been up-and-down throughout their careers, while one played half of last year and the other missed the entire season.
Doesn't sound exactly like a recipe for a great quarterback situation, but that's what the Dolphins currently have. While Moore showed a great deal of promise last year, it's fair to question whether he can carry that success over the duration of a season, as he has failed to do that in the past. What's more, he'll be asked to do it without his favorite target from last year, Brandon Marshall, and with a brand-new offensive system.
That being said, he's solid across the board. He doesn't do anything great, but he does everything good. Matt Miller did a great job of breaking that down in the B/R 1,000 quarterback rankings, in which Moore earned only two grades below a seven (mobility and deep accuracy) and only three grades above 7.5 (clutch, decision-making and mechanics).
It will be an open competition, but it looks like it's Matt Moore's job to lose.