5 Reasons Atlanta Braves Fans Should Overreact to Slow Start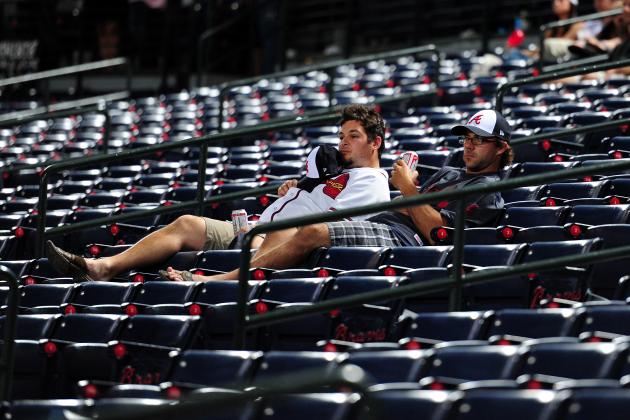 Scott Cunningham/Getty Images

It has been a long winter for the this-is-why-we-chop faithful.
After an epic collapse to finish the 2011 season, Braves fans around the country are looking for relief during opening week, 2012. Although the season is only through its first series, the Braves are picking up right where they left off last year. While Liberty Media is keeping the choke-hold on spending, the Braves only managed to make minor changes, bringing in the likes of Juan Fransisco, Chad Durbin and Livan Hernandez.
There are many reasons for Braves fans to be optimistic about the 2012 campaign, but there are also many early signs that cause worry.
Here are the five reasons it's okay to overreact.
Begin Slideshow

»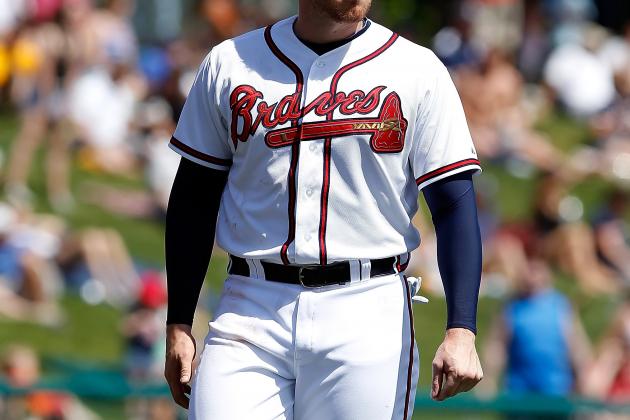 J. Meric/Getty Images

Last year, the Braves only managed to hit .249 with runners in scoring position, and that was a big reason for their final collapse. Towards the end of the season (mainly after the addition of Michael Bourn), the Braves found themselves with plenty of opportunities to score, but failed to get the runners in from second or third.
2012 has started out no differently, and through three games the Braves are hitting .071 with "ducks on the pond."
Kevin C. Cox/Getty Images

As if hitting with RISP isn't hard enough for the Braves, they need to find a way to consistently get a runner in scoring position. The number-one hole in the Braves' lineup seems to be more like a black hole. Last year, their leadoff men collectively hit .264 while drawing only 51 walks with 128 strikeouts.
This year, in three games played, the leadoff man (Michael Bourn) is hitting .182 with one walk and five strikeouts.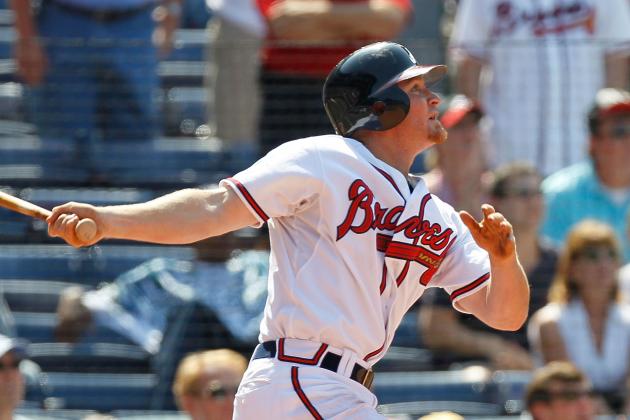 Kevin C. Cox/Getty Images

Brooks Conrad is a name that instantly causes many Braves fans to break out into a cold sweat.
He was magical, but also one of the biggest goats in Braves' history. After making costly errors in the 2010 postseason, Brooks Conrad was a player that needed to part ways with the organization. The only problem was that Conrad provided a massive punch off the bench as a pinch-hitter in late-game situations.
No one will forget the walk off grand slam that "Raw Dog" hit in 2010 to cap a seven-run rally against the Cincinnati Reds. In all three losses against the Mets, many Braves fans would have loved to see Conrad's Popeye-like physique coming out of the dugout rather than Olive Oil Jack Wilson.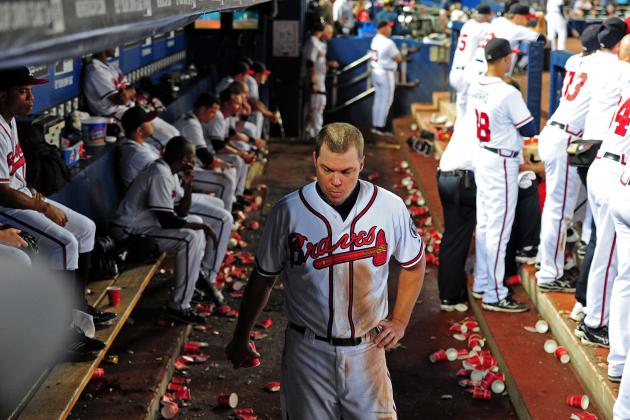 Scott Cunningham/Getty Images

This is the last year for No. 10, and the Braves are hoping to make it a magical one.
The only problem is, it will be hard to muster up much magic without their fearless leader in the lineup.
Chipper Jones announced during Spring Training that this year will be his last, which was a good move to keep that distraction off the team's back during the 2012 campaign. It wasn't long after, however, a surgery for a torn meniscus plagued his early season status.
Just how many games will the Braves be able to get out of Chipper this year?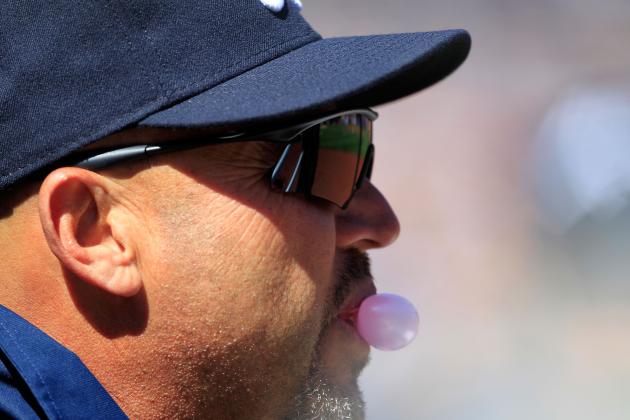 Chris Trotman/Getty Images

It has only taken three games for those in the blogosphere and on message boards to start attacking Fredi Gonzalez. Some are still unhappy with his overuse of the Braves' three-headed monster of O'Flaherty, Venters and Kimbrel last season, and others think he was a little to quick to pull the plug on Heyward as an everyday player.
This year, questionable decisions such as sending down the electric Andrelton Simmons and keeping the bat-licking Jose "George" Constanza could cost Gonzalez more grief.
Hopefully his future decisions will prove successful for the non-upgraded Atlanta Braves in 2012.