NBA Mock Draft 2012: Impact Meter for All 30 Likely 1st-Round Picks
April 9, 2012
Streeter Lecka/Getty Images
Anthony Davis is the consensus top overall pick in the 2012 NBA draft, but which needy team will land him at the top of the lottery?
There will be a ton of moving and shaking in the standings before the regular season ends, and the draft order listed here is a projection of how the clubs will finish in the standings.
Each prospect has a grade on the impact meter between one and five.
1. Charlotte Bobcats: Anthony Davis, PF, Kentucky, 5
Davis is the obvious first player off the board, but he's not going to play center in the NBA.
He'll be slotted at power forward, where he'll need to add some size to his frame despite his incredible defensive instincts around the basket.
2. Washington Wizards: Thomas Robinson, PF, Kansas, 4
Robinson is a phenomenally talented big man who leaves it all out on the floor every time he takes the court.
3. New Orleans Hornets: Michael Kidd-Gilchrist, SF, Kentucky, 3
Relentless in attacking the rim, Kidd-Gilchrist could really be a solid addition to a team that needs help on the wing.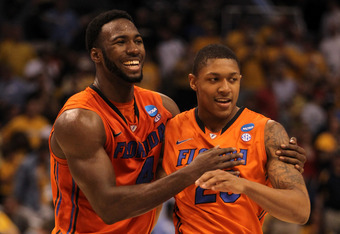 Jamie Squire/Getty Images
4. Cleveland Cavaliers: Bradley Beal, SG, Florida, 4
Perhaps the most undervalued prospect in the group, Beal has a versatile game and is going to instantly help whatever backcourt he joins.
5. Toronto Raptors: Harrison Barnes, SF, UNC, 4
The comparisons for Barnes are all over the map, but he's got a chance to turn into a very serviceable NBA player who carves out a solid role over a long period of time.
6. Portland Trail Blazers: Andre Drummond, PF/C, UConn, 4
There is a split opinion as to how Drummond will fare at the next level, but his potential is just too great to pass up outside the top five picks.
7. Sacramento Kings: Arnett Moultrie, PF, Mississippi State, 3
Moultrie might not be of the ideal weight to bang around at power forward, but he has legitimate size and a game that would complement DeMarcus Cousins very well in Sacramento.
8. Detroit Pistons: Tyler Zeller, PF/C, UNC, 3
It wouldn't be surprising to see the Pistons reach for Zeller considering the need for height along the front line alongside Greg Monroe.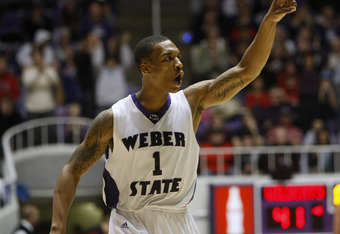 9. Utah Jazz: Damian Lillard, PG, Weber State, 4
Lillard is a really strong fit for Utah, a team that has been looking for a point guard capable of fitting into what Tyrone Corbin wants to do.
He's got incredible skill and may even go higher than this if the ping pong balls fall the right way.
10. New Orleans Hornets: Kendall Marshall, PG, UNC, 5
New Orleans should be praying Marshall falls into their laps, as he would really help this team get back on track.
He's a great floor general who sees where his teammates are and has a knack for making those around him better.
11. Portland Trail Blazers: Austin Rivers, SG, Duke, 4
Some don't think Rivers will be a success in the league based off his tenure in school, but he wasn't used in the proper fashion at Duke and it limited what he could do on the court.
12. Milwaukee Bucks: Meyers Leonard, C, Illinois, 3
Milwaukee needs to add height following the Andrew Bogut trade, but Leonard is an awfully risky pick regardless of where he's nabbed.
13. Phoenix Suns: Perry Jones III, F, Baylor, 5
Jones has an incredibly high ceiling, but the question is whether or not he'll ever be able to reach it.
The Baylor product needs to show that he's ready to play on all nights with 110 percent intensity to validate his worth as a lottery pick.
14. Utah Jazz: Jeremy Lamb, SG, UConn, 3
Utah doesn't just need help at point guard—the shooting guard spot is also in need of an upgrade.
Lamb's addition could really help the Jazz boost the attack from the perimeter.
15. Houston Rockets: Jared Sullinger, PF, Ohio State, 3
Sullinger had success in college beneath the rim, but there is a good chance he could really struggle against superior athletes at the next level.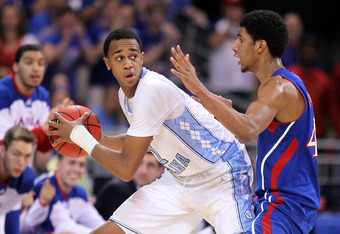 Andy Lyons/Getty Images
16. New Jersey Nets: John Henson, PF, UNC, 4
Henson deserves to go a lot earlier than this, but because he's got a lanky frame, some interested teams may take a pass on him earlier in the draft process.
17. Denver Nuggets: Dion Waiters, G, Syracuse, 3
A combo guard who has a real chance to become a favorite in the second unit under George Karl.
18. Philadelphia 76ers: Doron Lamb, SG, Kentucky, 3
The Sixers seem to always be searching for an answer at shooting guard, so it makes sense for the team to target that position inside the top 20.
19. Dallas Mavericks: Terrence Jones, SF, Kentucky, 3
The way things are going for the Mavericks right now, this team is going to need to retain its top-20 pick and make sure it's a player who can actually help.
20. Atlanta Hawks: Terrence Ross, SG, Washington, 3
The Hawks have used a combination of Kirk Hinrich and Jannero Pargo behind Joe Johnson. That's not exactly an ideal solution off the bench.
21. Boston Celtics: Royce White, SF, Iowa State, 4
There is a ton to like about White's game, and the Celtics would really be making a slam dunk of a pick if able to select him on draft day.
22. Memphis Grizzlies: Moe Harkless, SF, St. John's, 3
Despite the hype around Harkless' game, there isn't a ton to suggest he's going to make a huge impact right off the bat.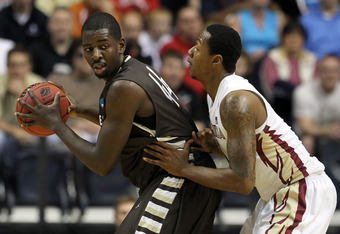 Jamie Squire/Getty Images
23. Orlando Magic: Andrew Nicholson, PF, St. Bonaventure, 4
Could Nicholson be the best value pick of the first round? His game improved each season he was in college and the big man looked like he was ready for the NBA down the stretch.
24. Indiana Pacers: Jeffery Taylor, SF, Vanderbilt, 3
Taylor could come onto Indiana's roster and finally provide a real backup to Danny Granger at small forward.
25. Boston Celtics: Tony Mitchell, F, North Texas, 3
Mitchell is a bit of a 'tweener, but he's incredibly young and athletic—two traits that the Celtics desperately need going forward.
26. Cleveland Cavaliers: Draymond Green, SF, Michigan State, 3
Green is a candidate to sneak into the back end of the first round and the Omri Casspi trade hasn't exactly worked out for the Cavs.
27. Golden State Warriors: Tony Wroten, G, Washington, 4
It's unclear what the future might hold for Stephen Curry, but Wroten's talent and long-term potential are simply too tantalizing to pass up at this stage of the draft.
28. Miami Heat: Fab Melo, C, Syracuse, 3
Miami has long been looking for a long-term answer inside, and although Melo is anything but a slam dunk, he is the best option for this team given who is available.
29. Oklahoma City Thunder: William Buford, SG, Ohio State, 2
Buford's unlikely to develop into anything more than a rotation player, but Oklahoma City doesn't need to add much to its already potent group.
30. Chicago Bulls: Marquis Teague, PG, Kentucky, 3
Teague needs to learn under someone special to fulfill his potential, and Derrick Rose could be exactly the mentor that the young point guard needs.