Advanced Stat of the Week: Houston Texans' Arian Foster and Success Rate
April 9, 2012

Rob Carr/Getty Images
This week, Advanced Stat of the Week will look at running back success rate. Success rate is one of the most important ways to judge the true effectiveness of a runner. Consider the following two hypothetical runners.
Runner A gets the ball on the 20-yard line. He immediately rips off a 40-yard run, moving the ball down to the opposing 40. The next three runs, he's stopped for no gain and his team punts. Runner A has 40 yards and 10 yards a carry on that drive.
Runner B gets the ball on the 40 and picks up 3.5 yards each time he sees the ball without fail. This hypothetical super-back would be the league MVP because despite averaging just 3.5 yards a carry, you could give him the ball every down and he would always get a first down.
Success rate illustrates that a runner's ability to move the chains is his most important quality. "Boom and Bust" backs can be exciting, but carries for negative yards are drive killers. Long runs thrill fans, but consistent gains are more valuable.
The FootballOutsiders calculate success rate roughly in terms of the percentage of yards gained by the runner each down. On first down, a back needs 40 percent of the yards his team needs for a first down. On second down, that jumps to 50 percent. On third and fourth down, a run is only successful if the back gets 100 percent of the necessary yards.
In terms of success rate, a three-yard run on 1st-and-10 is not successful. A three-yard run on 2nd-and-5 is successful. An eight-yard run on 3rd-and-10 is not successful. This sliding scale helps account for meaningless yards that a back accrues during the course of the game. Seven yard gains on a draw on 4th-and-20 don't often mean much in the course of a football game, and Success Rate shows us that. A running back should be looking for a success rate north of 50 percent.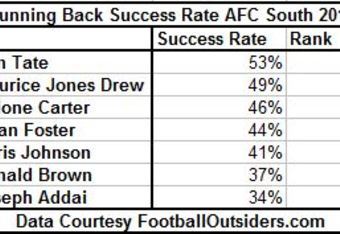 Arian Foster just landed a big extension from the Texans and is one of the best backs in football. He posted huge numbers in 2011, but there was a flaw in his game.
Foster's success rate was only 44 percent, good for 40th best in football. Foster had the "boom" down cold. He had 32 runs over 10 yards in 2011. Roughly 11 percent of his carries went for at least 10 yards. All of Foster's other carries went for just under 2.7 yards each.
Even though his overall numbers were great in 2011, Foster's play wasn't as effective as it was in 2010 when he had a success rate of 52 percent. In 2010, he was even more of a boom runner with nearly 13 percent of his carries going over 10 yards, but he was more consistent on his other carries, averaging more than 2.8 yards a carry. His success rate that year was ninth in the league.
Having a good success rate doesn't mean limiting big plays, it has more to do with limiting the bad ones.
How big a difference is 52 percent success rate to 44 percent success rate? Over the course of 300 carries in a year, the 52 percent back would "succeed" 24 more times. That's more than once a game difference. Those typically translate into stalled drives, an extra field goal attempt instead of a touchdown, or that one lost first down in the fourth quarter that could have killed the clock.
In a league where most games come down to the final possession, that extra play or two makes a big difference over the course of a year.
For the Texans to increase their efficiency on offense in 2012, they'll need to get Foster back to consistently picking up first downs. Explosiveness is nice, and big plays can win football games, but consistency and the ability to pick up the tough yards matter more.