Arian Foster Is the Best Running Back in the AFC South
March 30, 2012

Al Messerschmidt/Getty Images
Maurice Jones-Drew has had the better career.
Chris Johnson has had the higher peak.
Donald Brown had the higher draft slot.
But right now, Arian Foster is the best running back in the AFC South.
Over the next few weeks, I'll be ranking the position groups in the AFC South according to their relative strength. Today, the running backs.
1. Arian Foster
If this was just about 2011, Jones-Drew would be the pick, but looking forward, Foster is the safer bet. Foster is a year younger than Jones-Drew, but more importantly, he has 800 fewer career carries. Foster nearly matched Jones-Drew's total yards from scrimmage in 2011, despite missing three games with injury.
Foster is the better receiving back as well, crushing Jones-Drew in yards and DVOA as a pass catcher. He had more total yards per game than Jones-Drew in 2011, and in a prorated season, would have posted more than 2200 total yards. It's close, but judging from this point forward, Foster is the better back, if for no other reason than he has a lot more tread on his tires.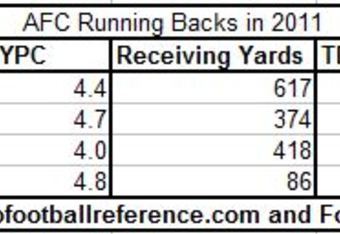 1a. Maurice Jones-Drew
Jones-Drew is perhaps the most underrated player in football over the past five years. He is a do-it-all player who has the chance to post Hall of Fame numbers if he can match his early production for a few more years. He's coming off a rushing title and averaged over 100 yards a game in 2011. There's just one problem: Very few running backs continue elite performance after age 27.
There have been 59 runners that posted a 1,000 yard season after being in the league for six years. Only about half of them (28) did it twice, and only just over half of those (16) did it three times. Jones-Drew didn't rack up huge carry totals early in his career, so if anyone can beat the effects of age, it's him.
MoJo is so good that to call him the second-best back in the division would be insulting. That's what he is, but I'm going to pay him the honor of naming him "1a."
3. Chris Johnson
At his absolute peak, Chris Johnson was a total beast, but I have questions as to whether we'll ever see that peak again. Johnson ran scared last year, as if he collected his cash and was ready to start retirement early. He can still be that guy he was a few years ago, but his heart is going to have to be in it.
4. Donald Brown
Brown is actually an underrated talent. He's obviously not in the same conversation with the rest of these backs, but he did have some nice runs last year, and had a higher yards per carry than the other three elite runners in the division.
With a new offense and a new quarterback, Brown might yet prove to have major value in the NFL. While I expect good things from him, he's not moving up this list any time soon.