San Francisco Giants: What Does Matt Cain's Extension Mean for Tim Lincecum?
April 9, 2012

Ezra Shaw/Getty Images
"The Franchise,"  a nickname usually mentioned with the likes of Steve Francis and Tim Lincecum. 
Yet when Matt Cain signed a six-year, $127 million contract, it's a name that Cain may need to get used to.
Cain is now locked up until the end of the 2017 season, with an option for 2018. Translation—the Giants hated the idea of seeing No. 18 in another uniform. 
It's clear the Giants have a commitment to Cain, and even to Lincecum. They re-signed the two-time Cy Young Award winner to a pair of highly lucrative two-year contracts. 
The questions looming for the team—how much will they have to pay to keep Lincecum, and will "The Freak" decide to sign long term?
If the Giants re-sign Lincecum or extend his contract, it will be for more than the close to $20 million a year he and Matt Cain are currently making.
This is not saying Lincecum is a better pitcher than Cain, or that he is more important to the Giants, but Lincecum's career has been more productive.
The right-hander from the University of Washington won two Cy Youngs in his first two full seasons. He has led the league in strikeouts three of the last four years, and is first among active starting pitchers in ERA.
Last year, Lincecum lost more games than he won for the first time in his career. The 13-14 record does not show the true story of a season where Lincecum constantly was battling the opposing team's ace.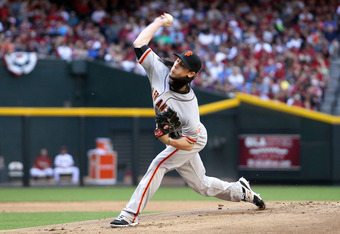 Christian Petersen/Getty Images
He faced off with Clayton Kershaw four times last year, and only gave up five earned runs. He lost all four games with the Giants only scoring twice in those matchups.  
Run support or lack thereof, is a problem that has also plagued Cain through his career. In 73 of the 203 games Cain has pitched in, the Giants have scored two runs or less.
To his credit Cain has actually pitched better in those starts, with a 3.23 ERA and 10 wins. When the pressure has been cranked up he has done his best to deliver.
This was no more evident than in the Giants' World Series run. Cain was lights-out on the mound, winning two of his three starts and didn't allow a single earned run.
It's safe to say his October pitching helped him get his big contact this April.   
Cain has also been the embodiment of consistency, pitching at least 200 innings in five straight seasons. He has stayed healthy and has been a workhorse for the Giants' pitching staff.
Lincecum has also been able to stay healthy even with his unorthodox mechanics and four 200-plus-inning seasons. Yet because Lincecum's delivery is incomparable, questions do arise about his long-term health.
If the Giants lock Lincecum up, the contact may push eight years at $25 million a year. It would also secure one of the best one-two punches for the foreseeable future.
It's not Tom Glavine and Greg Maddux, but for a team that has defined itself by its homegrown pitching for the past four years, it's comparable.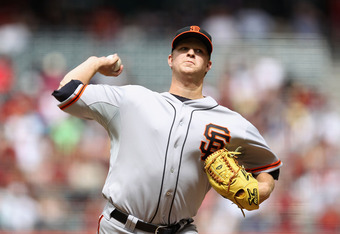 Christian Petersen/Getty Images
After the 2013 season, the Giants will be able to give Lincecum more money, unless for an unseen reason they accept the $18 million team option on Barry Zito's contract.
The $7 million buyout would be a small sacrifice for an opportunity to re-sign Lincecum. 
Cain's contract has set the standard for pitchers in baseball. It's a benchmark that will now be met for compatible pitches like Lincecum and Cole Hamels.
Teams are going to have to shell out the cash in order to sign these big-name pitchers. 
The Giants will be no different. If Lincecum hits the free-agent market, expect the Yankees, Angels and even the Dodgers to drop the big money.
Should the Giants try to give "Big Time Timmy Jim" a contract extension before he hits the open market? In a perfect world the answer is yes, but with Madison Bumgarner's arbitration looming, the Giants must weigh their options.
Lincecum's new contract, whoever it's with, will depend on whether he returns to Cy Young form. In the past two years, Lincecum's strikeout numbers have dropped, while his WHIP and HR/9 have increased.
If Cain continues to succeed and Lincecum starts to struggle, the Giants may not be willing to spend the money to keep him.
In an age where free-agency rules and baseball contracts sound like lottery jackpots, it's becoming increasingly difficult to keep your homegrown products.
The Giants now work hard to keep their prospects, and grow the team around them. The 2002 Giants looked completely different, with high-priced free agents winning the games.
So will the Giants keep Tim Lincecum? It's hard to really know now after one rough start this year.
If they want to keep Lincecum pitching at AT&T Park, they are going to pay him the big bucks.