NBA Free Agency: Potential Targets for New Jersey Nets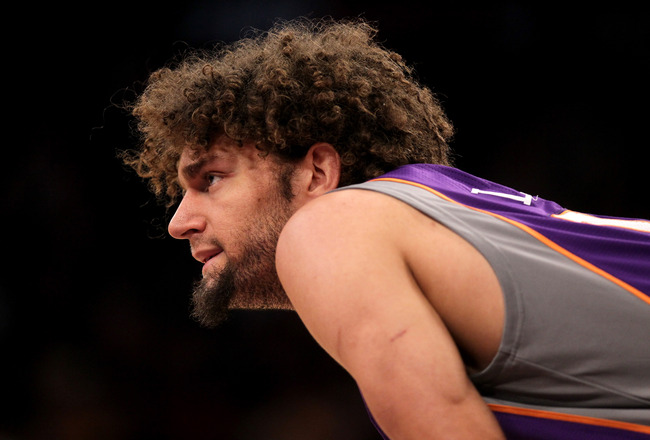 Stephen Dunn/Getty Images
By the time free agency starts, the New Jersey Nets will have already transformed into the Brooklyn Nets. New Jersey will be in their rearview along with the hockey arena they currently play in, and in their sights will be their own custom built $1 billion Barclays Center.
The move and their new digs are supposed to give the new Nets the means to do what the New Jersey Nets have failed to accomplish, lure a big-name player to their team in free agency.
Although the Dwight Howard deal fell through, the New Jersey Nets never had one of the league's best players actually wanting to come to play for the Nets.
Howard and his agent Dan Fegan recognized the money that would come from endorsements in Brooklyn—and the potential of teaming up with one of the league's best point guard's, Deron Williams—and wanted to take advantage of it.
But then something weird happened, Howard suddenly changed his mind.
Even without Howard on the roster, times are changing for the Brooklyn version of the Nets.
While a Howard trade may be revisited, general manager Billy King must look to add through free agency as well.
After this season, only Anthony Morrow, Johan Petro, Jordan Williams and MarShon Brooks will be under contract.
Gerald Wallace and Jordan Farmar both have player options.
Two of the biggest-name players in this year's free agency includes two players currently on the Nets roster: Deron Williams and Brook Lopez.
Assuming Wallace and Farmar opt-in, and assuming Williams re-signs for the max, while Lopez re-signs at around $8 million per year, the Nets will have $13 million to go shopping.
If Williams, Wallace and Farmar decide to go, the Nets will have $48.75 million to spend.
Here are potential targets that should be on the Nets' shopping list.
Deron Williams, Brook Lopez and Gerald Green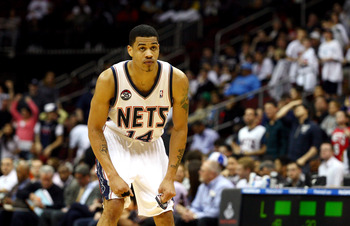 Chris Chambers/Getty Images
Deron Williams is priority No. 1. With him, the Brooklyn Nets are an attractive, playoff team where other elite players will want to join forces. Williams is the type of point guard who attracts players like Dwight Howard. And if he is signed long term, more players would be willing to take their talents to the Barclays Center.
Without Williams, the Nets are a rebuilding team without a lottery pick in this year's draft, unless they get lucky and land a top-three pick due to terms agreed upon in the Gerald Wallace trade. They will also have a lot of money to spend. But the lure of a top-three point guard like Williams will be gone.
Also, since there aren't any real top-tier players in this year's free agency, the Nets would have to overspend more on mediocre talent or save their money and wait another year to spend. Going into Brooklyn with a team in limbo would not be the most popular idea, but would be the right decision.
Brook Lopez is priority No. 2. He is one of the league's top offensive centers who is good in the post, can shoot from mid-range, and can hit his free throws—he is a 79.6 percent career shooter from the line.
He is only 24 years old, and if he can become somewhat of a serviceable rebounder, he would be a top-three center in the league, possibly top-two, behind only Howard and Bynum. This is assuming Lopez comes back 100 percent healthy.
Gerald Green has been one of the lone bright spots for the Nets in this disappointing season. Since being called up from the D-league all he has done is impress. He is not the same immature player who only relied on his dunking ability and nothing else, when he was drafted by the Boston Celtics in 2005.
Since then, Green has developed a mid-range game and a three-point shot while making a commitment to a strong defensive effort. Coming off the bench, playing 24.4 minutes per game, he is averaging 12.7 points per game, shooting 37.7 from deep.
Green has scored 20 or more points six times, after being signed to his first 10-day contract after the All-Star break.
He can possibly be the Nets future starting small forward or their Sixth Man of the Year candidate. General manager Billy King can not let Green get away and let another team reap the rewards of giving him a second chance.
Ersan Ilyasova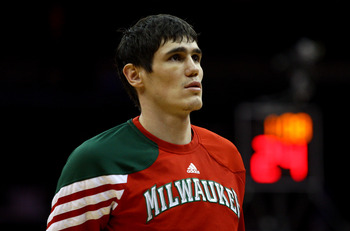 Chris Chambers/Getty Images
Averaging 13.6 points, 11 rebounds and 1.2 blocks per game, current Nets starting power forward Kris Humphries might have played so well that he made himself too expensive to keep.
Ersan Ilyasova could be a better, cheaper option at the 4 for the Nets. In just 27.7 minutes per game, Ilyasova is averaging 12.9 points and 8.9 rebounds.
He is a much better offensive player than Humphries. Ilyasova can stretch the floor. This season, Ilyasova is connecting on 44 percent of his threes.
He is also a very comparable rebounder to Humphries.
This season, Humphries signed a one-year deal for $8 million and will most likely be looking for a raise or a long-term deal.
Ilyasova's salary for this season is $2.5 million. If the Nets can sign him for a three-year $15 million contract, they should count their blessings.
J.J. Hickson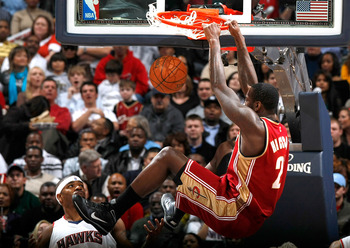 Kevin C. Cox/Getty Images
Former Cleveland Cavaliers 2008 first round pick J.J. Hickson would be the first power forward coming off the bench for the Nets.
If the Nets decide to re-sign Kris Humphries, Hickson would make them two-deep at the 4. If they decide to go after Ilyasova and sign Hickson as well, they will have a 4 and two bangers coming off the bench with Hickson and rapidly improving rookie Jordan Williams.
For his career, Hickson is averaging 8.7 points 5.6 rebounds per game. After spending three years with the Cavs, he was traded to the Sacramento Kings. This season he was released by the Kings and then picked up by the Portland Trailblazers.
With the Kings, Hickson was solid. In his ten games with Sacramento, he scored eight or more points in eight of the games, and grabbed five or more rebounds in seven of the games. His most productive game came against the Los Angeles Clippers when he went for 29 points and 13 rebounds.
This season he is making a little over $2.3 million. So, a two-year $6 million deal can be reasonable.
Goran Dragic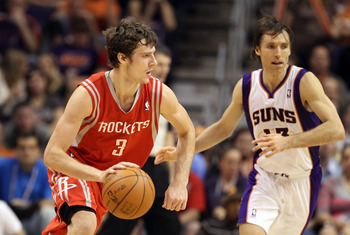 Christian Petersen/Getty Images
If Jordan Farmar opts to play another year with the Nets, signing Goran Dragic would be a luxury. If Farmar opts out, Dragic would be a necessity.
A playmaker like Dragic would be invaluable if Deron Williams leaves.
Averaging 10.6 points and 4.9 assists per game this season, Dragic is having a career year. After Houston Rockets starting point guard Kyle Lowry, who was having his own career year, went down, Dragic stepped in and has kept the surprising Rockets in playoff contention.
In his last five games, Dragic is averaging 21.8 points, 7.6 assists, 3.6 rebounds and 1.8 steals per game.
If the Nets are able to trade Farmar and his expiring contract, they can do much worse than signing Dragic to be their second point guard.
O.J. Mayo
Christian Petersen/Getty Images
New Jersey Nets starting rookie shooting guard MarShon Brooks looks like he has a bright future some times. At other times, he looks too hesitant and years away from a player that can be relied upon every time he steps on the court.
O.J. Mayo can shore up Brooks' inconsistencies. Mayo could be the short term starter or can split time with Brooks until he fixes the problems with his game.
This season, Mayo is averaging 12.5 points, 2.5 assists and 3.3 rebounds coming off the bench playing in just 26.8 minutes per game.
The problem is his high price tag. This season, Mayo is making more than $5.6 million.
Another problem is his desire to play starter's minutes.
Raymond Felton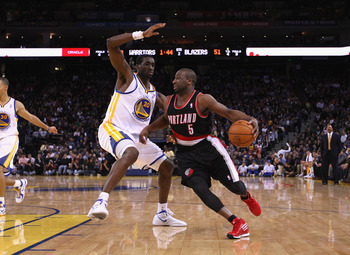 Ezra Shaw/Getty Images
For the same reasons Goran Dragic would be a good signing, Raymond Felton would be also.
Felton could be a very capable back up to Deron Williams or possible starter if Williams leaves.
He would have to take a pay cut, since he is being overpaid this season to the tune of $7.56 million.
This season, Felton is averaging 13.4 points and 6.7 assists per game, both career highs.
Robin Lopez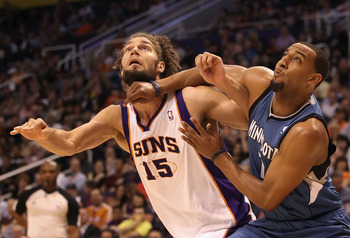 Christian Petersen/Getty Images
Reuniting Robin Lopez with his brother Brook would feel so good.
While Robin's role would be to come off the bench, he is bound to be on the court with Brook at times. Pairing them together would bring them both back to their Stanford days when Brook took care of the offense and Robin took care of the defense.
Robin is a legitimate defensive-minded seven-footer relegated to just 13.4 minutes per game in Phoenix. With Marcin Gortat taking the majority of the minutes with the Suns, Robin is simply being underutilized.
When given minutes, Robin has showed that he is a capable scorer around the rim and a more than capable rebounder.
In the opening game this season against the New Orleans Hornets, Robin played a season high 27 minutes. In that game, he scored 21 points and grabbed seven rebounds.
Since then, Phoenix Suns head coach Alvin Gentry has used him sparingly.
While Robin is only making $2.86 million, he should not be too expensive. He is, however, a restricted free agent and the Suns can match any offer.
Antawn Jamison
Mike Ehrmann/Getty Images
At 35 years old, and in his 13th year in the league, Antawn Jamison is still a quality starter. The New Jersey Nets saw this first hand when they faced the Cleveland Cavaliers and, in defeat, Jamison scored 34 points in a variety of different ways.
During that last meeting, Jamison was 4-of-5 from three-point range and an overall 12-of-19 from the field. On the season, he is averaging 17.9 points and 6.5 rebounds.
Jamison would be a great veteran presence to add to the Nets if he is willing to take a pay cut and most likely come off the bench.
Jamison is making upwards of $15 million on the final year of his last big contract.
Signing Jamison will also show Deron Williams that the Nets are all-in on winning now. Something Williams wants to see.
Keep Reading

Brooklyn Nets: Like this team?