Atlanta Braves: Tommy Hanson's Drop in Velocity a Positive?
April 8, 2012

Chris Chambers/Getty Images
Most of the discussion surrounding Tommy Hanson throughout spring training was about his new delivery, which he altered on the advice of the team's physical therapist.
The delivery is now smoother and quicker to the plate.  Although noticeable, the difference in this updated version from the previous delivery is only slight.
After sitting in the 91-92 mph range for most of the spring, he had a visible drop in velocity during his last start against the Detroit Tigers, only reaching 88-90 mph.
The dip in velocity carried over into his Opening Day start on Thursday at Citi Field against the New York Mets.
According to FanGraphs PITCH f/x velocity readings, Hanson's fastball averaged 88.8 mph, which was down 2.3 mph from last season's 91.1 average.
The reasoning for such a variance in his velocity the past two starts, including his spring training finale, is the change Hanson made from a four-seam fastball grip to a two-seam grip. While the 2.3 mph difference may sound alarming at first, it's normal for a pitcher to throw his two-seam fastball with slightly less velocity.
The two-seam grip should provide more down and in movement towards right-handed hitters and, even at a lesser velocity, should prove to be much more difficult to hit than a straight four-seam fastball.
Atlanta Braves backup catcher David Ross thinks this could be a game-changing revelation for Hanson.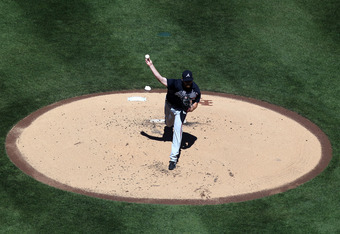 Nick Laham/Getty Images
Ross explains, "He threw a sinker and he threw it really well [Saturday against Detroit]. It's easier to call a game when you can challenge guys with a fastball with some movement. Guys have to be really fine [with location] with straight, four-seam heaters. If you're like Huddy [a sinkerballer], you can get a guy in a hitter's count and throw a two-seamer that's moving and get a groundball."
"It makes [Hanson] a better pitcher. It makes you be more aggressive because you're throwing more fastballs and makes the hitter commit more to the heater than just sit on off-speed where he can foul off a straight fastball, that kind of stuff." – via The Atlanta Journal-Constitution.

 
To date, PITCH f/x isn't classifying Hanson as using a two-seam fastball on Opening Day, although that can be expected to be corrected once the data is reviewed.
That omission did have some wondering if there may be more to his velocity loss than him simply using a new fastball grip.
Hanson quieted those concerns with his postgame comments as he told the AJC, "I felt really good. I didn't get tired, and my shoulder felt great. I think just towards the end that walk, then I left a couple of pitches up to Murphy and Wright. But I felt good, I felt strong."
When asked about throwing his new two-seamer—a sinker—he said "It felt good. I got some groundballs when I needed them with it. I've never really gotten groundballs in my career, so it gives me another weapon. And I kind of like throwing it. Kris [Medlen] showed me how he throws it, and it worked."
The importance of the speed in which a fastball is delivered is engrained in our heads at such a young age that it is difficult to understand less velocity and more movement can often times be more effective.
Just ask former Brave and future Hall of Fame pitcher Greg Maddux which he prefers.
Jim Pratt is a Featured Columnist covering the Atlanta Braves for Bleacher Report, and is an MLB contributor for MLBDepthCharts and BravesWire. Follow Jim on Twitter, @2OutSacBunt