Pittsburgh Steelers: 5 Big Predictions for Ben Roethlisberger in 2012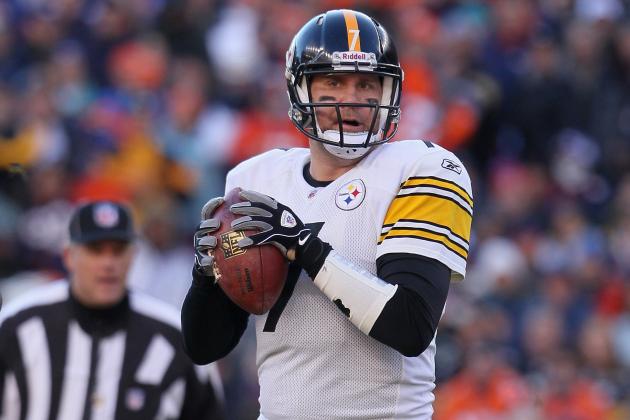 Jeff Gross/Getty Images
Ben Roethlisberger enters his ninth season as the Pittsburgh Steelers' quarterback after a strong 2012 season.
The Pittsburgh Steelers selected Ben Roethlisberger, a native of Findlay in northwestern Ohio, out of the University of Miami (Ohio) with the 11th overall selection in the 2004 NFL draft behind Eli Manning (No. 1 overall) and Phillip Rivers (No. 4 overall).
The quarterback, nicknamed "Big Ben" by Steeler nation for his imposing 6'5", 240 lb frame, started the 2004 season backing up then-starter Tommy Maddox.
In a Week 2 game against Baltimore, Roethlisberger replaced Maddox after an injury, ultimately losing the game to the Ravens, but winning the next 14 regular-season games, going 14-1 as a rookie.
Three Super Bowl appearances and two victories later, Roethlisberger's name is tossed around with the league's elite quarterbacks, especially the two drafted ahead of him in 2004. His trademark scrambling, evasiveness and "no quit" mentality constantly keep plays alive for the Black & Gold, giving them a chance to gain crucial yards or score more points.
An injured Roethlisberger and his Steelers lost to Tim Tebow and the Broncos 29-23 in a AFC Wild Card Game last season after finishing second to the Ravens in the AFC North Division with a 12-4 overall record, 4-2 in the division.
Roethlisberger, who turned 30 in March, needs to perform at the top of his game for the Steelers in the 2012-2013 season, as they again look for a third Super Bowl victory in seven seasons. The organization expects big things out of their quarterback with every snap of the football, and it's his time to become the definitive leader for Pittsburgh.
Begin Slideshow

»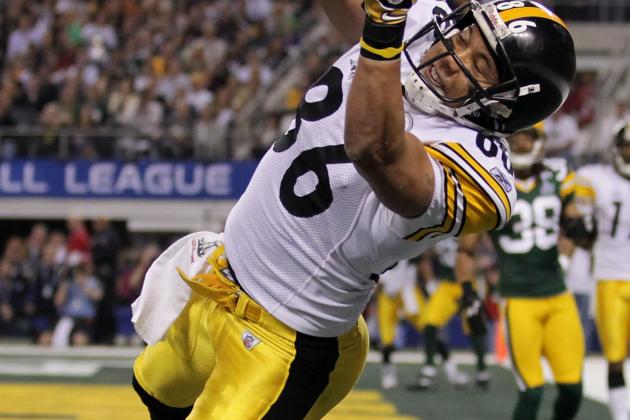 Doug Pensinger/Getty Images
Hines Ward announced his retirement from football this offseason after being released by the Steelers in March. Last season, Ward became the eighth receiver in NFL history to catch 1,000 passes in his career.
For the past 13 or so seasons, Steelers' quarterbacks like Kordell Stewart, Maddox and Roethlisberger have relied on the services of Hines Ward—a likely future Hall of Famer.
Ward finished his 14-year career with 1,000 catches and over 12,000 yards receiving. He was known throughout the NFL for finding a way to get open, especially on broken plays, which greatly aided Roethlisberger's style of play.
After Ward's release and retirement following the 2011-2012 season, Roethlisberger needs to find another receiver to hit when he runs out of options.
Tight end Heath Miller has been a good target for Roethlisberger. The 6'5" receiver finished with 51 receptions last season and provides his quarterback with a big target.
A likely candidate is 23-year-old Antonio Brown. The Central Michigan University (a Mid-American Conference team like Roethlisberger's Miami [Ohio]) graduate finished with 69 receptions and just over 1,100 yards. He, like Ward, found a way to break free from defenders especially on broken plays, giving Roethlisberger a target.
A short-yard man like Brown is exactly what Roethlisberger needs to keep drives alive.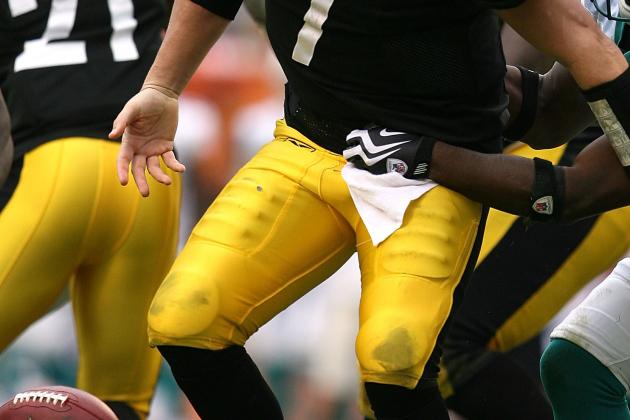 Doug Benc/Getty Images
The Steelers can't afford to have Ben turn over the ball.
Roethlisberger fumbled the football seven times and threw 11 picks last season.
The Steelers defense finished the 2011-2012 season with nine interceptions and only three recovered fumbles.
The Steelers defense isn't as strong as it has been in recent years. The veterans are near the end of their professional football careers, and the younger players are still finding their place in the NFL. They cannot thwart short-field situations thrust upon them by offensive turnovers like defenses of Steelers' past.
This can be fixed by fewer turnovers on the offensive side of the ball.
Roethlisberger needs to be more conscientious of his ball-handling, to throw the ball away instead of forcing a pass, and protect the ball when being hit by an oncoming defender.
The Steelers' quarterback hates giving up on a play, but can't force plays that lead to turnovers and good field position for the opposing team. His defense will thank him.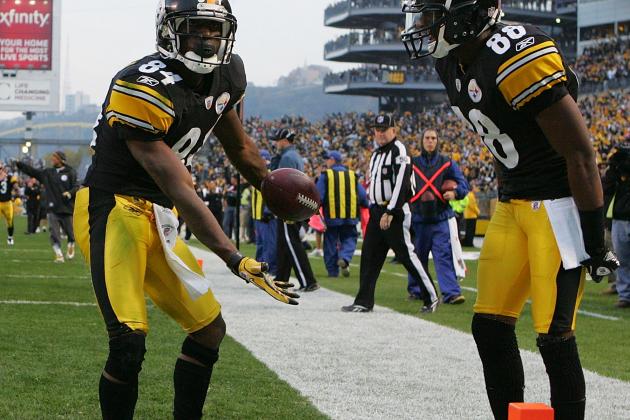 Jared Wickerham/Getty Images
Ben needs to help Antonio Brown (84) and Emmanuel Sanders (88) develop into elite receivers.
The self-dubbed "Buggatti Brothers," Pittsburgh's trio of young wide receivers includes 25-year-old Mike Wallace, 25-year-old Emmanuel Sanders and 23-year-old Antonio Brown. The trio played a big part in the Steelers' success last season.
Wallace was selected to the Pro Bowl team last season after he recorded 72 catches for just under 1,200 yards. Brown finished with 69 receptions for just over 1,100 yards, and Emmanuel Sanders chipped in 22 receptions for just under 300 yards.
It's up to Roethlisberger to continue developing chemistry with his young receiving core and getting the ball to them.
He has the arm strength to throw the long ball for the speedy Wallace and the accuracy to hit Brown through traffic.
The Steelers' receivers showed they're capable of tormenting opposing defenses last season, as long as Roethlisberger on the throwing end and the respective wideout on the receiving end are clicking.
It could be a big year for Wallace and Brown and a breakout year for Sanders if they can get open for passes from Roethlisberger.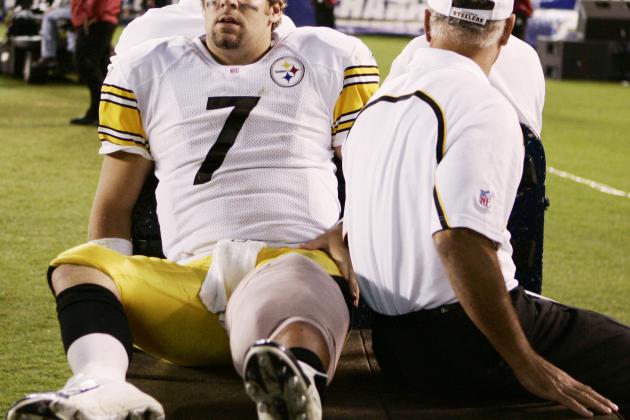 Donald Miralle/Getty Images
Roethlisberger has had his fair share of injuries in his career.
Limiting injury is easier said than done, especially with Ben's "no quit" style of play, but Roethlisberger is a lot more effective (like most professional athletes) when playing unhindered by injury.
Roethlisberger has suffered countless injuries in his career, including a non-football related brush with death in the form of a 2006 motorcycle accident and an emergency appendectomy soon after, but played through many of them.
Last season, he suffered a high ankle sprain in a game against the Cleveland Browns and aggravated a previous break in his foot. Clearly in pain in an AFC Wild Card Game against the Denver Broncos, Roethlisberger had a poor outing, completing only 55 percent of his passes and finishing with a 75.9 passer rating.
After a long offseason to recover, Steeler nation hopes "Big Ben" can go an entire 16-plus games without an substantial, long-lasting injuries. He has two 4,000-plus-yard seasons and three 20-plus-touchdown seasons. An uninjured Roethlisberger is arguably one of the most effective quarterbacks in the NFL.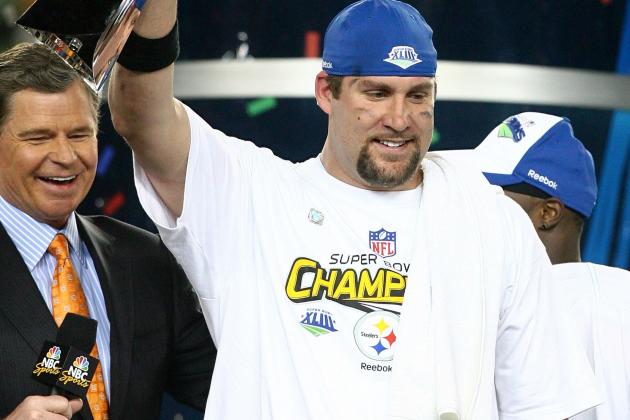 Al Bello/Getty Images
With two Super Bowl victories already under his belt, Ben looks to join some legendary company by winning a third in 2013.
Joe Montana (San Francisco 49ers), Troy Aikman (Dallas Cowboys), Terry Bradshaw (Pittsburgh Steelers) and Tom Brady (New England Patriots) are the only quarterbacks in NFL history to win three or more Super Bowls.
Roethlisberger had a chance to win his third in Super Bowl XLV, practically guaranteeing a spot in the Football Hall of Fame before his 29th birthday but ultimately lost to Aaron Rodgers and the explosive Green Bay Packers.
The Steelers are a perennial contender for the Lombardi Trophy and should never be counted out with a healthy "Big Ben."
Roethlisberger's biggest expectation for the 2012 season is to win a third Super Bowl and the league-leading seventh for the Steelers' franchise.
It won't be easy to make it all the way with several key players released and replaced by inexperienced, younger players, but many offensive threats and defensive stalwarts remain for a strong Pittsburgh Steelers football team led by "Big Ben" Roethlisberger.