Washington Redskins Are Legitimate Sleepers in the NFC East
April 8, 2012

Rob Carr/Getty Images
Does somebody want to explain to me why the Washington Redskins aren't getting any love as sleepers? Because for the life of me I can't figure out their 70:1 Super Bowl odds.
Last year's 5-11 season was not exactly complicated. They were a bad team because they had a bad quarterback. It's their own fault, the Redskins weren't exactly clamoring to replace Rex Grossman and John Beck, but it does explain why they weren't exactly world beaters in 2011.
Replacing Grossman with any quarterback is an improvement. Replacing him with Robert Griffin III could be the difference between a terrible team and a pretty damn good one. 
Griffin is, in my humble opinion, one of the better quarterbacks to come out of college in the last decade. Some have called him a project, but if Cam Newton can succeed as a rookie coming from Auburn's option offense I don't see why Griffin can't coming from Baylor. 
Griffin will also have a much nicer set of weapons to play with than Grossman had. Pierre Garcon has been imported from Indy to give them a much-needed go-to receiver. He'll be helpful in taking pressure off of former lead receiver Santana Moss, and somewhere in the jumble of mediocre targets (Anthony Armstrong, Brandon Banks, Jabar Gaffney, Josh Morgan and Leonard Hankerson) lies a reliable slot receiver. Add in the dynamic tight end duo of Fred Davis and Chris Cooley, and the Redskins pass catchers are suddenly looking dangerous, 
Evan Royster and Roy Helu started to come on towards the end of the season, and we know any Mike Shanahan team will be able to run the ball. They'll only get better in 2012. From top to bottom, the offense should be much improved.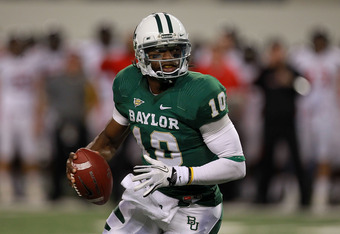 Ronald Martinez/Getty Images
The defense lost a couple of parts, but they should still be very good next year. First of all, losing LaRon Landry was a good thing. In the pass-happy NFC East, you can't afford such a coverage liability. Brandon Meriweather is no star in that department either, but he at least has some potential. 
London Fletcher is the biggest piece they need to bring back. He's the heart of the defense, and bringing him back could assuage some of the loss felt from losing their other safety: O.J. Atogwe. 
Their young pass rush led by Brian Orakpo and Ryan Kerrigan is only improving. The defensive line is not star studded, but it is effective. And DeAngelo Hall and Josh Wilson give them a solid cornerback duo. This defense can be a very competitive unit.
Enough about the Redskins, though, let's talk about their competition. If there's an elite team in the NFC East would somebody be so kind as to point it out? 
If the Giants are elite then we really need to reexamine how we use that word. A 16-game schedule is a far more accurate way to measure a team than a four-game hot streak, and what we saw in last year's regular season was a mediocre team marred by unpredictability. One week they'd come out looking like the '89 49ers, the next they'd get beaten at home by the Seahawks. The Redskins beat these Giants twice last year, and I fully expect them to compete with the champs again. 
The Eagles are the very definition of inconsistency. They can beat anyone on any given day just as easily as they can lose to even the worst opponents. Their season rests squarely on the health of Michael Vick, so in other words, count on the Eagles to start a backup quarterback in six games. Unless Vick is healthy all season, the Eagles are going to have a very hard time getting to 10 wins. 
The Cowboys are, simply put, the Cowboys. Their roster will look outstanding on paper, but then the fourth quarter will roll around and Tony Romo will remind us that he's...well...Tony Romo. Brandon Carr isn't enough to fix their mangled defense, and Jason Garrett hasn't exactly set the world on fire as a head coach so far. 
Nobody in this division is the clear favorite. They are all beatable, so why should anyone count out the Redskins?
I'd next like to direct your attention to the schedule. Divisions are won by inches, not miles. Particularly in the close NFC East, expect the winner of this division to finish only a game or two ahead of the team that comes in last. That's where the schedule clearly favors Washington. 
Every team in a division has only two non-common opponents. You know who Washington gets this year? The Rams and the Vikings, the second- and third-worst teams in the league last year. While the rest of their division is duking it out with three playoff teams and three others that went at least 7-9, the 'Skins get to slum it with two bottom-dwellers for two easy wins. That cannot be overstated. 
Do I expect the Redskins to win the Super Bowl? No, it'd be unheard of with a rookie quarterback. But this team is good. They have the potential to—if not this year than later—be very good. They are legitimate sleepers, and could very well win the NFC East in 2012.