WWE WrestleMania Week: Vince McMahon Deserves a Round of Applause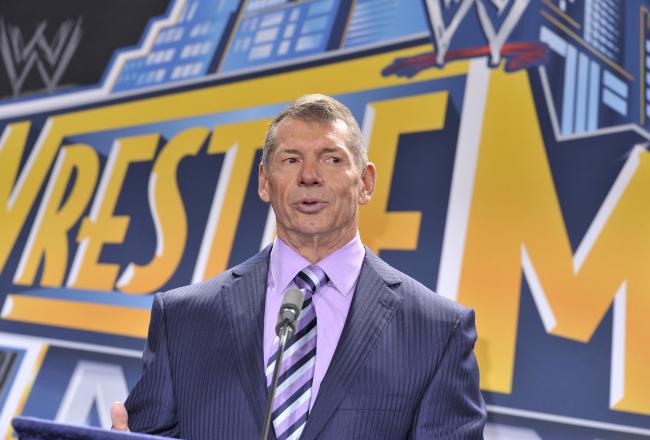 Michael N. Todaro/Getty Images
It has been a full week since WrestleMania. The excitement is dying down, and fans are beginning to settle in for another 12 months of waiting for next year's spectacle.
Last Sunday night, WWE delivered a top notch event. It was definitely one of the best WrestleMania shows of all time. In my opinion, WWE came through when it mattered most.
It didn't end there. The following night was just as good. I gave the Red Brand a solid A grade, and the crowd added immensely to the atmosphere. WWE was on a roll.
As expected, the ball just kept on going. Smackdown on Friday was another fine effort. The Blue Brand finished off one of the best weeks ever in recent wrestling history.
From all sides, the company has been showered with praise for WrestleMania week. The event was amazing, as was the aftermath.
Many credited John Cena and The Rock.
Others gave Triple H, Undertaker and Shawn Michaels their due.
Chris Jericho vs. CM Punk was a great match on Sunday.
Brock Lesnar returning to close out Raw is my early favorite for moment of the year.
Ryback and Damien had very intriguing appearances on Smackdown.
Even some are still discussing the correct move in making Sheamus vs. Daniel Bryan 18 seconds for the world title at WrestleMania XXVIII!
As you can see, the last seven days in WWE have certainly been memorable. The "team effort" was definitely shown, and I look forward to next week.
However, I have seen very little credit shown toward Vince McMahon.
Yes, Triple H and Stephanie McMahon are slowly taking over the company. Yes, he is getting closer and closer to retirement (even though he will never officially leave). Yes, all of that is true.
Make no mistake, Vince is still the boss.
What you saw at Mania was him. What we all loved on Raw was him. What we enjoyed on Smackdown was him.
Never forget that!
The puppet master in this entire business is still Mr. McMahon. While he may not always be the most popular man in the world, the last week belonged to him.
For all the negative minds out there, give this man a standing ovation. For all the doubters, it is time to eat crow. For all the cynics, I think somebody is owed an apology.
Being the positive man that I am, I fully give credit when it is due. Vince and his company gave the WWE universe one excellent stretch of seven days. It will not soon be forgotten...
Vince McMahon deserves a round of applause.
This article is
What is the duplicate article?
Why is this article offensive?
Where is this article plagiarized from?
Why is this article poorly edited?