Newcastle United Odds-on Favorites for European Football: As They Need to Be
April 8, 2012

Alex Livesey/Getty Images
Maybe, as a Newcastle fan, I've just been conditioned to expect disappointment.
It would certainly be a case that holds weight. I was talking with a journalist and he put it quite well: "You're having a great season this year, but you're still not happy with the way things are going."
While fairly spectacular, Newcastle's return to the Premier League has indeed been mired by cynicism.
First was the Chris Hughton debacle. What owner in their right mind would sack a manager that had already defied expectation? There have been plenty of cases where a manager has a poor run of form and got sacked before his side was able to bounce back, but this was a strange decision indeed.
Then, I greeted the Andy Carroll trade with trepidation: Mike "Cashley" Ashley was simply looking to rake in a quick buck and he didn't mind doing so at the expense of one of the club's biggest assets. Madness.
Despite the side's clear lack of depth, particularly in the striker position, the Magpies actually managed to finish fairly strongly and power their way out of relegation to finish around the top half of the table.
With an eventful season done with, the offseason was the perfect time to add that much-needed depth.
Kevin Nolan, Joey Barton, Jose Enrique, Jonas Gutierrez and Fabricio Coloccini were a solid core of players on which to build.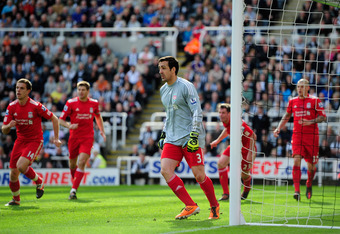 Stu Forster/Getty Images
Mike Ashley didn't even let us have that privilege. Nolan and Enrique were sold for around £10 million between them and Barton was placed on the free transfer list.
Worse yet, while new players had been brought in, the Carroll money still hadn't been touched.
Where the club now sits
So it turns out, Cashley has developed a sharp eye for the long term.
With the locker room characters shipped off, this new batch of players has a new level of focus, and while the club has been on the wrong end of every demolition so far, overall this season has been an extraordinary improvement on the previous.
Appointing his alleged drinking buddy Alan Pardew as manager also turned out to be a masterstroke from Cashley. Pardew has managed to fuse the new players with those who survived the purges to great result.
Better yet, the Carroll funds were finally reduced when Papiss Cisse was brought in from Germany and promptly scored nine goals in his first eight games.
After heading to Swansea—a game I honestly expected to be a write-off—Newcastle now sits on 56 points: two shy of a Champions League berth with Arsenal to face Manchester City.
After starting the season with intent to avoid relegation, Newcastle are now in a position where failure to secure European football would be considered a disappointment.
If Everton lose their upcoming FA Cup semifinal, there will effectively be six European berths to be won from league positions (since Liverpool already have one through a Carling Cup victory).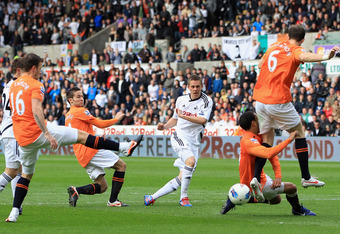 Michael Steele/Getty Images
Of the teams not from Manchester who want to visit the continent, this is what they will find themselves against:
Tottenham:
v Norwich (9 April)
FA Cup v Chelsea (15 April)
@ QPR (21 April)
v Blackburn (29 April)
@ Bolton (2 May)
@ Aston Villa (6 May)
v Fulham (13 May)
Arsenal:
v Man City (8 April)
@ Wolves (11 April)
v Wigan (16 April)
v Chelsea (21 April)
@ Stoke (28 April)
v Norwich (5 May)
@ WBA (13 May)
Newcastle:
v Bolton (9 April)
v Stoke (21 April)
@ Wigan (28 April)
@ Chelsea (2 May)
v Man City (6 May)
@ Everton (13 May)
Chelsea:
@ Fulham (9 April)
FA Cup v Tottenham (15 April)
UCL v Barcelona (17/18 April)
@ Arsenal (21 April)
UCL @ Barcelona (24/25 April)
v QPR (29 April)
v Newcastle (2 May)
@ Liverpool (5 May)
v Blackburn (13 May)
I put some of Chelsea's games in bold to emphasise the congestion they have. Personally, I think Newcastle will finish ahead of Chelsea for that reason alone—assuming the Blues don't walk away from Stamford Bridge with three points.
Their depth will be thoroughly tested, and I think the prospect of losing points is a very credible one. They face Newcastle and Liverpool towards the end of their tough run and even if they don't lose points to Arsenal or Fulham, tiredness will become a factor.
European football now important going forwards
From here, Newcastle need to get back into Europe for Mike Ashley's long-term investments to work out.
Retaining players has been a problem for any emergent club since sport first went professional, and there are three reasons Newcastle will struggle to retain the rights to sell shirts with names like Cabaye or Ben Arfa on the back:
Success at Newcastle attracting the attention of bigger clubs who are (currently) better placed to play in Europe and win titles. Admittedly, this does mean that Arsenal are unlikely to bid too seriously for anyone in the squad.
Success at Newcastle attracting clubs willing to shell out more money for their services.
A lack of game time leaving the player dissatisfied. This is a bigger problem for depth players, but as we all know, depth is vital for league success.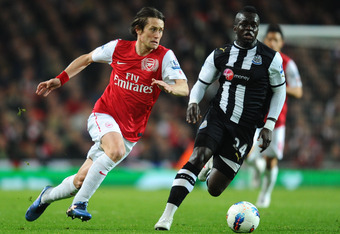 Mike Hewitt/Getty Images
A little European logo on the jersey shows to the players and fans that Newcastle are a big-market club, which gives players an important incentive to stick around.
But one slightly overlooked factor is the amount of minutes a player can get in European football. If a player goes through some bad form, they can be placed in the Europa squad as part of a fancy-looking reserves team. Alternatively, more star players can play in a quality arena, however Pardew decides to look at it.
At the end of the day, the less significant those three factors are made, the easier it will be to retain players.
European football is an obvious attractant to other players. Champions League positions can obviously bring in the best, but a spot in the Europa League demonstrates ambition and can still help swing a player already attracted to the club.
The financial aspect must be considered. For argument's sake, say the Magpies make the group stages of the Europa League, but lose every game.
For simply turning up and getting thrashed every week, a club gets €1million, plus revenue from tickets and television coverage.
That kind of money won't exactly put Newcastle up with Manchester City in the big spender's club, but a bonus like that can easily go towards plucking a fairly young talent out of a moderately-sized European league.
Lastly, for those concerned about Mike Ashley not bringing in any new players, the extra games make the need for depth so blatant that even a referee can walk around it.
Even if Alan Pardew's team finishes the season on 56 points, the season will have been a short-term success. The last time the club reached 50 points was 2006 (when they made it into Europe).
But a failure to earn a European berth may well sting for some time to come if the resulting player-sheet means slipping back to mid-table next season.
I'm confident Chelsea will drop more points than us, but for the next week I'm a Liverpool fan.