The 5 Quickest Running Backs in the NFL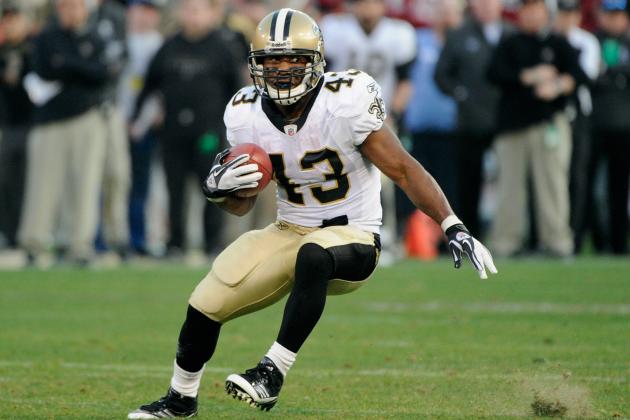 Thearon W. Henderson/Getty Images

It's Easter weekend, which means the re-emergence of a particular bunny in homes across America, and the incessant consumption of milk chocolate.
It also calls for an egg hunt, which usually entails a mass of children desperately seeking pastel-colored plastic eggs filled with sugar-laden goodness.
I learned as a youngster that no trait was more essential to collecting as many eggs as possible as quickness.
NFL teams learned a long time ago that finding a running back with enough quickness to hit the hole and find pay dirt was a good starting point in the evaluation process.
So, in the spirit of Easter and the kids with jackrabbit-like quickness everywhere, let's take a look at the five quickest running backs in the NFL.
Begin Slideshow

»
You don't star in the NFL with a 5'6", 190-pound frame unless you have a rare skill set. Sproles does. He's blessed with a soft pair of mitts, smarts, toughness, speed and, most of all, quickness. Like break-your-ankle, run-you-out-of-your-shoes quickness.
He flourished first with San Diego before jumping ship to New Orleans in 2011, where all he did was amass over 1,300 yards of total offense and nine touchdowns. Not a bad debut for a guy that some never thought could hack it in the NFL.
The Saints unloaded Reggie Bush to Miami with a plan in mind, and that was inserting Sproles into a nearly identical role with the hope of yielding comparable results.
I'd say it worked out just fine.
No matter your feelings on the career progress of Bush through his first six NFL seasons (the guy is still a stud in my book), arguing against his athletic ability would be asinine.
Bush is perhaps the elite stop-and-start runner in football, with the ability to rev the engine within a matter of steps. It takes but a crevice for him to make you pay, and he showed in 2011 that he's more than just a dancer—he can hurt you running north-south too.
Beyond his ability as a runner, Bush—much like Sproles—offers tremendous value as a receiver and a returner. He has averaged over 56 catches in each of his pro campaigns, and is about as dangerous as it comes in the screen game.
At 23, LeSean McCoy is already amongst the league's elite at the running back position. He led the NFL in scoring amongst non-kickers in 2011 with 20 total touchdowns, including 17 on the ground.
He's a dual threat with the ability to be effective in the Philadelphia screen-heavy offense, and he's a pain in the neck to bring down in open space (just watch the video above).
He doesn't play with quite the same low center of gravity as Sproles (which is admittedly easier for Sproles to do at just 5'6"), but McCoy has superb elusiveness and one-cut running ability.
While losing Jason Peters on the offensive line hurts Philly's offense, the Eagles can once again count on McCoy starring in 2012.
While it's hard to argue with the notion that DeAngelo Williams was well overpaid by the Panthers last offseason, it's equally impossible to dispute that his quickness is a game-changer for the Carolina offense.
Like Sproles, Williams is no bean sprout, checking in at just 5'9", but he's plenty explosive enough to get it done on a consistent basis.
Carolina's rushing attack is amongst the most dangerous in football because of the versatility its skill players can offer. Williams and Johnathan Stewart are an enviable one-two punch, while new addition Mike Tolbert adds an extra dimension of power running blended with some quickness to boot.
Throw in Cam Newton, perhaps the league's best short yardage threat, and it's a safe bet that the Panthers will only improve on their third-ranked rushing offense from 2011.
McCluster might be the least well-known quantity on this list, but he surely stacks up when it comes to quickness.
A self-described "offensive weapon" for Kansas City, McCluster will align any and everywhere along the offensive formation, and is lethal in the open field.
McCluster's quickness derives from his surprising lower-body power and ability to sink his hips and transfer his weight at nearly full speed.
In fact, he's so quick that sometimes his body can't keep up with his own feet, causing him to have re-center himself and gain his balance on a dime. Trust me, I saw it plenty of times on the practice and game field during my time working for the Chiefs.
Right on the fringe of this list: Jahvid Best, Detroit Lions; Taiwan Jones, Oakland Raiders